NEW articles daily! Subscribe below to receive daily updates with our new articles!

Expat Mistakes
Ten Big Mistakes that Expats Make
Hi, Bob Martin here, owner and publisher of this website.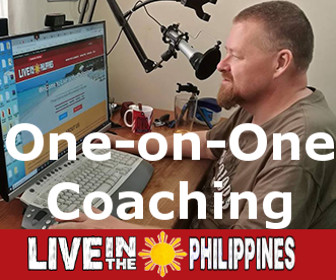 John Miele, a former writer here on LiP, wrote this article way back in 2010. Even though the article has been around for a long, long time, it remains one of the most popular articles on the site. John's article really does point out some very common expat mistakes
I decided that I want to update the article, provide the information that John wrote, and also add my own insight on expat mistakes. Sometimes that might mean a rebuttal, sometimes just adding to his thoughts. So, let's have a look. Take it over, John!
I have been writing on Live in the Philippines for two and a half years now, living here nearly three years. Before coming here, I lived in the Middle East and traveled extensively in the developing world. In that time, I've seen several patterns in the questions that people ask. There is nothing wrong with asking questions. In fact, I'm a big believer in that old cliche, "There is no such thing as a stupid question".
An international move is a big undertaking, no doubt about it. Coming to the Philippines is probably one of the most significant events in most people's lives, ranking right up there with marriage and death. The decisions one needs to make are not easily answered and are complicated by the fact that for each question, you will receive fifty different answers from other expats, websites, books, and family. Everyone has their own standards of living, and what standard is acceptable to them.
However, after living here for a while, writing on this site for a while, answering questions sent to me, and traveling all over Asia, I have come up with the following list of mistakes that I see people making. I am not so rude as to tell someone that they are wrong, nor am I some "all knowing" being floating above the Astral Plane. However, I notice the patterns and people's concerns, I have made many mistakes myself, and I can make the following generalizations. I know everyone is different. I know many of you may have breezed through these issues, or they were of no concern. But these issues come up again, over and over.
For sure, John, we all make mistakes, those reading this site have probably made expat mistakes, the key is to use those mistakes as a learning opportunity. My policy on this site has always been "I make the expat mistakes so you don't have to." LoL
So, in no particular order:
Thinking that you will find a job here
You need to survive in the Philippines, but, more than likely, it will not be by working for someone else.  Yes, some expats manage it, myself included. But the vast majority of people who move here will not find employment standards much to their liking. This is stressed by myself and the other writers on this site over and over, yet I still receive many job inquiries.
For most, if they have a "job" it will be with a foreign company. Like you, John, almost daily I get inquiries from foreigners who want to move here and ask me to give them a job They should think it over… I can hire a local person for a fraction of what they would want to be paid, so why would I hire such a person? The best thing they can do is to start some kind of a business and then employ local people. Bring some money into the local economy, that is the best path forward. For those looking for a way to make a living in the Philippines, check out my book, 49 Ways to Make a Living in the Philippines.
Thinking that you can buy land or work around the land laws
The obsession expats have with buying land is truly perplexing to me. Given the legal climate and prohibitions on foreign ownership, I simply cannot fathom why people would even consider doing so without, at the very least, living here for a year or two first. Yet there are dozens of sites on the net giving "ways" to own land, will land, form corporations to control land, and so on. There are almost always vehement, passionate disagreements about it, most of which I either ignore or say, "You can't say that you weren't warned". This is perhaps the biggest and most financially damaging mistake that expats can make.
Yes, land is always a big issue with expats or even people who are not yet expats, but feel they are "planning ahead". This makes land issues, in my view, one of the most common expat mistakes. A lot of people buy land and build a house before they move here, and some before they have ever even visited the country. This is a huge expat mistake. In most cases that I hear about, this does not work out. Best to come here, live here for some time and then make such a decision. In my experience, more than 50% of foreigners who move here end up leaving in a few years, they can't make the adjustment. Those who have bought or built property end up losing their shirts on it. Think things over carefully.
Jumping in and falling in love too soon
Can you REALLY know someone by chatting on the Internet? Yes, I know there are many successful Internet relationships. Yes, I know love is blind. I also know many, many horror stories here from guys that come, fall in love and get burned. EVERYONE in love says, "Yeah, but that won't happen to me!" Right. Go on thinking that. Again, there are dozens of websites filled with stories of people getting scammed. Most of the guys who got burned thought the same thing. It can, and does, happen frequently.
I agree, and also disagree. LoL I got married to my wife, Feyma, in 1990. Back then the Internet was so young that it really was not used much by the general public. Feyma and I wrote letters (snail mail) to each other. After months we talked on the phone a couple of times (that was difficult to do back in those days, and very expensive too). I came to the Philippines and we got married. It was quick, no doubt. Most people would say it was stupid, too quick. I might agree, but we have now been married for nearly 3 decades. Best thing I have ever done. We have 3 great kids (all adults now) and Feyma is my wife and my best friend. I can't say I was wrong in how it worked out! Did I make an expat mistake? I don't think I did, but I did leave myself open to the possibility of an expat mistake.
Thinking about the same old business ideas
How many people have invested in sari-sari stores? In jeepneys? Thinking they know the market better than the Filipinos themselves? Thousands. How many have earned a living? Very, very few. How many people even bother to learn the rules of business here?
Again, you are correct, John. The Sari-Sari store is a staple business idea for foreigners. How about the piggery business, that is a close second to the Sari-Sari stores. It is another expat mistake. Especially in today's tech environment, it is easy to make a living using the Internet and technology to work from the Philippines but be working for people half the world away. Another way to avoid a common expat mistake.
Thinking things will be "different", but "no big deal"
Not so fast. While here on vacation, the cultural differences are very subtle. Things tend to take on more importance when you live them every day.
This is a topic I have talked about frequently on this site over the years. Thinking that being here on vacation and living here is the same is a huge expat mistake. Fact is, they are nothing alike. When you are here for a few weeks, Filipinos will overlook your expat mistakes. They will adjust themselves to accommodate you. But, if you move here to live permanently, people won't be as forgiving of your expat mistakes. It is you who has to adjust then. Believe me, when you make expat mistakes, 100 Million Filipinos won't be making adjustments to suit you. You are the one responsible for making adjustments to fit in here and avoiding such expat mistakes.
Underestimating the cost of living
There are so many books on the net about living like a king with only $500 per month that it is easy to get the perception that the Philippines is cheap. That belief is easily compounded on vacation or visits where things like hotels are cheaper than in the States. Stories of cheap rent abound. However, many things are more expensive here, and attempting to live a western lifestyle can get expensive very quickly. Overall, the cost of living is generally cheaper, but the Philippines is not the cheap bargain that some make it out to be.
This is one of the big expat mistakes, John. Your thoughts are right on the mark. One huge expat mistake is that tons of people will email me and ask one question – "How much money do I need every month to live in the Philippines?" That question is impossible to answer. Every person has different tastes and tolerances. For one person living on $1,000 would be easy, for another person that would be hell, because they are used to a different type of lifestyle. One budget does not fit every person. To think like that would be an expat mistake. One thing I can say for sure is that when you first move here as an expat you will spend a lot. Give it time, and learn from your mistakes and a year later you can live comfortably on a fraction of what you spent when you moved here.
Realistic expectations
This is perhaps the toughest to nail down. For instance, there was a question in the forum about international schools near "paradise" beaches. Needless to say, there aren't many. Now, is this a deal killer? Perhaps. Should the person asking the question look into it? Certainly. However, the fact of the matter is that most of the international schools are in Manila, not near beaches. The question itself indicates a fundamental lack of the realization that the Philippines is a developing nation, with 40% of the population living below the Asian poverty line of $2 per day. Yes, schools are here, but the demand and ability of most people to pay the tuition is not here. The Philippines is not Switzerland, Holland, Singapore, Hong Kong or a developed nation with large, wealthy expat or diplomatic community with small children.
I would say that the vast majority of people who move here do so with unrealistic expectations. It usually takes a few years to adjust expectations to something more realistic. Many expats can't make the adjustments needed and end up leaving the Philippines after becoming disillusioned due to their inability to adjust to the Philippines. My advice would be to keep your options open and keep your expectations open. Don't come here with the expectation that you are going to change the Philippines. If you want to avoid expat mistakes you need to let the Philippines adjust you, even if it is just a little. If you are not open to adjustment you are making an expat mistake by even considering making such a move.
Over-thinking the visa
Yes, visas are important and necessary. However, the visa process in the Philippines has perhaps more options and flexibility than most other countries. Again, it is so easy to live here on a tourist visa and convert, there really is no reason why anyone (from most countries) should stress over it.
Again, I totally agree with John. A lot of expats make the common expat mistake of complaining about visas here. Truth is that the Philippines has one of the most liberal visa policies in the world. There are so many ways that you can avoid an expat mistake, live here, and do it easily! Probably the biggest expat mistake you can make, at least in terms of visas, is to overstay your visa. That is asking for big trouble!
Worrying about exchange rates
You can't control them. If you are not able to absorb currency fluctuations, then you cannot afford to live here. Exchange rates are also cyclical. They can just as easily become beneficial.
Exchange rates go up and down. As John said, they fluctuate. Not a problem to follow the rates and try to make exchanges at times when it is most advantageous, but don't let it control your life, that would not be good, and you want to avoid expat mistakes, right?
Not learning about the culture
Everyone here has encountered the "Ugly American". Everyone here has encountered cultural ignorance. Read and learn as much about the culture and language as possible. Get out and about. Don't believe that you are a wealthy target everywhere you walk. Leave the walled, guarded compound once in a while.
I am a big advocate of learning the culture. I learned the language here where I live (Bisaya), and as part of the language learning, my teacher taught me a lot of cultural things too. This turned my life around in the Philippines and made me a happy expat. One of the expat mistakes that I made early in my life in the Philippines was not learning about the culture, and thus making cultural faux pas that got me into trouble and made me unhappy. In fact, now I even have a book about cultural issues called the Philippine Culture Manual for Foreigners. This is a valuable resource if you want to avoid expat mistakes related to the culture.
Great article, John!
If you are thinking of making a move to the Philippines, check our complete guide!