NEW articles daily! Subscribe below to receive daily updates with our new articles!

Dear readers:   Your humble scribe must start out with an apology to all for skipping a week with the articles.  Some week it's been.   Saying that "Life sometimes gets in the way" is putting it mildly.  For this provinciaño, life did the week in.
Baket ko (Asawa ko) [my Wife] and I did manage to make the trip to Bauang, La Union for the Thanksgiving dinner and for the VFW Post 9892 Annual Chili Cook-Off the following Saturday.  More on that in a little bit.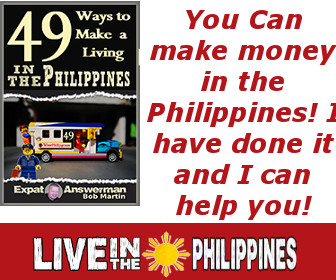 Making it back to "Villa Dolores" (our home in Pasuquin) and the next group of days make for many more stories.   Both my darling bride and I found out just how much we've aged, and the days back home were a combination of recuperation and personal "forest fires in need of extinguishing."
FIRST, THE AFTERMATH 
My beloved sprained her ankle slightly before our trip and,
unfortunately, completed the job while we were almost at our destination.  A quick "pit stop" at a friendly McDo's was just a mite too quick for that lovely ankle.  So, for Baket ko, it was "room service" a la Lakay (Asawa) [husband] while lounging uncomfortably in bed watching sports and telenovelas.
Back at the homestead, it was my turn to feel the effects of

age.  Guess I'm not quite 100% back in shape after all of the medical stuff a few months ago.  Slow movement and prone positions whenever possible were the order of the day for the past three days.  Following orders, however, proved to be a task as well.
AH, LIFE!
The Christmas decorations were one of the first tasks at hand.  A normally simple job, taking no more than an hour or two in years past, took many, many more hours this year.  

Numerous pauses and rest breaks took up most of the time.  (When I look back on these past few days, I see a couple of "oldies but goodies" acting like youngsters at Christmas time – one hobbling about the best she could, and the other trying to keep pace with the snails.  Oh Life, how good you are!)
During the holiday decorating festivities, work raised its ugly head a couple of times.  A few clients received notices from the IRS and needed immediate soothing and service.   Nothing was wrong in each case.  Seems like
the IRS' automated notice generator was working a little overtime, and sent out duplicate notices that were not only received once months ago, but had been answered satisfactorily with the underlying issue being resolved.
THE DRILL
In my teen years, we had a frolic whenever a group of us were "cruising" the town and stopped for a red traffic light.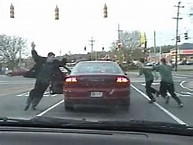 Everyone in the "cruise-mobile" would suddenly jump out of the vehicle, run around it a couple of times, then re-enter and cruise on when the light turned green.  We called it a "Chinese Fire Drill."  I never realized back then just how well those drills prepared me for the "hurry up and wait" emergencies of late mid-life.
Today – the day that I have been appearing in digital print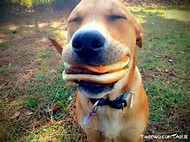 these past few weeks – started out nicely.  The ankle sprain was over, and the "Slow Mobile" found the higher gears once again.  And then, it happened.  While enjoying a morning cup of coffee out on the front porch, our Australian Shepherd "Wally" came up to us with something in his mouth.
WHAT THE DOG BROUGHT HOME
"WHAT'S THAT?" was the instant cry.  We couldn't quite tell what was being brought to us. A bullfrog?  A field rat?  Heavens, it's not a snake, is it? No, none of those, but it was moving and making little squeaks.  There at our feet, "Wally" presented us with his newest offspring, snatched from its mother, whom we discovered was our young female "Ruby."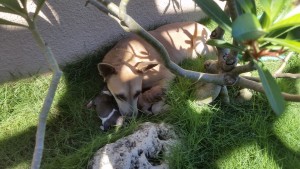 We must have miscalculated the timing – here, a few weeks before we expected, was a small, hour old puppy.  The mother was slowly making her way to us, as if seeking approval.  In reality, of course, she just wanted her puppy back.  Having retrieved the small thing, she slowly took the pup back to her nest, where she was going to have a second young one at any time.  We followed her to see where the magic was occurring, and made sure that all was well on this new home front.
ANOTHER FULL DAY & APOLOGY
So, today was a day of new life, making its way to the pleasure of older life.  The day continued on, with the two newborns being the center of attraction and attention.   Making sure that adequate shade from the blazing sun above was available to "Ruby" and the new crew, making sure that food and water were fresh and nearby in case the new "mum" needed it, and taking care that none of our other dogs got too nosey or playful with the new arrivals made up our day.

Judging by the length of this article right now, I'd say that I owe another apology.  I didn't get to the trip, the turkey dinner, the awesome chili, the "not-so-awesome" six-hour drive back (all of it being T-2-T:  tricycle to tricycle).  Sorry, but I'll have to leave you hanging 'til next time.