NEW articles daily! Subscribe below to receive daily updates with our new articles!

As we approach that time of the year when spirits move to the forefront, and celebrations of "Halloween" (U.S.) and "All Souls' Day" are just around the corner, it's time for a hauntingly true tale.

No ghosts or spectre from beyond need appear here. There's enough "evil" in our real world. We don't need to invite the "evils" of fantasy or imagination. There's more than enough "evil" in the real world to make our hair stand on end.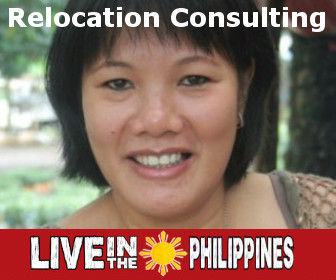 And the worst of these real "evils" gets part of its wickedness from our failure to recognize it for the "evil" it is. It's so "evil" that it uses us – you and me – to perpetuate its existence and to continue plaguing mankind without our knowing.
This, then, is the story that I call ….
BLOG O' EVIL
Just like "good," its counterpart evil has been with us since the beginning of time. Both are co-dependent. You can't have one without the other, and often, one is defined as an absence of the other. The level or amount of one is the inverse of that assigned to the other. In logic, then, one cannot exist if the other doesn't.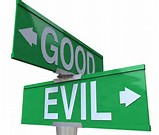 It is widely accepted that "God is Good" – a premise that mutual agrees to the existence of both.  With its existence relying on that of The Almighty, good exists. Similarly, evil's existence is mutually assured with that of good.
It is with this belief that I ventured out into this world of good and evil, seeking answers.
THE MODERN ERA 
The evil of today is the same evil of days past. It haunts contemporaries, and haunted ancestors, alike. Unlike its riding the winds of dark, moonless nights back then, however, evil's kept up with the times. Our evil of focus, then, can be found riding the ether of the worldwide web.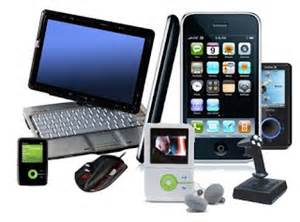 Amongst the noises of our electronic age, our evil resides comfortably, secure in its hidden abode. One must truly search for it with honest effort to discover its lair and recognize its presence. Without the effort, it remains cloaked in the invisibility of laissez-faire. And this gives it strength.
Thus my search for answers is hampered. The answers I seek may reside near, or within, evil's den.
THE SEARCH 
So, it's on to the "search engines" I go. With browser updated and adjusted, and key words properly entered, the engines "respond to the bells smartly" – the video screen becomes awash with visual data. It's in this sea of data that the answer swims and must be tamed and captured.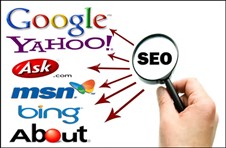 Foibles of the human condition play a role in the search. Unless one has adapted to "search speak," endless entries of keyword permutations are required to get to where you want to be.
Toss in other factors, such as a "senior moment," or a finger or two not properly responding to directions from the brain's physical coordination center, and a search can turn into a minor adventure in the land of "what not to do."
Practice, and numerous searches, enhance the finger skills and make for quick results. But then, evil strikes.
THE RESULTS
When I mentioned a video screen awash with visual data, I did not exaggerate. Yet, it is all data, not information – the latter being the select, processed bits of the former. In this sea of data, you find all sorts of intellectual flotsam and jetsam:  sourced documents, opinions, factoids, hearsay, claims, boasts, fact and fiction. An electronic search can go only so far. Then, it's up to the rational mind to sort the wheat from the chaff.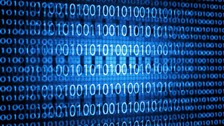 It is within this sea of data, too, that evil has carefully distributed its seeds. And it is with that laissez-faire, mentioned earlier, that the seeds sprout and grow. Like many a weed, these shoots in their infancy appear the same as those of a prized plant or nutritious vegetable.
Now, there is only the need to "point and click" a hyperlink for transportation to one of the many gardens wherein the shoots – good and evil – grow side by side.  These gardens go by many names. The name I'll focus on is "blogosphere."
RECENT GARDENING
On a few occasions this past week, I've followed this prescription in search of answers, and found myself at harvest in the blogosphere. The topics of answers I sought are immaterial. The desired answers were more in the particulars – more a matter of "how" than one of "what." It was here, in the blogosphere, the evil and I were to grapple.

My search for answer were occasioned by the inquiries of clients. I all too willingly obliged their desire for me to do their "web-related heavy lifting." After all, an old accounting saw reflects, "If you keep clients happy, you keep clients." As different as the topics of inquiry were, however, what transpired at each harvest was what is a now an all-to-common "crop."
The answers to both inquiries required two important elements of value for acceptance by each inquiring client :
The answer arrived at had to be true; and
The answer's truth had to be verified by a reliable source.
That may not seem like too much to ask for, but those instructions alone can easily thwart any Braveheart's quest for answers.
GRAPPLING WITH EVIL
In both instances, the topics du jour were hardly well-known, and the sparse number of hyperlinks provided for each landed me in the same garden.  Too, in both instances, the facet of element #1 didn't appear to be 100% complete.  That, then,  necessitated a much heavier  reliance on element #2.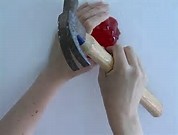 Getting to the truth of the matter by having to trace "claimed truth" from slight citation to slight citation (and, in most instances, to the "claimed truth's" first appearance in the blogosphere) is like nailing Jell-O® to the wall:  maximum effort, minimal results.  This, and other observations, only started to make sense when I finally realized that evil and I had begun our dance.
Both dances mirrored each other, step for step, lunge for lunge, twirl for twirl. And at the orchestra's last note, one truth was obvious: my dance partner was evil.  Throughout both performances – the steps, lunges, and twirls – I was led to the same final conclusion.
THE TELL-TALE PROCESS
First came the claim of truth from an unknown source that itself couldn't be traced. The unknown source's words, however, – in this medium called the worldwide web that possesses the half-life of a sun – could be traced.
Though often veiled, these quasi-citations were followed relentlessly, and those who parroted them (either in the articles or the comments) sounded more certain and more vehemently supportive of "their truth" the closer an inquisitor came to the original source.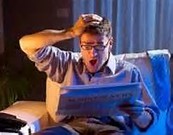 That original source?  Always, a purposely made misquote, a desired citation taken out of context; or a willfully fabricated "manufactured truth," developed to achieve some desired results expeditiously, without regard to consequence. In the world of human nature, where constant repetition of a factoid often turns it to fact, repetition throughout the worldwide web performs this task a thousand-fold.
Yes, with fact-finding research and its documentation becoming more of a nearly-forgotten art form, being replaced by the sleek and more crafty "Wiki-Fact," it's easy to understand how evil can avoid notice and prosper.
EPILOGUE
Stop to consider for a moment: When is the last time someone you know blindly accepted a "Wiki-Fact" (Wikipedia entry, etc.), without challenge. Sloganeering, too, is a tool of evil. "If you read it here, it must be true." "All the news you need." "Information selected with you in mind."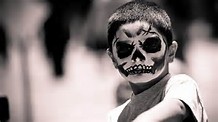 Doing battle with evil is best left to Saints – a human cannot truly endure all that may be required for hardened battle.  A human's task is to avoid evil – keeping a watchful eye in search of it, recognizing it on sight, and avoiding it to the best of one's ability.
One can, however, "own" evil.  "Urban dictionaries" of today say that you can "own" something or someone (excelling in some aspect over that something or someone). Traditional superstition sees it differently. It maintains that if you can name someone or something, then you own that someone or something.
Regardless, here is my offering: "Evil, I name you; and thy name be 'Lie.'"