NEW articles daily! Subscribe below to receive daily updates with our new articles!

I wrote about this topic recently on The Albularyo, focusing on the folklore aspects of these scams. I've copied part of that article here, explaining what these terms mean. However, one of our neighbors was recently victimized by these scammers, and expats need to be aware of things like this happening here, so I am going into a bit more detail.
Budol-Budol and Dugo-Dugo are rapidly entering modern Filipino folklore, part criminal enterprises, and part urban legend about magic and enchantment. Budol-Budol and Dugo-Dugo are gangs of criminals, no question about it. They are con-artists who prey on the gullible and easily misled, weaving superstition into their tactics, and seemingly vanishing away after their victims are fleeced.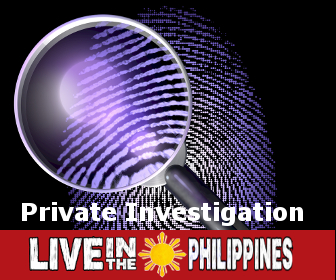 Budol-Budol gang members will often dress up neatly, looking as normal as possible as they stalk their victims, normally maids, ya-yas, or other household help as they go about their daily business. One of the gang members will approach the maid, and enchant her (hypnotize), getting her to unwittingly reveal information about her employer, their home, their routine, and how much money they have lying around. Sometimes they use kulam, and other times hypnosis techniques. In any event, once they have the personal information, they will lead the victim astray, either instructing them to steal from their employers, or instructing them to ensure that the home is vacant when the gang will come and steal everything in the house.
The Dugo-Dugo gangs operate under similar methods, only they use the telephone. They will call the house, hoping that the maid will answer the telephone, telling her that the homeowner or her employer was in an accident, and that she needs to bring money to the hospital right away. After the maid gathers the required loot, they meet her and, while she is enchanted, steal the money.
Is there magic actually involved? There are several things to keep in mind. First, once the victim knows that they have been conned, they are normally embarrassed, and claiming hypnosis, enchantment, or magic shifts the blame away from the individual. This is often the same pattern that the FBI finds in the States with victims of Nigerian "419" scams. Second, the gang members themselves perpetuate the myth, knowing that magic and enchantment are scary and intimidating. Finally, con-men are smooth talking, often mesmerizing to their victims, building up a modicum of trust.
Nevertheless, Budol-Budol and Dugo-Dugo have become quite common, and have woven themselves into Filipino folklore. The criminals are very sophisticated, and the NBI and PNP have had great difficulty in tracking them down. The shame felt by the victims adds to this difficulty, since the crimes are often not reported, or the police have few leads to the perpetrators.
Most expats in the Philippines have household help. Additionally, expats tend to stand out as having money or being easy prey. You need to make certain that your household help all understand not to reveal information about your home to strangers. You also need to instruct them that if they receive a call stating that you or a member of the family is injured, that the information needs to be verified.
Our neighbor's maid disappeared a few days ago. She had received a phone call that her employer was hit by a jeepney and that she needed to bring 500,000 pesos to the hospital immediately. When she left our compound with the money (cash and jewelry), she was accosted by two men who claimed to be sent by the hospital to pick her up. Needless to say, she was robbed. When interviewed by the police the following day, she claimed to have been hypnotized and couldn't stop them. Since this incident, the maid has returned to the province.
Was she involved? We really don't think so. The maid worked for our neighbor for many years and was trustworthy. We believe she simply truly thought that her employer was in trouble and tried to help, being ashamed that she was conned. What is more disturbing is that with all of the talk in the compound about magic and enchantment, the real focus seems to have been lost: There are criminals stealing from residents. My suggestion to our neighbor was to let the HOA know that this happened along with the security guards.
I write all of this because your household help can undo in an instant, even unwittingly, all of the security associated with gated compounds, guards, alarm systems, and so on. What should you do?
Instruct all workers not to answer the telephones in the house. That's why God invented voice mail and answering machines.
If you send them out on errands, remind them not to talk about your household or private information. Consider sending them out in pairs.
Get to know your neighbors. No matter what security you have, neighbors keeping an eye on your home are the most effective defense you could have.
Instruct your household to verify any claims of accidents, etc. Remember that hospitals, while requiring advance payment, normally will accept a deposit or make arrangements. Verify the identity of people claiming to work at a hospital.
Let your help know that this is a scam, and not magic or enchantment. This might seem straightforward, but the claims of magic and talk around the subdivision really screwed up the police investigation. Cops need real information: Not magical nonsense.