NEW articles daily! Subscribe below to receive daily updates with our new articles!

Today, Emy and I made our way south to Batac, Ilocos Norte.  Batac is one of those first class municipalities caught up in the "City/Not a City" dispute generated by a Supreme Court ruling.  "Founded" (in Western speak) in 1587, it is one of the oldest towns in Ilocos Norte and is sometimes called the "Home of Great Leaders."  Among those who hailed from Batac are the former president Ferdinand Marcos, Fr. Gregorio Aglipay (a member of the revolutionary movement against Spain and later the USA, and founder of the Philippine Independent Church), and General Artemio Ricarte (fought against Spain and the USA, called the "Father of the Philippine Army").
Only a truly worthwhile venture would have us leave the dry safety of our house to travel through the high winds and rain extending from Typhoon Morakot (aka Kiko, currently coursing across Taiwan).  Today's trip was neither for sightseeing nor for shopping.  Today was the blessing and opening day of a new business venture.  Our cousin, Annalee, (the daughter of the tiangi (sari-sari) [small store] owning auntie living across the street), struck out as a partner in a travel agency called "DSJ Travel & Tours."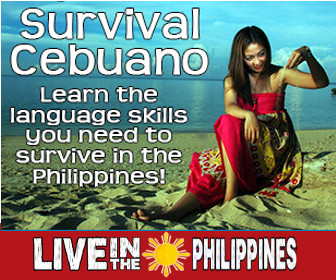 In many forums and discussions, I've either read or heard about Filipinos (and expats) complaining of the lack of opportunity available in the Philippines.  Here was an example that shows not all is as it seems.  Striking out on a business venture is difficult, even in good economic times.  The courage of these partners opening a travel agency, of all things, is commendable.  The agency is located just across the street from the municipal building, in a small, two desk office above an "Ukay-Ukay" [used clothing store] – plenty of foot traffic.
Like many travel agencies, DSJ offers passport services, inter-island and international travel and tour bookings, etc.  What sets DSJ apart is their inclusion of local and provincial tours.  This is something that is a little lacking at other agencies.  DSJ is readily taking advantage of Department of Tourism reportsof Ilocos Norte being in the top ten of tourist destinations in the Philippines, and plan on offering premier service to tourists as well as local and provincial residents.
Computers, printers, facsimile machines and telephones at the ready, Annalee and agency staff are open for business.  The positive atmosphere and the drive to provide top-notch service to clients and walk-in customers are paramount in importance.  Building up a clientele by a young start-up agency is difficult to say the least.  DSJ is not thinking small, however.  Providing travel services for the commercial and business communities as well as for tourists are among their planned goals.   Even the municipal offices directly across the street are in DSJ's crosshairs.
Operations of this type are still viable business opportunities in the Philippines.  Unlike many Western countries, where individuals can procure airline tickets, book cruises and the like via the internet, the intermediary still provides the desired service of cutting through red tape, eliminate the need to wait in long lines, interpreting and complying with confusing regulations, etc.  By the time most individuals in the Philippines will be able to mimic their Western counterparts, DSJ will find a niche where it can still fill a travel or tour void that would remain.
Mabuhay!  DSJ Travel & Tours, and may all your opportunities be met positively and profitably.
I should mention that this is not an advertisement or endorsement for any product(s), service(s) or business(es).  It is a salute to those who boldly venture into the world of business, even when others speak in terms of problems, woes and impossibilities.
I took the outdoor pictures during short breaks between strong gusts of wind and downpours.  The photo of the municipal building was a lucky shot – moments later the rain placed a slight haze between the building and me, making photography not likely.  We plan on returning to Batac later this year and I will provide a better sightseeing report at that time.