NEW articles daily! Subscribe below to receive daily updates with our new articles!

Queue Carly Simon:
"Anticipation, Anticipation
Is making me late
Is keeping me waiting."
Many of you, dear readers, who have completed their trek to the Philippines in search of that "better life," know the feeling.  Those of you with firm plans for making the same trek are, most likely, experiencing the feeling while you read this.  Those considering whether or not to make this trek will undoubtedly have a few pangs in your future.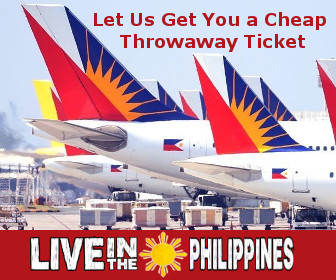 ANTICIPATION
So many things fill the mind while getting ready for that big trip to the Philippines.  Thankfully, sources of information such as LiP will answer most questions that a future Philippine resident may conjure.  But what about that feeling?  How does one cope with it?  How does one control it?
I certainly don't have the answers, and I've yet to find anyone who does.
I'm talking about making those "countdown days" before boarding the silver bird a bit more bearable.  It's sort of like the weeks before Christmas that some have lived through during childhood.  Concentration on anything not related to "the big day" gets tougher and tougher as that magic day approaches.
For your humble scribe, childhood Christmas times are revisited annually.  As with the Yogi Berra quote that helped put a title on this note, it is, indeed, like deja vu all over again.
THE FREQUENT BALIKBAYAN
As many know, my years are split into days in the Philippines and days in the States.  The latter location could be anywhere outside of the Philippines, but for me, family, friends, and a bit of business dictate where those non-Philippines days are spent.
Currently (and unfortunately) I'm enduring the days outside of the Philippines.  While it's great to see family and friends once again, and to take care of business issues that require my physical presence, that old, familiar feeling of anticipation comes rushing in almost immediately upon stepping onto the tarmac of the local airport.  From there, it builds to its crescendo just minutes before takeoff on the trip back to the land I now consider "home."
It's a time of preparation and hope.  It's also a time for making lists of various "to do's" and trying to check items off the lists while trying not to forget anything important.
CHRISTMAS IS COMING
Funny thing – the pangs of anticipation don't appear before the trip back to the States.  Then, it's more of a dread.  I'd rather remain "at home" but, for some things, one has to accept life as it comes.
Another childhood analogy, for the feelings that precede the trip to the States, could be those feelings of late summertime just prior to the start of another school year.  Then, summer vacation felt like it was too short to accomplish everything that was dreamed of during the previous school year, and the unfulfilled dreams would remain just that.
Traveling back to the Philippines, however, renews the "pre-Christmas spirit."  It's time to go shopping at Costco or some other large discount store for those hard-to-get items that will fill the Balikbayan Boxes.  It's also time to check the passports and, if need be, renew them.
Too, it's time to scour the various travel-related websites, looking for the best bargains in airline tickets.  The itinerary has to be carefully planned so that flight connections can be made without excessive time spent waiting for that next flight.
All in all, it's just like the built-up to Christmas for me.  Shopping for "gifts," packaging and sending them off to a distant Christmas tree, and taking care of all of the "trimmings" to insure enjoyment of the season "back home."
COUNTING DOWN
So much time and so little to do?  No, there's plenty to do but the time feels to be overly sufficient.  Like a youngster in December, I'm counting down the days until I step aboard that flight for home.
While counting, however, I'll fill those days with as much activity as I can.  Priority will be assigned to those activities connected with my return home.
You know the feeling.