NEW articles daily! Subscribe below to receive daily updates with our new articles!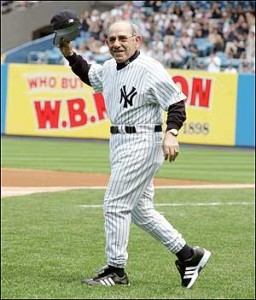 As the late, great Hall of Fame catcher for the New York Yankees Yogi Berra once said, "This is like deja vu all over again."  Yogi might have coined this "Yogi-ism," but like many who quote him, I occasionally live it.  This week is a good case in point.
ANOTHER OLD WEEK
For me, making plans has turned into more of a hobby than a meaningful way to schedule my free time.  The problem?  These days, it seems as though whatever I consider to be free time is, in reality, time's opportunity to teach me that I'm not in charge of my time.  It is – and it gainfully uses proxies to oversee the time-consuming tasks it lays before me.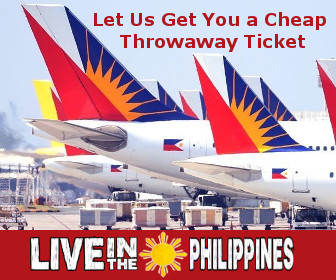 Here it is, very late Sunday evening (almost Monday morning) and I'm trying to pound out my article for this week's edition of LiP.  I'm making time to write:  sacrificing sleep that, in a scant few hours, I will undoubtedly wish that I had taken.  But you, dear readers, are more important than sleep.  I can only hope that the quality is up to the standards that you truly deserve.
So far, what I've seen of this upcoming week is that it's poised to be another old week.  I refuse to refer to it as my routine, but time and circumstances are molding an unwanted feeling of routine about me.  The past five days – time that I scheduled for writing a couple of articles – whizzed by without allowing me to hit the keyboard.  Yogi was right in his observation quoted above.
(Another one for you "Yogi Fans" – "You can observe a lot just by watching.")
PUPPIES AND MORE PUPPIES
I previously reported the "fire drill" of one litter of puppies doing in some of my plans.  Again, a new litter picks up the "drill" and voids my social dance card.  All in all, we now have a total of 5 puppies.  Our younger female had 3 pups, while the elder one blessed us with two.  It's truly a blessing.  Had the two gals delivered full litters, that total would have been more than double.  That wouldn't have been a blessing, that would have been penance assigned for some forgotten "trespass" in years past.
I love the puppies – at least I do right now.  Their eyes have yet to open, so for them, it's just a simple routine of eat and sleep, with a little bit of limited crawling.  When those eyes open (could happen any time now) and they take to their feet, times will become very trying.  There's nothing more curious than a puppy with new eyesight and stable legs.  I had best relish these "cute" moments now.  In a day or two, I might be singing the old blues standard made famous by Mr. B. B. King, "The Thrill is Gone.
HOLIDAY SOCIALIZING
As many of you are probably experience during this time of the year, socializing with friends and family is starting to take up an ever-increasing importance in life.  Being well into the final "-ber month" for 2015, holiday visits are popping up and commandeering free time.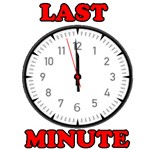 For me, too many of them are "last-minute" affairs – none are visits from others; all of them are visits we make.  There's nothing better to make your day than that surprise of learning you will be heading out to see "X" or meeting up with "Y" to go visit "Z."  Surprise, as in 30 minutes' notice before leaving the house on another venture into mutilated free time.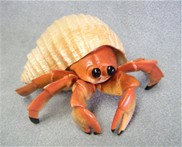 Does get me wrong. I'm not some curmudgeon desiring the peace and comfort of being a hermit. I love getting together with family and friends. The lack of sufficient advanced notice is the issue.   Just like the proverbial expectant father, it seems like I'm often the last to know.   Nothing sours my attitude more than having to abandon whatever project  I'm engaged in, dropping everything as is, and rushing off on a new social adventure that was just brought to my attention.  In these instances, "Philippine Time" always works against me.  The only thing late is the word about the activity that finally made it to my ears.   All else is fastidiously punctual.
Still, you have to write these experiences off as "adjustment" to a different way of living.  To continue the lifestyle, I'll gladly write them off.
ON THE BRIGHTER SIDE…
…we've had some great visits from friends who've traveled considerable distances.  Oddly, the visits have been "stag" so far.  Either a husband or a wife would arrive alone, with their spouses "left behind" to tend to their version of the "fire drill."
A relatively new friend, Moe, made his way over for some adult beverages, cigars, and chat with a fellow "Kano."  His better half, Dee, remained in the States to tend to their animals.  This visit was a treat for the children of the neighborhood.  You see, Moe likes to grow a nice, white beard and mustache for the Christmas Season.  As we sat on the front porch shooting the breeze, passing youngsters couldn't help but stop and gawk.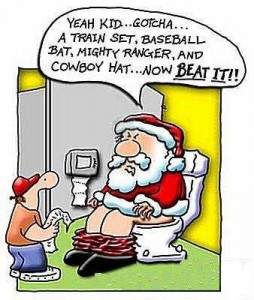 Here, bigger than life, was someone who truly resembled that jolly old elf from the North Pole.  When enough courage was assembled, the bravest of the lot would shout out, "What's your name?"  I'd answer with, "You know my name!"  The  response would be, "Wen (o-o) [yes] Tito Paul, what's 'his' name?"  Of course, we let them know that it was the jolly old elf himself.  He was here watching the boys and girls to see how they are behaving.  There wasn't a single skeptic in the bunch.  Off they'd run, only to show up a little later with friends who likewise would gawk.
Things have been pretty quiet in the neighborhood since Moe's visit.
Another solo visiting us was half of a wonderful couple we've known for a few decades.  This time, it was the wife, Betty, who appeared, leaving husband, Ed, back in the States to work.  Ed could retire, but he's worked himself into a high pay position having not much to do.   Can't argue with that reasoning.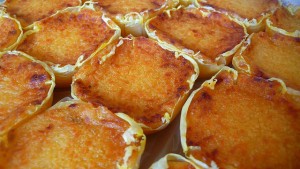 Betty brightened our day.  Bringing "Royal Bibingka" and Cassava Cake from a well-known and respected shop in Bantay, Ilocos Sur (near the provincial capital of Vigan), we spent the afternoon catching up on everything while munching merienda.
We'll be hosting a FilAm couple around Christmas time.  Another decades old friendship.  We're hoping that they can come in a few days before Christmas and attend our annual holiday party.
THAT'S IT FOR NOW
I'm having great difficulty staying awake right now, so I'd better wrap things up.  A post season tropical storm is headed our way.  So, tomorrow's free time is spoken for. Battening down any thing that could become a missile during high winds will more than likely snatch up the free time.  Gotta love life here