NEW articles daily! Subscribe below to receive daily updates with our new articles!

Can an "expat" suffer from "Homesickness"?
Anyone pondering this question — whether Filipino, "expat," or "other" — will have a unique answer.  Not only are the answers unique — the points of view from which they proceed are equally diverse.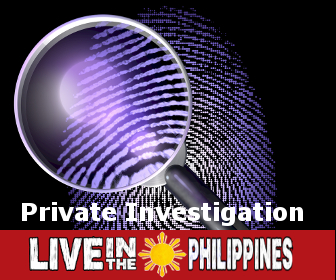 Being human, we all have some sense and desire for familiarity.  Finding ourselves in new or different surroundings for a considerable period often stimulates those senses and desires.  Our reactions can be quite diverse.
Some people are lightly affected.  Others take it tough to the point of extreme emotion.  It's safe to assume that the reactions we call "homesickness" are as numerous and diverse as those who encounter it.  That is, everyone reacts differently to some degree, but generalized facets among the sufferers are present.  Of course, this is common knowledge.  Sooooo…., let's put a twist on it!
This article won't be about a Filipino's homesickness when away from Paradise.  Nor will it be about the homesickness an "expat" may have for the "Motherland" while sitting in Paradise.  Add another category to diversity:  This article will touch on the experiences of homesickness for Paradise that one "expat" has upon returning to the Motherland.
I'm homesick for Paradise!
Where do I begin?  Everything seems so "foreign" here in the Motherland.  It's certainly does not seem to be the same place where I grew up.  Perhaps the best place to start is the Motherland airport, deplaning from that long trans-Pacific flight.
Yeow!  The first thing I notice is the temperature change.  When we boarded that plane, even though it was around 9:00 PM Manila time, it was still about 32°C (89.6°F).  Now, as I shiver while changing terminals, it's around 55°F (12.8°C).  That's quite a change — worse than air conditioning.  What's worse, this island guy doesn't have a jacket or sweater.  It's a good thing I remembered to wear long pants.
I'm homesick for the ever-present warmth of Paradise.
All around me is what seems to be a never-ending string of disgruntles passengers.  Complaints about this flight, complaint about that airline, complain, complain, and complain.  I don't see a single smiling face or hear a pleasant greeting.  I'd settle for a "Hey Joe" right about now.  Unfortunately, what I seek is isolated to the suburban pockets of different "Little Manila" neighborhoods.  Where I'm at seems to be pure "Puti-ville"!
I'm homesick for my neighbors and friends in Paradise.
Now, we wait for our "red-eye" flight to mid-west Motherland, and it's getting a little hungry out, so off to a snack bar, restaurant or whatever place we can find in the airport to "put on the feedbag."  What's this, no pancit?  No lumpia?  No lechon?  No adobo?  No bagnet?  No pinakbet?  No dinagdakan?  No sinang-lao?  Not even any dinengdeng?  Well, at least there's some rice.  What's this, Uncle Ben's?  I'm not even going to ask about fruit or ice cream.
I'm homesick for the treats, food and delicacies of Paradise.
We arrived at our destination in mid-west Motherland, and our sons met us at the airport.  It was nice to see them again, and catch up on all that's been happening since our departure last year.  After a short ride and depositing us and our luggage at our eldest son's new home, both boys had to head back for work.  Busy time for both of them — we won't see them for a good, sit-down chat until supper time.
I'm homesick for the family members — especially the lolos and lolas — we left behind in Paradise.
With time to spare after freshening up from our travels, we decided to borrow a car and head for the nearby military base.  Our retiree ID cards will be our passports back to more familiar turf.  At least I hope so.  It has been a long time since we've been to a military base and have spent time shopping in the exchange store and commissary.  It certainly didn't take long to suffer our first of many attacks of "sticker shock."  The prices are outrageous.  Isn't anything in this store locally grown?  I'm getting fat just looking at all of this preserved food with extra-added ingredients.
I'm homesick for shopping at a palengke, tienda, or even an impromptu "farmers' market" on the side of the road.
We continue to look around for an hour or two, and then hear the announcement on the overhead sound system that the store is closing in fifteen minutes.  No sooner do we redirect our attention at the selection of quick-frozen bangus and tilapia, and a store clerk comes up to us and tells us we have to head for the cashier — the store is closing.
I'm homesick for Philippine Time.
So, can an "expat" traveling back to the Motherland be homesick for Paradise?  I would say so.  I think I have proof, too.  It only took one day to develop, and I've a full-blown case of it — been suffering ever since.  I'm ready:
to head back for the warmth of Paradise, where

we can spend time among the smiling faces and the pleasant greetings and chit-chat, while

enjoying all the wonderful things to eat and drink that Paradise provides, with

our neighbors, relatives and friends (especially the lolos and lolas), after


obtaining these treats from the local palengke, and

take our time doing it all to the utmost of our enjoyment!
Did I mention that I miss our house?  I AM homesick!