NEW articles daily! Subscribe below to receive daily updates with our new articles!

Today, we have another Guest Article from Jack Emery.  Jack has written on the site once in the past, and today would like to share with your his recent experiences with Mindanao Bob… no, not me, but the "other" Mindanao Bob! MindanaoBob
There's a new "Mindanao Bob" in town!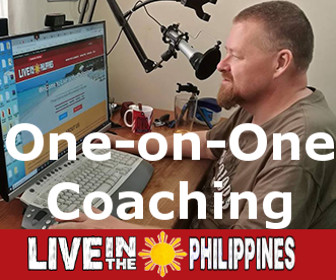 We finally pulled the trigger.
Last week we relocated from Arizona to Davao, lock, stock, barrel, and cat.
This isn't about moving. That would be boring.
This is about the cat. (The cat's name is Bob, and this is Mindanao, so I guess that makes him "Mindanao Bob II". )
Some have asked "why are you taking a cat to the Philippines?????", or "don't they have cats in the Philippines?????" ("?????" translates roughly to "are you insane?"). I could reply that we've had Bob for ten years now, and he's a member of the family. But a non-cat person will find that answer unconvincing. A cat person would never ask such a question in the first place.
Taking a cat to the Philippines is only slightly more complicated than a Space Shuttle launch:
Step 1: Get the airline's okey-dokey. Having heard one horror story about six hours spent in Manila airport tracking down a pet checked as baggage, I was determined to have Bob ride in the cabin with us. I could find only two airlines that allow this (for a hefty price): Delta and Korean. We chose Korean, mainly because the Korean flight from LA (via Seoul) arrives in Manila in the daytime, and we had been warned that finding the quarantine officer in Manila airport after hours can be problematic.
Korean Airlines would not make the cat's reservation until we had our own tickets reserved. With those in hand, I called Korean's reservations number:
Me: "We are flying to the Philippines on November 17. I want to make arrangements to bring our cat with us in the cabin."
Korean: "You want to bring your cat?"
Me: "Right. In the cabin. With us."
Korean: "?????"
Korean: "Do you have an approved cat carrier?"
Me: "Yes." (Bought a "Teafco" airline approved carrier on Amazon, 85 simoleons and worth every penny. This is the Versailles Palace of pet carriers. If they made them for people, I would live in one.)
Korean: "How much do the cat and the carrier weigh, together?"
Me: (Relying on Amazon's shipping weight) "The cat is 9 pounds, the carrier is 3.5, so about 12.5 pounds."
Korean: "I'm sorry, you can't take the cat in the cabin, the total weight has to be under 5 kilos (11 pounds). "
Me: "Doh!"
So I waited a few minutes, called back, and spoke to a different agent. (In golf, this is referred to as "taking a Mulligan".)
Me: "We are flying to the Philippines on November 17. I want to make arrangements to bring our cat with us in the cabin."
Korean: "You want to bring your cat?"
(Etc.)
Korean: "How much do the cat and the carrier weigh, together?"
Me: "About 10.5 pounds." ("Diet" cat food, amazing stuff, very fast acting.)
Korean: "Very good, sir. Give me some information and we will submit your request to the home office for approval. You can call back tomorrow and check to see if it is approved." (It was. )
Step 2: Get a "Veterinary Import Clearance to Import Dogs and Cats" from the Bureau of Animal Industry in Quezon City.This paper expires in 60 days, and I didn't want to waste part of the 60 days getting it mailed from the Philippines, so we asked a cousin to go to the Bureau office in QC and get the permit, scan it, and email it to us. Cost: 100 pesos, plus a major favor now owed to the cousin for blowing half a day in Manila traffic.
Step 3: Get a vaccination certificate. Bob came from a shelter, so I'm pretty sure he was vaccinated, but if he ever had a certificate it was certainly lost several moves ago, so this required a visit with a veterinarian. The Import Clearance form requires a "valid vaccination certificate against rabies, canine distemper, infectious hepatitis leptospirosis, canine parvovirus, or feline panleucopenia."
What the Philippine consulate (see Step 6) really seems to want, however, is the health certificate (see Step 4), and a rabies certificate, which is apparently a standard form used by vets when they vaccinate dogs. (Technically, cats are not dogs, a fact which is apparently confusing to people who make up government forms.) Our vet is mainly a horse vet, and didn't have either form, so we got a signed letter instead, which didn't quite work (see step 6).
Step 4: Get a health certificate. This has to be dated not more than 30 days prior to arrival in the Philippines. It is filled out and signed by the veterinarian, but it has to be on an APHIS Form 7001 (see Step 5) — no other form will do. This form is "restricted", sort of like nuclear fissile materials, and can be obtained only by a licensed veterinarian. Our vet had never heard of one, so she had to call APHIS and order one and wait for it to arrive in the mail.
Step 5: Get the health certificate and vaccination certificate certified by USDA/APHIS. The vet's signoff has to be stamped and validated by the "Animal and Plant Health Inspection Service" (APHIS) of the U.S. Department of Agriculture (I guess vet impersonation must be a bigger problem than I realized.) Getting the APHIS certification required an appointment and a personal visit to the local USDA/APHIS office. (It may also be possible to do it by mail, if you don't mind casting your hard-won paperwork upon the bureaucratic waters in the hope that it may actually wend its way back before your plane leaves.)
When I arrived for the appointment with APHIS, it was revealed that the letter certifying the rabies vaccination was inadequate because it did not specify the lot number of the vaccine used. Fortunately, the APHIS guy (who happened to be Filipino, from Manila somewhere) was very helpful and after calling our vet and getting the lot number by telephone he stamped the form.
Step 6: Get the certified certificate authenticated by the Philippine consulate. This can also allegedly be done by mail, and I have corresponded with others who have done it that way. I was reluctant to bet $2,500 of non-refundable plane tickets on getting papers back in two weeks with no glitches, from a consulate that I was never able to get to answer their phone or respond to an email. We needed to go to LA anyway to get my 13A visa issued, so we did the cat papers at the same time. Apart from the unanswered emails and inaccessible phone system, I have only good things to say about the Philippine consulate. Everyone there was courteous and helpful far beyond expectations. We arrived at 9 a.m. and left with the 13A visa and the approved "cat visa" package, complete with red ribbon and gold seal (see picture), by 2 p.m. the same day.
Step 7: Drag the cat through airports, airplanes, security, etc. for 30 hours. I was particularly apprehensive about the security process, which requires removing the cat from the carrier. The carrier goes through the X-ray machine. You have to hand-carry the cat through the metal detector (with cat terrorism on the rise, can't be too careful I guess). As any cat person knows, a cat who is determined not to be carried somewhere has plenty of sharp and painful ways of getting loose, and I had visions of chasing an angry cat through LAX while being chased in turn by a platoon of angry TSA officers, who would then probably subject both of us to an "enhanced pat-down". I needn't have worried; Bob was downright Zen, and even deigned to allow the security ladies in Seoul to pet him.
Step 8: Take the authenticated certified certificate (etc.) to the Quarantine Office. On arrival in Manila, the procedure is simple: take cat and paperwork to the Quarantine Officer, pay a fee, and receive a Notice of Quarantine. The Quarantine Office is in a corner of the large room where the baggage carousels are (see picture). In our case, the fee was P350: a P100 permit fee and a P250 inspection fee. The Notice of Quarantine says that the animal is in quarantine for a month under the supervision of the Department of Agriculture. In practice, as long as the paperwork is in order, the cat is not detained. If our destination had been Manila, Bob would have been free to leave at this point.
Step 9: Take the authenticated (etc.) to the Other Quarantine Office.Since we were headed for Davao, it was off to the domestic terminal, where there is yet another quarantine desk, where one must produce the stack of accumulated paperwork, pay another small fee (P100), and get a permit to transport the pet from Manila to the final destination.
Step 10: Switch the cat to a hard shell carrier, and incur his undying wrath by checking him as luggage. The only domestic travel options I could find were PAL , Cebu Pacific, and Superferry. Personally, I prefer the Superferry, but I wasn't able to find a way to match their sailing schedule with our flight schedule. PAL and Cebu Pacific were both quite adamant about not allowing cats in the cabin. So we had to bring a hard shell carrier in our checked luggage (the in-cabin carrier is soft, and has to fit under the seat) and transfer Bob to the hard carrier so that he could travel the last hour and a half as luggage. (Cats consider this insulting.) The PAL check-in person was very nice about it; he allowed us to wait until the last possible minute to hand over Bob, and personally hand-carried him to his berth in the baggage compartment. At the Davao end, one of the baggage handlers brought him to us within seconds after we deplaned. No harm done, except to Bob's ego.
Costs incurred :
Import clearance: P100
Airline approved in-cabin cat carrier: $85
Veterinarian, for vaccinations and certificate: $85
APHIS, for certifying the certificate: $35
Consulate fee for authenticating the certified certificate: $25
Transport on USAir code share, Phoenix to LAX: $100
Transport on Korean, LAX to Manila: $300
Quarantine office fee: P350
Hard shell cat carrier: $21
Domestic quarantine desk fee: P100
Transport on PAL as checked baggage: P1800
TOTAL: "?????"
Bob seems to have adjusted quickly to life as an expat cat. He feels that there are too many dogs here, but he approves of the abundance of fresh seafood, and he likes the attention he gets from the nieces and nephews. He is quite definite that his future plans do not include air travel.
A few words of advice for anyone contemplating doing this
Start planning at least three months in advance. There are a lot of details to coordinate. The requirements for getting a "cat visa" can be found on the web sites of the various Philippine consulates in the U.S. (e.g.

http://www.philippineconsulatela.org/import%20pets.htm

) and also on the import clearance form [LINK TO SAMPLECLEARANCEFORM.PDF, SEE ATTACHMENT] The application form can be downloaded here:

http://www.bai.ph/Shared_folder/MEMOS/2010060003MEMO.pdf

. These don't all say the same things, nor do they spell out all the required steps – that would take all the fun out of it — but they will provide a starting point.
Buy your carrier as far in advance as possible and get the cat used to it. I bought ours several months before the trip, and left it in a place where Bob could "discover" it on his own. By the time we left Phoenix, the carrier had become his favorite napping spot, and whenever I had to take him out of it during the trip, he was eager to get back in.
When making the vet appointment, make sure that the vet has APHIS Form 7001, and has the standard rabies certificate form. If I were doing this again I would probably also choose a vet with the facilities to microchip the cat, just to avoid any possible argument about whether the cat I have brought and the cat in the paperwork are the same cat.
Fly on Korean Airlines, take the cat in the cabin, and make sure to arrive during working hours on a weekday. The Korean checkin clerks and flight attendants seem to be used to people taking pets in the cabin, and know how to deal with it; likewise the security folks at Seoul airport.
Be aware that you will have to remove the cat from the carrier when going through security. Therefore, have a harness on the cat and a leash ready to clip onto it while going through security, so that if the cat does deploy claws and teeth, you can drop him without losing control.
Don't drug the cat. It isn't necessary. Very light feeding and water on the day of departure, and an extended litter box visit before leaving. Another uncertainty I had was how to handle the "bathroom" issue, and we took a supply of "incontinent pads" with which to line the bottom of the carrier, but Bob managed the entire 33 hour (door to door) trip without any accidents, even though I gave him a few bites of airline food and a little water along the way.
Be aware that on arrival in Manila, in theory, they can collect duty on the pet, and I know of one case where the duty was calculated based on the transportation charges, and amounted to multiple thousands of pesos. (We were never charged duty, as far as I know.)