NEW articles daily! Subscribe below to receive daily updates with our new articles!

This article isn't aiming to be morbid, but death is something everyone who moves here must be prepared to face. Also, the funeral customs here are very different and, actually, can be quite fascinating.
I've been told, in no uncertain terms, what will happen to me when I die. I don't particularly care, though the idea of being freeze-dried or squashed into a diamond does have a certain appeal. Perhaps mummification or a decent breakfast for a shark? In any event, I'd sort of like something neat… Nope. No discussion allowed. The choice isn't mine. I will end up in the family plot in Abulug, in an above-ground vault, much like is common in New Orleans and for much the same reason. (High water table) Becky will be right next to me on one side, possibly on top of me, depending on the vault they build, with her mother, father, aunts, uncles, and so on all around. No need to buy a plot. That's just where they put their dead… Including the one Kano in town.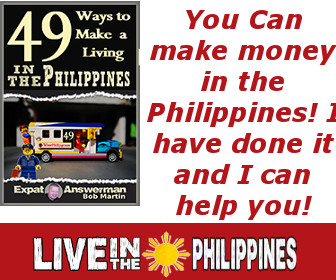 Abulug's cemetery is interesting. You go down the main road from town and the road gets smaller, narrower, and less paved. About 1 km out, in a patch of weeds, you are there, about 100m from the beach. The town cemetery is quite old, and five or six generations of Rebecca's family are buried (entombed, more appropriately) there. Some of the vaults are even in inscribed in Spanish or Latin! Part of Rebecca's family comes from Bulala, about 10 km further down the road, on the river bank opposite Aparri. Twenty years ago, a typhoon hit Bulala directly, wiping out much of the town, including the cemetery. Bodies and bones, and old coffins washed away or their occupants became unentombed. So, the all of the bodies in Bulala's cemetery were moved to Abulug. The family was reunited, in a manner of speaking. Tombs in Abulug's cemetery range from the elaborate to the very basic cement vault. Nice coat of whitewash, perhaps a candle holder, a small marker added or written into the cement, and there you go. Remember, Filipinos can be very superstitious. People generally stay away due to bad spirits and so on, except……
Twice a year, on All Souls Day, and the anniversary of your death (If you are a patriarch or matriarch), your spirit can expect a family picnic and party over your bones. Your spot will be weeded, cleaned up, candles lit for your soul, lots of food and drink passed around, a few prayers, and everyone goes home happy.
This year, Rebecca had two uncles from her father's side pass away within a single month. Her father was from a family of 12 siblings and there are now 4 remaining. There are some very interesting differences between Filipino funerals and Western funerals. First off, her family are all Roman Catholic. Now, in the States, that means that you attend a Mass. In the Philippines, that means you attend several Masses. Both uncles' funerals were pretty much similar.
Family is of the utmost importance here… It is expected that, barring some unfortunate accident, you will die at home, surrounded by your family. How many old age homes are here? Very, very few. You are expected to care for your parents, or childless Aunts or Uncles, regardless of circumstance. That is just how it is done. Your elders brought you into this world and you take care of them seeing them into the next. So, ideally, you live a long life, and depart surrounded by your family and your parish priest, who gives you last rites. Families here immediately go to the surviving children and offer comfort and support. Again, families in the Philippines are large, and this can be quite an event. Also, keep in mind, that in a country where 15% of the population are OFWs, this can mean many visitors from overseas. Family are expected to contribute what they can towards feeding, lodging, and entertaining all those who come from out of town. No big deal? Well, both funerals I attended had over 800 visitors! That is a LOT of people showing up.
The local NSO is then notified you departed, a Death Certificate is issued, and your body is stripped, washed, and wrapped in a shroud. Your body is then sent to the local "funeral parlor" for embalming, coffin, makeup, dressing, and hairstyling. Depending on your finances, they may not be able to afford makeup, but you will be dressed and embalming is a "must", as you will soon see. (The survivors really don't want you going ripe!) In the provinces, "funeral parlor" might mean nothing more than a nipa hut. Don't worry, you won't be there long.
You are dressed in your finest, placed in the coffin, and you return home. The relatives have cleared a room in your house, usually the sala, there is an altar to hold your body, and the room is decorated in Black and White crepe. White? Well, remember that this is Asia… One of the Chinese customs that carried over here is the use of the color white for mourning, in addition to black. There will be one or several pictures of you taken while you were alive above the casket, flowers galore around your coffin, possibly a winking Jesus mirror or two and at least several crucifixes, and there may even be a karaoke machine playing religious music over a DVD with photos, if your family can afford it. The family will make you "comfortable" in a place of honor, and you will stay put for 9 days of continuous wake. Nine days… That's a pretty long time. This is also open casket. You are dressed in your best for a reason… and you had better hope that the embalmer put a smile on your face, because your picture WILL be taken… Many, many times. In fact, Rebecca's family album has a picture of everyone who has died, from their funeral.
You won't be alone, though. Relatives and nearly everyone you have ever known in your lifetime will constantly stream in and out, viewing your corpse, touching your corpse, offering prayers, crying, and giving you a send off. The night before your burial is when the real party starts. Everyone is cooking, telling stories about the deceased, and, if your family can afford it, a band might be hired to play for the guests, and you, the guest of honor. The men will likely be drinking palm wine or Red Horse, while playing cards or gambling on Mah Jong games. The ladies will be directing the food, fussing over the children, and… You are not left out of the festivities. A plate will be prepared for you and left by the coffin as an offering.
When the band starts playing, it all comes to a screeching halt. Groups of relatives (Cousins in one group, uncles in another, and so on…), join the widow / widower and children and sing prayers / hymns for your soul. Holy water is sprinkled all over, and everyone pays their respects to you at least one time during the evening. After each group is finished, the music, gambling, eating and drinking continue up until the wee hours of the morning.
The next day, very early, they will come to take you to church. The procession will travel, mostly by foot, to the church, led by a band, and a Mass will take place. After communion, keepsakes will be placed in the coffin with you and each guest will place a flower in there with you. Remember, I said 800 visitors, so there will be a lot of flowers and you will probably be quite wet from all the holy water. You then will leave the Church, either proceeding to the cemetery, or, if you were prominent, to the town hall or gymnasium for another service.
Finally, the procession gets to the cemetery. A very quick service, some quick prayers, and the coffin is closed, perhaps after a final picture is taken. The "gravediggers" (masons), place you into the vault that was probably made a couple of days earlier, a few pieces of clothing or small keepsakes may be placed in, on, or next to your coffin, and, as the final "goodbyes" are said, they seal you in with cement. The whole crowd then returns to your home for another, more subdued, party. Thus begins a traditional one-year mourning period for the immediate family. The widow or widower will wear black and prayers will be said for you at Mass each week. No remarriage or dating during that time.
This may have seemed disrespectful, in the manner I wrote it, but no disrespect was intended. The above describes a provincial, Roman Catholic funeral. A Muslim funeral would be very, very different, as would an indigenous, such as Aeta, funeral. The whole funeral process is more a gathering of family and a celebration of your life, rather than mourning your death. It truly is a party and celebration. I find the whole process quite civilized, and it is very touching to see the care with which family prepare their deceased for the next world. It is also quite a bit longer and far more involved than most funerals in the West. There are no expensive plots, expensive funeral homes, or other truly costly acoutrements… The main expense, quite frankly, is feeding all of the visitors, but the family helps the survivors with those expenses.
It is also interesting to note that, as with other gatherings of family, such as weddings, all the dramas, jealousies, gossip, and so on perpetuates the occasion. If you are "wealthy", poorer relatives may even ask for money! Because two uncles died so close together, the superstitions were rampant. One of the other uncles was quite drunk, and getting a little "out of sorts". He started chastising another relative and she said, "You know, you're next!". He was very, very quiet after that! Needless to say, she was the subject of much gossip the following days. Below are a couple of pictures to illustrate what happens. Because mourning is a private event, I blocked the faces, but you will get the general idea.