NEW articles daily! Subscribe below to receive daily updates with our new articles!

No, I am not in a traffic jam caused by "Lookie Lou's" and "Rubber-Neckers" who are slowly and ghoulishly passing the scene of a recent accident, and are being cajoled by the local constabulary to maintain a quicker flow of traffic.  Nor am I helplessly being bombarded by radio or television ads that are stressing my need to purchase the latest in spot removers or laundry detergents (or, perhaps, some health-related product).  I definitely do hear that voice, though, insisting that I need to "Get movin'."  Finally, the trance entwining my eyes, fingers, computer video screen and keyboard is broken.  I gaze about me and see belongings, boxes and suitcases in various stages of disarray.   It is time to "Get Movin'," literally.
The first eight or nine waves of balikbayan boxes had been launched over this past year, and the final box is ready for pick-up.  All of the possessions that my wife, Emy, and I want with us in the Philippines were shipped via the old, reliable door-to-door method.  We didn't want to ship any major possessions, furniture, etc.  They just wouldn't "fit in" to the décor of our retirement haven.  The balikbayan boxes contained the little, important things as well as gifts.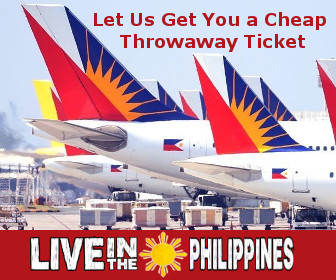 In a stroke of good timing, our eldest son, who lives about 2,000 miles east of us, is building a new house.  He will need furniture and other knick-knacks to fill it.  It will be a far more efficient use of our belongings (and a cheaper choice) to ship all of it to him, rather than shipping it all to the Philippines or put it all up in storage.  Yes, a much better use…if I could just "Get Movin'."
Retirement in the Philippines has been a dream of mine for quite some time.  Emy, a former OFW who never wanted to return to life in the islands, finally signed onto the idea a couple of years ago.  She said the only way that she would retire there would be if she had a brand-new, custom built, American-style house to live in.  Long story short:  Dreams do come true.  She now has her dream house and I'll have my island retirement…if I could just "Get Movin'."
So, it's crunch time – "planning" shifts to the side burner and "action" moves to the front.  Segregating items to be shipped east from those that will fly with us and those that will be distributed among family members living nearby seems to be the major hassle of the moment.  We'll pack some items for shipment; the shippers will handle the majority of our belongings, especially those big, bulky and heavy items.  We'll magically pack our suitcases to conform to airline weight limits while keeping their bulging appearance.  (Did someone mention carry-ons?)  We'll gather up the leftovers, pack the car, and drive them over to the family members…if I could just "Get Movin'."
Within the next few weeks, while the final steps of the grand master plan come to fruition, my connectivity to the internet will be spotty.  Emy and I will drive cross-country those 2,000 miles (spotty internet courtesy  of Wi-Fi hotspots) for a two week session of final hugs and kisses, instructions, reassurances, etc. (and solid internet at our son's apartment).  Then, in mid-July, we'll fly to our new home and begin life anew (while being at the mercy of spotty Wi-Fi, etc.).  I'm pretty sure that I'll write more about life there – we'll be living on the far northwestern tip of Luzon, and Bob is looking for an article or two from "up north."  So, one of my top priorities is to establish solid, high-speed internet connectivity (I've been "assured" that it's available) while searching out Wi-Fi hotspots.  Yes, life will be sweet…if I could just "Get Movin'"!