NEW articles daily! Subscribe below to receive daily updates with our new articles!

Last month I was in a Philippine courtroom for the first time. No, I didn't do anything naughty… It was supposed to be our last hearing related to Juanito's adoption. Unfortunately, there was a documentary issue and the final hearing will be taking place in the regional trial court in Ballesteros in late April. Yes, the process has taken a very long time, yet, as I have written before, the rules are there to protect my son… and we wanted to do everything properly.
I've always been a pretty law-abiding citizen, and have only been in courtrooms a few times. A misdemeanor public intoxication in my youth when I was 18 (and still couldn't hold my alcohol: $50 fine and a lecture from the judge. I was obnoxious at a football game and told a cop that he needed to loosen up and have a beer… Not my most shining moment!); a few traffic violations (always speeding… I maxed out my penalty points 20 years ago and had to go to court for remedial driving school); small claims court 25 years ago against my landlord (I won…$1,000 and they had to pay my lawyer); divorce court twice; Jury duty three times (Never went to trial); and in Sharia court in Abu Dhabi for a traffic accident (I was acquitted).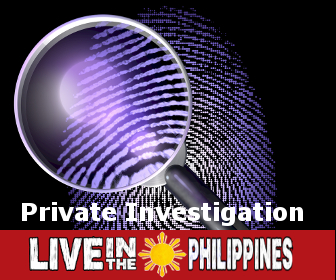 Therefore, I am not what you would call a habitual offender who knows the ropes through the court system.
After multiple semesters of business law (I once considered a MBA / JD instead of a sole MBA), I became pretty familiar with courtrooms in the US. What was interesting was going to court here in the Philippines, and noticing the difference between the procedures in the courts here versus the Western court system.
First off, despite the inevitable comments that will be written about corruption, I truly believe that the Philippine legal system is well established and makes the attempt to render fair verdicts in the vast majority of cases. At least, from what I have seen. The legal code here is based upon the Spanish Civil Code (Yes, even after the American occupation and Independence, much of the legal system still remains the same.) The Spanish Civil Code itself was derived from Roman Law, so the legal precedent in the Philippines dates back centuries. Add in several constitutions since independence, and what you get are the Republic Acts: The Philippine legal code.
The court system here is also quite overburdened, much like the court system in the United States. Trials and decisions can take years, depending on the type of case, and as has been written about significantly on this site, much of the burden is in criminal law, family law (annulments), and land law.
However, notice what is missing: Tort law, and bankruptcy law.
First off, Tort law gets a lot of press in the United States. Cases clog up the system for many years. Pretty much anyone can be sued by anyone for anything there. Tort law is not even defined in the Republic Acts here. The concept in the Philippines is known as Quasi-delict or negligence. What is different is that there is no concept of absolute liability for a manufacturer or employer, as in the United States. The burden of proof in the Philippines is nearly entirely on the plaintiff in negligence cases, and the plaintiff's (or the injured's) own actions are taken into account. So, if you trip on a sidewalk here in front of a shop, in order to successfully sue the business that owns that shop, you would need to prove that your own actions did not cause the injury (You were drunk, not paying attention, etc.), AND, that the shop owner willfully allowed a dangerous condition to exist and that he had reasonable suspicion that the condition would be dangerous. That is a pretty tough standard to prove, and is one reason that the courts here are not clogged up with frivolous lawsuits. (McDonald's Coffee Lady would not stand a snowball's chance here in collecting a single peso). Is this "beneficial"… Well, from a business perspective, yes, but from a perspective of inferior products in the market, no.
As to Bankruptcy, there is a provision in the law that allows for personal and corporate bankruptcy. However, the law dates back to 1909, and is very seldomly used, for a number of reasons. Bankruptcy in the Philippines (The type of which Americans would be more familiar) is covered by the Insolvency Acts, and are very difficult to prove. Again, the burden of proof is on the debtor, and the relief normally provided resembles restructuring of debts more often than dissolution of debts. So, in other words, you most likely will still have to pay.
So, the courts are burdened, but with different sorts of cases predominating. As in the United States, there are criminals here, and everyone is guaranteed a free trial by the constitution.
The biggest difference, however, is that there is no jury system in the Philippines: Trials are decided by judges. Not a big deal? Well, if the judge is fair, then no. But what if he is not? That is why juries are prevalent in many countries, rather than trial by a judge. Don't like it? Well, then either: Don't visit, or don't get into trouble here. In our case, I believe that the judge is a fair man and tries his best to be impartial. In our interview, he looked up several family law provisions and told us, "I'm going by the letter of the law."
So, many expats will never have an encounter with the legal system here. However, we also know that many people come here who are not saints… People sometimes do stupid things. You may also become involved in annulment proceedings someday, or you may get into other legal problems, so you had best know how the system works. Keep this in mind: You are always at a disadvantage in disputes here. This isn't racism, or anything against foreigners, but a reality check. You are an outsider. In a dispute with a Filipino, he will know the law much better than you, and he will know his options much better than you. That statement is a fact.
Also remember: If you get into serious trouble, your embassy cannot "bail you out". You are subject to the laws of the Philippines, just like Filipinos, and ignorance of the law is never an excuse (Though it may be considered a mitigating factor). In any event, all your embassy can do is help you arrange for a lawyer, make certain that you aren't being deprived of human rights in prison, or advise you of what your situation may be with getting out of the country or of financing your defense.
So, we are scheduled for the hearing in the Regional Trial Court. The building is one large courtroom (about the size of a University classroom), with the judges chambers and the court clerk's office beside the courtroom. All cases of all types (Criminal, Family, etc. This is just a small provincial court. In the cities, courts are often separated and there are many judges) are tried by the same judge. We arrive early, as instructed, and everyone (except criminal defendants) is standing outside chatting, smoking, etc. The Judge arrives, and after about 25 "mano pos", he retires to his office and all of those with court business are invited to sign in with the bailiff (EVERYONE) and take a seat. No metal detectors (again, small rural court). Rebecca and I take a seat, and our attorney rushes up, "No… not there John… You aren't a defendant!". So we move over to the other chairs. Judge enters, and a prayer is said. Everyone rises when he enters and remains standing until instructed to sit down by the bailiff.
The criminal prisoners are then brought in by the PNP… The prison truck backs up to the doorway, and the guards escort the prisoners, chained together handcuffs and leg irons, to their seats. The guards remain on each side of the row of prisoners, uncuffing them as required by the judge.
So, the bailiff announces each case, and as your name is called, you stand up where you are sitting, making your presence known to the judge. Behind the bench is a Philippine flag, the country seal, and a very large wall calendar. You answer any questions asked by the judge, and then the bailiff will motion when you are to sit again. Your lawyer and the opposition lawyer will confer with the judge (For adoption, the government appoints a lawyer for the State… He just nodded his head). Whole procedure for our hearing took 2 minutes. The judge received the case file a month ahead, interviewed us in person when the case file was delivered, marked his questions for our attorney on the front page, and simply asked what was unclear during the hearing. He then decided he wanted some documentary clarification, asked our attorney how long it would take, and asked the bailiff to check the schedule… Scheduling a new hearing.
That was it. In and out.
What were the differences?
First off, with a judge, things move very quickly. When I have had jury duty, so much time is wasted… I never even got to the courtroom on one occasion when I was called. There were around 40 cases that day (a one meter high stack of paper in front of the bailiff), and the trials took about 30 minutes for the fifteen or so cases before our case. I was told that trials are held until lunch, and the judge spends the afternoon reviewing the case files for the next day. Think about that a second: This is a small court, and so much work is done personally by the judge. We heard bits of a murder trial, a rape case, an estafa case, an annulment, several drunk and disorderly, a domestic battery, a robbery, several land disputes, a title dispute, a name change, and a burglary (Whew!). In 30 minutes! (Not all were resolved… in fact, most weren't. Our attorney told us that for something like murder, dozens of hearings may be required).
There are no computers for the court reporters. Three reporters transcribe the language of the proceeding simulaneously and independently, using shorthand. Our attorney told me that all of the three transcripts are reviewed in the event of a dispute. I was also told that becoming a court reporter here takes an awful lot of schooling and practice. (I didn't know that anyone used shorthand anymore!)
So, I hope you find this article interesting and informative. It was a fascinating experience for me. Our adoption is nearly formal and complete.
Hopefully, if you find yourself in a court, that it is for happy circumstances, like ours.