NEW articles daily! Subscribe below to receive daily updates with our new articles!

In most countries this is an easy question. In the Philippines as well as other Asian countries this can be a little harder to answer.
Bob and I have talked several times about something I have been doing that makes that question a little harder to answer. He said I could talk about it in an article for him. I know that many of you that live there or have family there do similar things as the story below.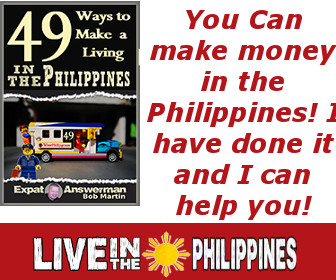 In September 2007, through a coworker, I started tutoring a little girl in northern Mindanao. It was a little fishing village between two rural towns. Most of the children had one or both of the parents working as OFWs. It began to expand to helping other children with lessons and simply visiting via YM or Skype and helping them with American style English.
I was talking to Pearl and asked what her mama was doing that afternoon. She responded by saying that her mama was trying to buy food that was too old to sell at regular price. I asked why? "So we have something to eat today," came the matter of fact reply.
I talked to Inday and Babeselle and found that due to the bad weather most of the children were fortunate to have much to eat. I was questioning since they were in a fishing village and found out that they had been unable to fish due to the rough seas.
In addition to helping with lessons, now the children get at least one hot meal a day.
Bob has been a huge help with this. He has been helpful with my questions and his WowPhilippines website has provided items for them. He also was able to take my description of my thoughts and convert it into a website for the children's home – the result of his excellent work.
We have gotten to the place that we are a recognized non-profit organization here in the USA so we can start helping them more effectively.
Enough about the business part; and about the children.
My short answer when I am asked how many children I have is, "23 or 28, depending on what day it is." It's fun to see the shock value but really, all the children call me "Daddy" except Babeselle, she calls me "Papa".
On the website that Bob built, I tell about different ones, but a short version is:
Babeselle, is the ringleader. She loves teaching the younger ones when they are having problems with their lessons. She is quite capable since she got a 94% average last year in school, and has perfect marks so far this year.
Leray, is a little over a year and a half old. When she was born she had a skin condition that caused rash and bleeding. Her parents were heartbroken because the medicine was almost half of the monthly income that her father earned as a general laborer. The children's home was able to cover the medicine and after a year she was able to outgrow it.
Kevin and Dindo are cousins. 4 and 5 years old and all boy! They were like quite little angels until they got used to me and then then they wanted to teach me all their games.
Well, you get the idea. There are 22 children that we help daily with lessons, internet permitting, and 7 on a part-time basis. 17 of the ones we help daily are school age and 5 of the part-time children.
Are they children by blood? No. But they have wormed their way into my heart though good times and bad. When they hurt, it makes my heart hurt, when they succeed, I am happy with them. So, yes, they are all my children.
How many children do you have?