NEW articles daily! Subscribe below to receive daily updates with our new articles!

I mentioned in a previous article that I was planning on making a quick trip to the Philippines hopefully in March.
Due to changes at work and an audit by BRC the only time I was able to get off was early April for just under 2 weeks. Because of the changes at work, I was afraid I might have to disappoint them so I decided to surprise my daughter and her mother, Inday. I had planned on just showing up at the doorstep and enjoying the commotion. The more I thought about that the less I was convinced that I wanted to do that. In the past, I had traveled with them and Inday had dealt with the travel issues that arose. My Bisayan is not enough to feel comfortable, so plan B was enacted.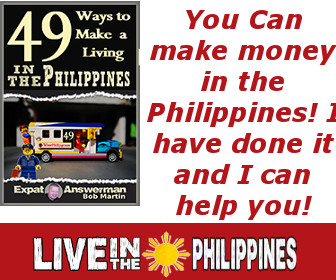 I told them that a friend of ours, Jojo, was going to visit her family that lives about 90 miles from my family (lie #1). I told them that I was going to send a suitcase of things for them and they needed to meet Jojo at the airport because she would have her stuff and I didn't want her to struggle with her stuff and their stuff. They agreed to take the 2 ½ hour bus ride to the airport at Dipolog.
I gave them the flight number and time to meet the airplane. Before I left for the airport, I told them, (lie #2) that I wouldn't be able to call for a couple days due to traveling and studying at a training conference. They assured me that they understood and would love to talk to me after the conference was over.
I also decided that since I had not been there for over a year and a half, I would make an effort to see things as if I had never been there and make notes of some of the things that caught my attention. Additionally, since I had to fly on relatively short notice, the more affordable fares had layovers. I decided to pick routes that had layovers at places I hadn't been either before or in a long time and use the time for quick sightseeing where possible.
Because I am way overdue for a hip and knee replacement, I have to use a cane for walking after long periods of sitting or standing. This became important later. I left Indianapolis for San Francisco. I met friends there for a quick lunch and then back to the airport for a flight to Hong Kong. I had not been to the new Hong Kong airport. The approach and landing was certainly less entertaining than the old Kai Tak airport. A short layover with just enough time to explore the airport and then to Manila for a 12 hour layover in terminal 3 waiting on my PAL flight to Dipolog.
Landing in Manila, I headed toward immigration and then baggage claim and customs. I headed toward the queue for customs and was quite taken aback when one of the airport police insisted that I follow her. "What the heck did I do?" I asked myself. I had been in the country a very few minutes and had no issues, unresolved or otherwise, from previous trips that had required the attention of the police.
She bustled toward the diplomat window and I followed her as well as my hip and knee would work leaning on my cane. She banged on the window and startled the fine immigration officer behind the glass from his relaxed state where he was doing inventory of the backside of his eyelids.
She told him to stamp me, (my passport) and then got someone to help me get my luggage off the baggage claim and then escorted me to customs where she told the sergeant (I assume, since it appeared he had 3 stripes) to take care of me. I assured him that all I needed was to go to the waiting area for my PAL flight.
He pointed out that it was a long wait and that he would get me a taxi so I could go to a hotel but I assured him once again that I would just wait at the airport. He gave me a polite look and I'm sure I heard him thinking, "Crazy Kano," but he asked if I needed assistance with luggage. I took my luggage to the secure luggage area on the first floor and checked it in so I wouldn't have to bother with anything other than my carry on case that had my medicine, Kindle and other things.
I went to the second floor waiting area of Terminal 3 and as I had expected, found one of what might be Manila's largest hotels. At one point during the night, I took a walk to keep my hip and knee from getting too stiff and counted over 2000 people sleeping on the various levels of the airport.
There were a group of children that while well behaved, were getting very tired of waiting. I asked the parents if I could give them some balloons. They were afraid the children had been bothering me but after I assured them that wasn't the case, they agreed. I had a couple hundred balloons with me that I used to make balloon animals. Kids are kids all around the world. They wanted to see what could be made from them. One little girl came up to me and after a respectful mano po, wanted to help me pass them out.
Early in the morning I heard a familiar sound. Roosters crowing at sunrise. But wait, I am in an international airport, surely I am hallucinating. Hearing it again and seeing some of the children laughing I decided to investigate. While walking toward the noise, I hear a couple dogs add to the entertainment. It seemed that some fine travelers wanted to take their livestock in the airplane as carryon luggage. I don't know if they were successful because I was on a different airline.
Finally, I boarded the PAL flight to Dipolog. While the shortest leg of all, it seemed to last forever since I was so anxious to see the family. After a challenging landing at Dipolog, I deplaned and was offered an umbrella for the short walk to the terminal.
I didn't wait for the baggage to be unloaded but went out of the terminal to the waiting area where the families are made to wait in the parking lot. My daughter was anxiously scanning the women leaving the terminal while holding a sign with her name on it so "Jojo" wouldn't miss her. She was so busy looking at the women she never noticed me until I was about 15-20 feet away. She just froze; never moving or changing expression.
I put my arm around her shoulders and said, "Hello Princess."
"Papa?" she almost whispered, "Papa?" in a normal voice, and then in a loud shout, "Papa!!!" Her mom was waiting a little ways away since it was so crowded and came running to see what the shouting was about.
We had a wonderful reunion and then I went back inside to get my bags while they got a tricycle to take us to the bus station. Explanations were given for the lies that mislead them and forgiveness was given instantly.
We went to Jollybee for lunch and then to the bus station to get transportation to Sindangan. There I was glad for the family. 4 or 5 people started grabbing for suitcases on the tricycle and talking all at once. I didn't know if we were getting mugged or if some of our unsavory characters from home had arrived before me. Inday went from the 5' nothing sweet mother of my child to a miniature version of a Drill Instructor. Bisayan flowed like a waterfall. She then pointed to the van and said, "We go now." Ah, now I understand; she was simply negotiating and directing with authority.
My arrival was timely as there were septic problems at the house and the "septic guy" had told Inday that it was full and a new septic tank would need to be installed. I was born in the night but it wasn't last night and knew that I had never heard of disposable, single use septic tanks. I asked her to convey my thanks to him for his expertise and let him know that we would call him when his special knowledge was needed. I also remembered seeing signs posted for septic services in town.
I decided to stay at a lodge in Sindangan while the septic matter was dealt with since I was not in the mood to walk to the neighborhood outhouse while getting the problem resolved.
To be continued.
Travel observations and wonderments.
Is there a law that does not allow working speedometers? In the 2 large buses, the jeepneys, the tricycles, not one of them had a working speedometer.
Are tricycles all made to be in a nose high takeoff position or is this a localized design?
Does it cost extra to have the cement blocks delivered already crumbling? In a number of locations, I noticed the cement blocks waiting to be used already crumbling before they had ever been laid. Also, the concrete columns for new construction was crumbling before the building was finished.
Is there any real luggage requirement? I saw everything from the ubiquitous and expected Balikbayan boxes and designer luggage costing far more than my plane ticket, to foam picnic coolers, cut down cardboard boxes with a wire hanger for a handle to a blue tarp wrapped with duct tape.