NEW articles daily! Subscribe below to receive daily updates with our new articles!

One's culture is complex, influenced by many different components: Language, customs, history, religion, values, and… food. The Philippines has always had battles between different cultures and value systems, dating from far before the Spanish conquest to the present day. It is not so difficult to understand. People grow up in different environments, and what one group may value highly, others may assign verly little or no value. The concepts ingrained in you when you are young are not easily changed, nor should they necessarily be changed. However, conflict is certain to arise when one group tries to instill its' culture into another group, or change another group's culture. One is not necessarily better than the other, nor are the values cherished by a different group necessarily wrong. An interesting philosophical question: If you are raised a cannibal, is killing another for food wrong? If you know nothing different, and do not believe it is wrong, who am I to come along and tell you differently? Of course, people do not live in a vacuum… Those with the might force change. Religion accelerates change. Intermarriage and contact between groups forces change, acceptance occasionally, and intolerance far more frequently. You can really give yourself a headache if you think too much about your cosmic insignificance in the face of change. The concept of "Universal Truth" is debateable… Very few, if any, things are regarded as universally right or wrong by every living being on the planet. Even things like murder, or killing, as shown by Man's willingness through history to dispose of others. The underlying reason is needs versus wants. When you need something, like food, instinct becomes dominant. You are drawn to fulfill that need, regardless of mores.
Nearly every student in a business or psychology degree program is exposed to Maslow's hierarchy of needs, represented by this graphic. The bottom tier is universal to every human. As one moves up the pyramid, the needs become less urgent, less universal.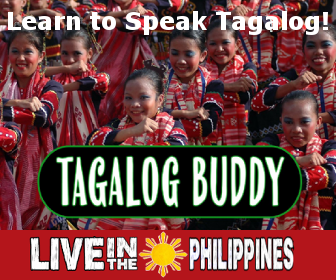 When it comes to culture, language and food preferences are perhaps the most visible cultural differences a traveller or expat is likely to encounter. A browse through web sites dedicated to the Philippines will show hundreds of sites dedicated to Filipino food and traditions, often focusing heavily on the "gross out" dishes, like balut, soup #5, dinuguan, pinakbet, bagoong, or dog meat. I wrote about eating dog previously on this site, and I was called some pretty colorful names on Facebook for my assertion that it was just like eating any other meat.   At their core, even though these foods may be revolting to western tastes, they satisfy the need for food. They keep one alive. If you need to eat, how choosy will you be, if hunger drives you far enough, becomes less important as long as that need remains unsatiated. However, sometimes food choices initially driven by need become ingrained as part of the culture, and turn into "wants". This isn't limited to the Philippines: In the United States, the frugal Pennsylvania Dutch invented scrapple; Horse meat is still sold in supermarkets in France; The British still like black pudding. A westerner, used to seeing food packaged cleanly in styrene-wrapped packages may give little though or even have little inkling that the chicken nugget ordered at McDonalds was once a living animal, with blood, feathers, guts, and everything else that many may find revolting.
What one eats becomes part of their culture: Rebecca looks at a plate of pinakbet, with lots of stinky bagoong the same way that I look at a dish of hush puppies or Chicago pizza. Each is part of our respective culture.
In the Cagayan Valley, the culture is largely Ybanag and Ilocano. These two groups share many similarities, including their respective foods. One cultural tradition, centered around food, is capturing and cooking Ludong, also known as President's Fish or, in English, Lobed River Mullet (Cestraeus Plicatilis). This fish is highly prized, and a great delicacy. Unfortunately, it is also highly endangered.
Ludong has a unique taste and aroma, somewhat fishy, but different than that of other fish. Though commonly termed a mullet, the taste is quite different than that of other, more common mullet, like red mullet. Ludong spawns in a similar manner to wild salmon, though reversed. Whereas a salmon lives in saltwater and heads upstream to spawn in fresh water, the ludong lives in freshwater pools upstream and swims downstream to spawn in saltwater. Unfortunately, this is a big part of the reason that the fish are so endangered. Ludong only migrate once in their lifespan to spawn, returning to fresh water to die a natural death (Though not immediately). The need to reproduce is a basic need in animals, as in humans. Instinct drives the migration. Environmental change from river dredging has also hampered fish stocks. The ludong is now highly endangered, on the verge of extinction.
The mystique surrounding the ludong is centered around its' reputation as being "fit for a President's meal" (Part of the lore surrounding the fish is that Marcos demanded it frequently for important dinners as an indigenous cuisine. Remember, Marcos was from Ilocos, and probably grew up eating the fish). The fish itself is very difficult to catch, and is virtually never caught in any significant quantity. It is currently the most expensive fish in the Philippines, currently selling at a market price of P4,000 to P5,000 per kilogram. The remoteness of the Cagayan Valley also contributes to its' scarcity, as the fish spoils rapidly, given the tropical heat and difficulty transporting it to market. Like anything else, supply and demand drive the price. Since ludong forms part of the cultural heritage of the Cagayan Valley, the demand is there. However, high market prices and the scarcity of the fish encourage illegal fishing or overfishing.
Thus, the conflict arises when culture meets economics. When Rebecca was growing up, ludong season was from October through December, when the fish swam downstream to spawn. Her uncles would place nets in the river, catching them on their migration. Unfortunately, this method of catching the fish happens before the fish have the opportunity to spawn, killing two generations at once. Now, if you are subsistence fishing, the environmental damage is minimized (Turtle eggs are another local favorite… Same problem), since enough of the fish survive and spawn to regenerate the species.  However, when the mystique surrounding the fish passed into lore, market prices soared, and local people began to see the fish as a good source of income. The prices commanded by ludong represent a substantial amount of money to a small farmer. So, what happened is that ludong has been nearly wiped out. It has been several seasons since any have been caught in Abulug, and the few that are caught are of very small size. Unlike salmon, ludong have not been successfully bred in captivity or farmed. The short breeding cycle and few remaining live fish make research very difficult. The DENR and Fisheries are both conducting research into farming the fish, but efforts do not yet look promising.
Rebecca's remembers that ludong season was part of the family's annual rituals: A tradition that has nearly disappeared. Ludong was always regarded as a delicacy in the Cagayan Valley, normally a celebration or special ingredient, given the difficulty of catching the fish. It is normally prepared in Sinigang as the main ingredient, with aubergines and tamarind, or roasted with calamansi in banana leaves (wrapped as a parcel), or as the main ingredient in a variation of pinakbet, with aubergines, calabaza (sometimes the flowers), and bagoong.
The DENR now regulates the fishing of ludong, prohibiting it during the spawning migration. However, the fines for violations are miniscule (only P200), which is not much disincentive when compared with the high market prices the fish commands. Unfortunately, there is often very little way to distinguish catching a fish for subsistence or for cultural identity and catching a fish for profit. This is the same issue that governments have struggled with in other locations in the world, such as seal or whale hunting by Inuits in Canada. The need for conservation must take priority, yet fulfilling that need means that yet another tiny part of the culture becomes lost forever.