NEW articles daily! Subscribe below to receive daily updates with our new articles!

I am not an attorney, nor an expert, nor do I play one on TV. I am merely relating the experience of the visa process as I experienced it. Don't take my word as law.
Long article here…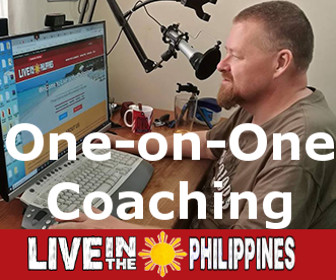 I've been living in the Philippines a total of 27 months now, and I moved here on a tourist visa, extending when I had to extend.
Living here on a tourist visa is entirely possible, though there are a few hiccups that you may encounter:
An ACR is normally required for any type of loans, like a credit card, mortgage or a car loan. (NOT all banks, and some will accept an ACR issued after the second extension)
Likewise, some utilities, like postpaid mobile accounts, normally require residency.
A Philippine driver's license requires residency.
If you work here and require DOL clearance, residency is required.
If you leave the Philippines and return frequently, without a residence visa, you need to show a ticket out of the country (My job travel occasionally made this a pain)
You normally need residency to buy life or health insurance.
A year of extensions can start getting expensive (Each visit I have made to immigration usually uses up the majority of a work day, with travel and traffic included).
That's about it, and most of these issues can be circumvented in various ways. However, if you are staying here long-term, it is generally beneficial to obtain residency of some type, if you qualify for the visa. In my case, since Rebecca is Filipina, the 13 (a) is possible. Advantages and disadvantages of the 13 (a):
Advantages:
Much easier to get loans and such. Even if in spouse's name, your income can be shown. Easier to buy insurance.
No need for a ticket leaving the Philippines. You can come and go as you please.
After the one-year probationary period, the visa is permanent (Though you need to renew your ACR I-card every five years).
You are complying with the spirit of the law (This is a technicality, but if you come as a tourist, it is expected that you leave.)
No need for visa runs.
Disadvantages:
You are subject to an exit travel tax each time you leave. This is in addition to the terminal fee that everyone pays. (I checked with immigration. On a "permanent" ACR, the exit clearance and re-entry permits are part of the I-card, so no need to apply in advance of leaving the country. You do, however, still need to pay the tax.) This is an issue for me, since I travel frequently for work, probably adding 40,000 pesos per year to my expenses.
It takes time and patience with the process. (Though it is not difficult, it could be a hassle if you are living far from an immigration office.)
In theory, you should obtain the 13 (a) before leaving your home country. However, in reality, if your spouse applies after you are here (more on that further down), it is not a big deal as long as you have a minimum of 30 days of stay on your passport. You can extend before applying, if you need more time than you have remaining. This was the major rub with me: At my last job, I didn't sit still long enough to complete the process, due to work obligations. I was in and out so often that I didn't have time.
The process was simple, though it took four separate trips to immigration for the entire process. The biggest pain will be getting the authenticated copies of all of the documents that you will need. As a precaution, obtain extras of all documents for future use. NOTE: I DID NOT NEED, NOR DID I USE, A FIXER. Repeat that. Repeat it again. When you look online, you will read many, many horrible stories about how much hassle the visa is, how much it costs, or how much time it takes. All of that is pure, 100% bulls**t. The process is easy, and, though immigration can be crowded (and a bit confusing), the staff are generally helpful, respectful, and polite. In fact, it was the other foreigners there who were causing more problems (When, oh when, will Indians or Arabs learn what a queue is???).
What was needed (Direct from the BI web site):
Checklist of Requirements for Non-Quota Immigrant by Marriage Under Section 13(a)
Duly notarized letter of application by the Filipino spouse; (

Your spouse is actually requesting your admittance on your behalf.

The BI web site,http://immigration.gov.ph/, has the sample text to download and they have a notary inside the BI building. Just like anywhere else, notarized documents must be signed in the presence of the notary).
General Application Form duly accomplished and notarized (BI Form No. MCL-07-01);

(Notarize at BI. They have photographs available there for 4 for 100 pesos).

NSO authenticated copy of Birth certificate of Filipino spouse;

(This must be ordered in advance and can be a real hassle. Note that the certificate must be on security paper. Old certificates are not valid.)

NSO authenticated copy of the Marriage Contract of alien and Filipino spouse or authenticated by the Philippine embassy/consulate nearest to or in the place where the marriage was solemnized;

(We were married in the province. It took 8 months for the authenticated copy to be available at the NSO. Plan in advance and be prepared to wait.)

Bureau of Immigration (BI) Clearance Certificate; and

(They give you this at immigration when you file the application).

Plain photocopy of passport of alien spouse showing dates of arrival and authorized stay.(You can make copies at the BI. Bring your spouse's passport for ID also. If you need to extend, do this first and ask for at least two months extension to allow for any delays.)
Process, first visit:
So, we headed to the BI in Intramuros, documents ready to go. I needed to extend, so that process took one hour (Remember to bring the extension fees in addition). We then queued for around 15 minutes for an officer to check our copies and documents (important!), and gathered the missing extra copies. Another queue for notarization, about 30 minutes. We filed the application, paid at the cashier, and were given a receipt for my passport, along with a hearing date five days later. This is a court hearing, and is covered under the next section. Total costs for the process on day 1:
Fee for section 13(a) initial one year probationary period:
1.Upon filing
Application fee
P1,010.00
*Express lane fee
P   500.00

(Just pay it!)
Extension fees:
TOURIST (NON-RESTRICTED) ADMITTED INITIALLY FOR 30 DAYS MAY BE EXTENDED FOR ANOTHER 38 DAYS
| | |
| --- | --- |
| Visa Waiver | P   500.00 |
| Visa Waiver Application Fee | 1,000.00 |
| Certification Fee | 500.00 |
| Express fee (Certification) | 500.00 |
| Express fee (For processing) | 500.00 |
| Legal Research Fee (LRF) for each item | P    10.00 |
Fees for obtaining documents ran about 3,000 pesos with the costs of couriers and so on.
Process, second visit:
So, the hearing was scheduled five days later, at 14:00. Your spouse MUST accompany you in person. This hearing is the actual formal petitioning by your spouse for your continued residence in the Philippines. The hearing is not in front of a judge, but rather, a BI attorney who reviews the application, verifies that your spouse exists, and "signs off" on the application. There is a 30-day waiting period for the application to be reviewed by BI officials. If you need to leave the Philippines during this period (I did), you need to advise the BI at this time. The hearing took approximately 10 minutes total time, though, be aware NOT to be late and miss the hearing, or the process begins again and the fees are charged again. You are given a telephone number after the hearing to call and check your application's status after the 30 day period. Keep ALL receipts. Your passport is returned to you now (Not yet stamped).
Cost: No cost at this stage of the process.
Process, Third visit:
So, I called on the 30th day, and was notified that my application was approved. You can finalize the visa on Tuesdays and Thursdays in Intramuros. You have the option of paying an extra 500 pesos for "Double Express" for 2 – 4 hour service, or "Single Express" for 10-hour service. I chose double so that I could get the process finished.
Short queue, you give them your passport, and they obtain your file. Wait 30 minutes for processing. Pay the fees at the cashier. You then return , depending on the Double or Single express service chosen, at the appointed time. You are given your now-stamped passport, and directed to the ACR application queue.
Cost for visa implementation:
2.Upon implementation
| | |
| --- | --- |
| ACR and form fee | P1,050.00 |
| Change of status fee | P   600.00 |
| Passport visa fee | P   200.00 |
| CRTV and form fee | P1,450.00 |
| Implementation fee | P1,000.00 |
| Legal research fee | P     10.00 / item |
| Head tax | P   250.00 |
At the ACR station, another application to fill out, along with copies of your new visa. You are then fingerprinted (Free, but bring wipes to clean your hands) and you pay the ACR fees at the cashier. Your fingerprints are taken one more time (electronically, this time) and the photo for your I-card is now taken. You are given a receipt and telephone number to call after seven days. Time required: one hour, including fingerprints.
Costs for ACR: US$50 (Charged in dollars for some reason, but roughly 2,500 pesos)
Process, Fourth visit:
Very simple. Stand in a short queue to pick up your new ACR I-card after calling to verify that it is ready. Total time: 10 minutes, no additional cost.
The 13 (a) you are issued is valid for one year, and probationary. In other words, don't do anything stupid and break the law. After one year (90 days before it expires… IMPORTANT!), you can petition for the probationary visa to become permanent. You still have to appear at the BI during the first two months of the new year and pay the fee.
This process was very simple, even though you feel like cattle a bit. I really don't believe that a fixer would have made anything any quicker. Perhaps on the review after the hearing, but I can't see why it would be worth the risk unless you needed to travel far to reach immigration and get things done in a more timely manner. Keep in mind that I am not an attorney, nor an expert. Complicated or unusual cases probably would go smoother with an attorney involved, or one may be necessary. In my case, it was straightforward, since I was married here, and my wife and I have both behaved ourselves with no legal snafus. The first step, should you have questions, is to simply call immigration and ASK. Please note: It can be tough to find answers on these topics that are reliable. The small canteen connected to immigration is where the employees all take their breaks (smoke and otherwise). Chit chatting with them informally is a great way to find out the real scoop. They are friendly and are acting like people there, rather than government officials. Just mind your manners and remember that they are taking a break! They were very helpful in answering questions with which I was unclear. You might as well, since you will have a good bit of wait time.
Keep in mind, though this seems like a real hassle, this is much easier than most other countries' immigration procedures. Nearly every country has very high fees (Filipinos pay over US$1,000 by the time they get a US green card. My current Korean residence visa cost around $3,000, and my UAE residence visa from four years ago cost around $4,000, so, really, no complaining about fees! The documents required by the UAE were onerous, at best, to obtain, and very expensive), and most countries require substantial time and documentation. Consider yourself lucky that the Philippines has many, many visa options that are relatively straightforward.