NEW articles daily! Subscribe below to receive daily updates with our new articles!

I don't know what you believe, but I grew up in a California suburb and except for my mother's slight clairvoyant tendencies and a few "superstitions just for fun," Casper the Friendly Ghost was the only ghost I ever thought about. Until I met my wife.
"I remember when I was young. I heard a lot of ghost stories in the province, in the place called Buhong in Calbayog. In this small barangay they have a hot spring where the Mayon Volcano erupted. Lots of animals and people died. When my family moved there, we had no place to stay, so we stayed in this broken, abandoned house. Our first night in this house our parents were at our neighbors house talking and my siblings and I were about to go to bed when we heard the sound of the Aswang, "Wak, wak, wak." The sound continued for 5 minutes. We were very scared but my dad came home and told us that there's nothing to be scared of because when you hear an aswang, if the sound is far it means they are near, but if the sound is near it means they are far away. There was a time also when my mom was pregnant with my younger brother and when we woke up in the morning she saw giant footsteps on the edge of the bed where my mom sleeps. My dad put bamboo spears on the ground to scare away the aswang, but we saw new footsteps the next day. So, he put broken bottles on the ground and the aswang went away."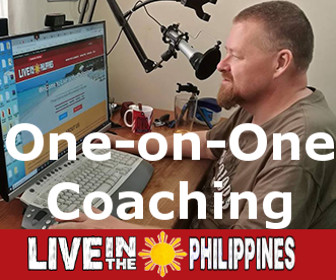 My wife Rachel, from deep in the provinces of Samar, believes in the existence of ghosts, spirits and pays attention to many superstitions. There is no talking her out of it. It doesn't matter what stories I tell her about our "Western ways and sophisticated knowledge"…. she just says:
"Well maybe you don't have these things where you are from, but we have them in Samar."
"There were ghosts at our hot springs too. When I was 7 or 8 we went swimming when my mom and dad were drinking tuba. In the middle of the pond I felt something holding my feet and pulling me down. It wouldn't let go. I kicked and kicked until I could get to the side and climbed out of the water. The next day the same thing happened to a little boy. I wasn't there, but he drowned."
A famous apparition in the Philippines comes in the form of the White Lady. In fact Balete Road in Manila has had many sightings of a woman dressed in white, as well as other enchantments. Engkantos, environmental spirits able to take on human form and associated with ancestors, are believed to dwell in Balete trees. The advice regarding Engkantos is as follows:
"Filipino beliefs say that engkantos dwell at the famous Balete tree. Never say anything if you hear music coming from a Balete tree for the engkantadas are having a party. Don't laugh or point to a Balete tree for there live fairies and enchantresses. If you cut a Balete tree, you will be meted death as a punishment for you have destroyed the place where the fairies and the enchantresses dwell. If a person was taken by an engkanto, drum beatings near Balete trees are done to recover lost persons." (Source The Manila Bulletin Online Balete Drive)
Rachel continues: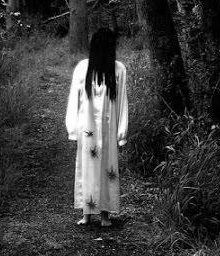 "Another time when we were in Calbayog we had to cross a river at night time. I was maybe 9 or 10. The pump boat got the last passenger and started out. In a few seconds we looked back and there was a woman all in white, crying, standing by the shed. She was reaching her hands towards us. We looked at each other and then looked back and she was gone."
As our conversation went on, Rachel tells me stories of seeing a Jesus-like figure appear in the sky, surrounded by animals, that suddenly disappeared. And "the fact" that when her grandma's sister died after having been suddenly ill; her face was covered with scratches; it was an aswang in the form of a cat.
Our talk went on long into the night and shifted towards Superstitions of which I knew there were many in the Philippines. The list is long indeed. Filipino superstitions are mixed beliefs that are composed of different kinds of actions and so called rituals that one person must do to avoid something bad. They are a combination of Catholicism, Chinese Traditions, and Filipino Folk beliefs with strong pagan undertones.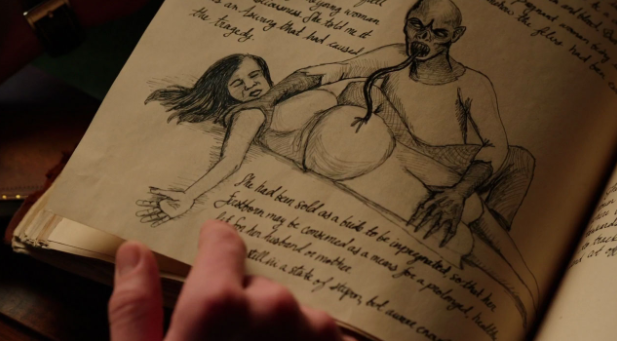 "Do not form groups of three or thirteen because one among you will die.
Give away your black dresses after 1 year of mourning to prevent another death in the family.
Don't eat eggplant when you are pregnant or it will cause a birthmark.
Don't comb your hair at night because your parents can die.
A pregnant woman shouldn't have her picture taken or her child will die at birth.
When a baby lies on her stomach for the first time, place a pencil, paper and a book under her so that the baby will be intelligent.
Don't put money on the table while you are eating or it will bring bad luck.
If you eat too many onions, you will become a playboy or playgirl.
Don't stack your dirt dishes one on top of the other or it may lead to adultery."
Wow. So many things to remember. I was overwhelmed. It was fascinating, but I was getting sleepy. I honestly didn't have any "comebacks" to my wife's stories and I wonder how many of you reading this have Filipino stories about superstitions, ghosts, aswangs or other things that you have heard from your Filipino relatives?
We were silent for about five minutes as I drifted toward sleep when Rachel broke the silence in a sing-song voice.
"I thought of another one.
"Yeah? What's that?
Don't eat chicken butts when you're pregnant or your baby will be too talkative."
"What? Chicken butts? Eating chicken butts?" I couldn't get my head around it.
"Good night Rachel! Tell me about chicken butts tomorrow."