NEW articles daily! Subscribe below to receive daily updates with our new articles!

I'm well aware that the other writers here are giving you sage wisdom and touching stories of their experiences in the Philippines…good advice on everything from marital finances, to medical care and poignant stories of meeting their wives and renewing their wedding vows. I read them and they make me smile. I continue to write about elephant massages, bad cheese purchases and weird Engrish t- shirts. I guess you could consider me the National Inquirer of Live in the Philippines. You know, the American tabloid that waits for you at the grocery store check- out line. My rule about buying it was simple; if it made me laugh while I was waiting to pay for my groceries, it landed in my cart.

  So I will continue the trend of meaningless, "no practical application" information and talk to you about the important topic of canned meat. I mean why stop a good (sic) thing?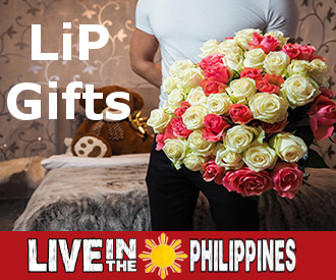 There are some products for sale in the Philippines that always give me pause when I see them; it's not that they exist because they exist in other places, but it's the sheer number of them.
I remember stories about the former Soviet Union. US newspapers and magazines used to tout how much better life was (and it is) in the US because we had a working economy and choice while showing long lines of people around the corner to buy government made toothpaste and roll of toilet paper in the Soviet Union. When my Russian friend enrolled her daughter in American high school, some kid said to her, "Oh. You're from that country that doesn't have toilet paper." The nickname they gave her was "Twin-Ply."
I mean, I could buy Close Up, Colgate, Crest, Ipana, Pepsodent and Ultra-Brite AND Kleenex, Scott, Quilted Northern Ultra Plush, Charmin and Charmin Ultra Soft while the Soviets were buying a small tube of KHUY: To Make the Teeth Not Brown Color and a small roll of Grade Z toilet paper; you know the kind that still has chunks of wood in it? (ps… KUYA isn't really a brand of Russian toothpaste; I think it means male genitals.)
But our Filipino friends have out done us, especially with certain products.
Canned Meats
We can start with Spam. In the US, Spam is sort of a low class, processed meat product for people who can't afford "real meat." I guess it has a purpose depending on your family. You can buy it at most grocery stores. Spam was invented as "Spiced Ham" before World War II as a way of keeping Hormel workers employed year-round and creating a shelf-stable deli meat. When the war started, it was shipped to soldiers around the world because of its ability to maintain in global temperatures. There are now 19 flavors of Spam on the shelves in Philippines grocery stores and most stores have all of them. These include: Spam Classic, Spam Hot & Spicy, Jalapeño Spam, Spam with Black Pepper, Spam Low Sodium, Spam Lite (made from pork with ham, and mechanically separated chicken ???) Spam Oven Roasted Turkey, Spam Hickory Smoked, Spam Spread ("if you're a spreader, not a slicer … just like Spam Classic, but in a spreadable form"), Spam Bacon, Spam Cheese, Spam Garlic, Spam Teriyaki, Spam Chorizo, Spam Boricua – seasoned Puerto Rican-style flavor, Spam Macadamia Nuts – Partnered with Hamakua Plantation, Spam Turkey, Spam Tocino, Spam Portuguese Sausage.
According to a Spam Review I read, Spam Garlic is by far the worst flavor. This review suggests that it's best to just let this go bad on the shelf, though because of all the preservatives, that'll literally take years. This is one of the appeals of Spam in the Philippines, a shelf life of 2000 years? Nobody knows for sure.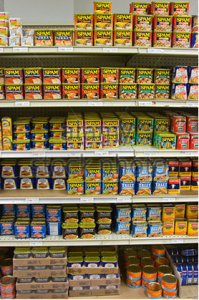 Spam is just the beginning of processed meats at the typical Filipino grocery story. At my local Fooda store there is a cluster of shelves, 30 feet wide and 6 feet tall, filled with canned meats and canned fish. Filipinos seem to like to eat any meat-based canned food with cooked rice. There are 42 different varieties of Corned beef at my local Fooda Grocery, 18 varieties of Sisig, 11 Vienna sausage, plus many different "Luncheon Loafs", "Luncheon Meats", 6 different varieties of Liverspread, and "Potted" meat.
The Philippine processed meat industry has six different product categories; major products for domestic use and export are sausages, corned beef, bacon, luncheon meat, and other indigenous meat products. There are 175 meat processors in the Philippines, the majority of which are located in the National Capital Region, Region III, and Region IV-A. Canned meat is big business.
I shake my head every time I walk by this giant meat Golgotha.
Skin Whitening Products
The Philippines is the #1 Whitening Product country in the world with over 145 soaps, creams and lotions. In the USA, the tanning industry, you know, trying to get your skin to a golden brown so you won't be embarrassed at the beach, is a 2 billion dollar industry that employs 35,000 people, and that's just tanning salons. It does not include all the tanning products which line the shelves.
Filipinos obsession to have Whiter skin is a throwback to colonial times and Spanish rule. For hundreds of years Filipinos learned that White skin was superior to brown skin and the belief continues to exist 120 years after the Spaniards left. At most drug stores, entire shelves are filled up with whitening products. My wife, for example, regularly worries about getting darker and is obsessed with her armpits. Armpits, except as the space under my arms that gets a shot of deodorant before I leave the house, is something I never think about. Somehow, armpits that "might" appear a shade darker than the rest of your skin is ugly ugly ugly and worthy of your shame. Yes there are many "armpit only" whitening products. I am an Irish American White Guy, so White that it's a struggle to get my skin "flesh color."
Noodles
Noodles are a big deal throughout Asia, but "Sheesh" so much variety. In the US I think my local Safeway had "Cup O' Noodles" and a couple of varieties of Top Ramen. Here in the Philippines there are more brands of noodles than lawyers in the US Congress. ( 170 members of the House and 60 Senators are lawyers by the way…) In fact it was so cold in Washington DC this past winter the lawyers had their hands in their own pockets… at least for a while. But I digress…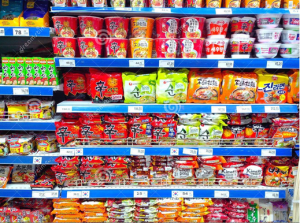 If the Former Soviet Union had had noodles for sale it probably would have been Monde Nissin's Lucky Me! This product was the most chosen brand of all products in the Philippines "having reached 98.2 percent of the Filipino population." According to Kantar Worldpanel's Brand Footprint, "Noodle brand Lucky Me is the most purchased brand in the Philippines … it is bought by the average household every week."
I was eating their pancit canton noodles pretty regularly, (you know, double packs at 10 at night for a snack) until I read that a single package of Lucky Me has 12 grams of fat. The two pack snack has more fat than the recommended amount for a day.
I won't go into how many brands of noodles there are here in the Philippines, but it is mind boggling. I know you've have stood in front of the "Noodle Shelf" in your local grocery trying to make a choice, and since many brands are in Korean, Chinese or Japanese, it's anybody's guess.
The latest "Noodle Trend" involves the Brutal Korean Fire Noodle Challenge featuring Samyang noodles.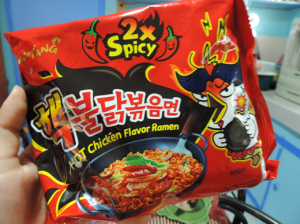 This started as a YouTube phenomenon testing young people's masochism levels with super-hot noodles. The noodles range in fire power from 2 to 5, and it was popularized by Filipino television stars such as Anne Curtis, Sebastian Castro and Vice Ganda who tried to eat 4x hot noodles on local tv shows.
There's a German word, Schadenfreude, which loosely translated means. "The pleasure you get in the pain of others." For the television viewers and those who challenged their little brother and friends to the Fire Noodle Challenge, this was Schadenfreude at its cruelest. My wife tried it at our house with her friends. I stayed out of the room; the screams were just too loud.
So there's three examples of product overkill here in the Philippines. I'm sure there are others. Please feel free to comment.
Personally, I would be quite happy with 5 kinds of canned meats, 5 noodle brands and no whitening products, but hey, I'm not the center of the universe. But, I hope it gives you a Tuesday morning laugh at the breakfast table as you wolf down your Teriyaki Spam and pancit canton while dabbing at those armpits with Rexona Advanced Whitening Roll On. Or, try the Spam on your armpits. I hear it works.