NEW articles daily! Subscribe below to receive daily updates with our new articles!

I wonder a lot about the connection between money and happiness in my adopted home of the Philippines. Like many of us who read and write for Live in the Philippines, I have found Filipino people to be an outwardly happy and acceptant culture. Most Filipinos are poor, but the combination of family, faith, a desire for the simple life and the attitude of "Bahala na," which Filipina writer Rosalinda R. Morgan defines as meaning "come what may," "whatever will be, will be," 'leave it to God,' offer some insight into how Filipinos cope with the realities of their lives. Some scholars, however, see the use of Bahala Na in a negative light. It is a sort of "writing off" of any action and seeing oneself with no locus of control. These same scholars consider it as a fatalistic submission or a form of avoidance of responsibility. They point out that Instead of a positive, laid-back attitude, it can be seen as an excuse of lazy people for getting away from their personal responsibility. So hmm… I wonder? I can see examples of both here, hard work and laziness, but then I've seen these in other places too.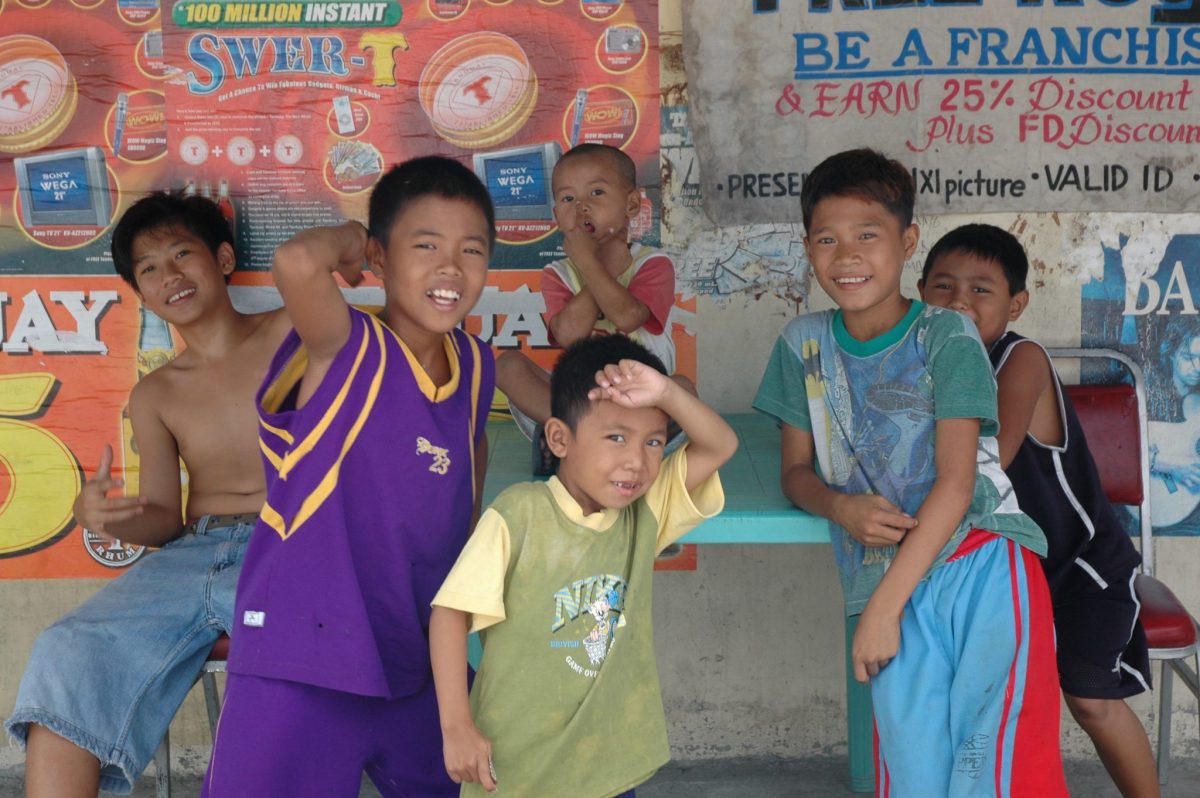 This aside, most Filipinos want to have money, work for what money is available to them and make do with what comes their way, all under an umbrella of acceptance and even happiness for the life they have. But as the world speeds by in Makati and Cebu and the television ads and internet show more and more people with wealth and experience, bright glittery things and modern stuff, it's easy to want more and it is this that makes me wonder about the connection between money and happiness here.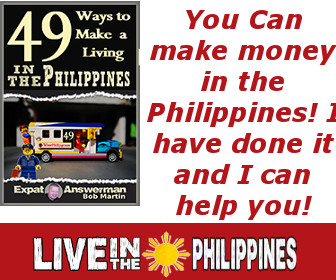 After I know one of my Filipino friends long enough I usually ask him about his salary. I'm just curious and slightly in disbelief about how Filipinos live on such paltry wages. Of course, the cheapness of living here is one of the things we expats like, but I sometimes I catch myself saying, "Whoa." Of course none of this relates to the millions of people who live on no wages, the ones who sort of piece together money and staples to get through the month, or just rely on others to get it for them, but for now I am curious about the people here who get up each day, go to their jobs and work for a salary.
Guilermo, our maintenance man in the housing project, has worked here for 16 years; he fixes everything, electrical, plumbing, holes in the wall. When there is nothing to fix he landscapes, does pool maintenance and whatever is needed. 6 days a week, 11 hours a day. He is honest, reliable and hard working. He is a skilled handyman for sure, and if he can't fix it, he knows someone who can. And he follows up. He has a wife and three kids; he tells me they take Phil Health, Social Security, Pag- ibig and taxes out of this paycheck. We are in the city, of course. He makes 16000 php per month, about $306 USD.
Margo is the Office Manager of the housing project. She literally runs the place with perhaps 100 housing units. This includes collecting fees, scheduling maintenance, trouble shooting answering every possible tenant question, collecting from delinquent tenants, doing the payroll, keeping the books and all relevant paperwork. She has worked here for 9 years, has two kids and a Filipino father who, "He ran away Sir." In a larger business, she would require a degree in Human Resource Management. She works 6 days a week and is paid 15,000 php a month. As little as it seems, these two workers are better off than many.
For others not so fortunate to have these salaried jobs, the Philippines Inquirer reports that workers in the private sector in Cebu have been granted a 13 peso (25 cent) per day wage increase, from 353p to 366p per day. 366 pesos equals $7.01 USD. Working 25 days, one day off per week, which is typical in the Philippines, the monthly wage would total 9150 php or $175 per month, before any deductions such as Phil Health or Social Security.
In addition, according to the National Wages and Productivity Commission, the minimum pay of housemaids in Region VII has also been increased from P2,500 monthly to P3,000 in Cebu City. The rates for other areas have yet to be determined.
We pay our housekeeper 3000p a month, but she does 2 other houses too. And, she has a husband who is a painter, and a family business selling banana que that her mother runs. There are 5 in her household. The provincial wage doesn't apply to anything this family does; they piece together income from various sources with even some money from a sister in the US, earmarked for the utilities and internet.
The government HAS changed the amount in employees take home paycheck by changes to the tax structure for 2018. It is significant especially in households where every peso counts.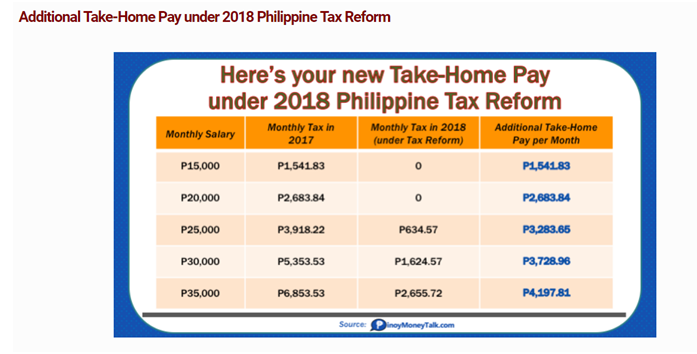 Still, all of these changes and realties affect only a certain type of salaried worker, I do know people in Cebu who go to work each day, work in the private sector and don't get paid close to the Provincial minimum.
One of my wife's cousins took a job on Colon Street here in Cebu operating a copy machine. 7 days a week for 12 hours. The guy wanted to pay her 100 php a day; she lasted 4 days until the owner felt her boobs between copy jobs; she never got the 400 pesos he owed her.
Another group of cousins work in Angeles City at a construction site. They are paid 500 php a day, mostly for digging and carrying cement sacks. At best, they have an 8th grade education; the job is over when it's over and there are no such things as taxes, Pag-Ibig, Social Security and Phil Health for these people. Money that would go toward those things goes to Red Horse Beer. "Benefits" are not ideas in the lives of workers from deep in the provinces. Even if these things are available, many Filipinos don't know how to access them, and they are programs based upon "planning for the future." This "future planning," is a foreign idea to many people here. But for now, working hard every day, they have 15,000 php per month and it will last at least until the end of September. This is good; both have babies on the way with their young, 19 year old "wives,"
So again, I wonder a lot about the connection between money and happiness in my adopted home of the Philippines. It's a complex story filled with regional differences and similarities, personal stories and observations, and certainly opportunity and personal drive in the 13th largest country in the world.
I wonder what your thoughts and experiences are about these aspects of the world we have chosen to live in? I don't for a minute think that any of us could (or should) have any answers to these things, but your observations, your insights, your ways of understanding and what you see, are important to our dialogue here as Expats, or as Bob Martin prefers to call himself, and me too I guess, Immigrants.
This also makes me think about the movie Forrest Gump. At the end of the film, Forrest speaks to his Jenny, the love of his life, already in her premature grave. He tells her of his day and about the life of their child and how much he misses her, and then says something quite deep. Forrest's simple way of stating his take on the ancient question about Destiny and Free Will.
"Jenny, I don't know if Momma was right or if, if it's Lieutenant Dan. I don't know if we each have a destiny, or if we're all just floating around accidental-like on a breeze, but I, I think maybe it's both. Maybe both is happening at the same time.
I wonder then. Is it family, faith, a desire for the simple life and the attitude of "Bahala na, that make the wheels roll here, or does life just keep rolling along on its own? I'd love to know your thoughts and stories, as diverse and free flowing as they may be, about such a wide set of topics.