NEW articles daily! Subscribe below to receive daily updates with our new articles!

School has started now in Cebu and once again there is more traffic at certain times of the day, but that's all tolerable. It's nice to see all the kids in their school uniforms; in my neighborhood, there are yellow, blue and white, pink and sort of a checkered green thing going on in the world of uniforms. They move in packs, the girls hanging together and the boys full of "Boy Bravado" pushing and shoving and laughing their way down the sidewalk. The little ones arrive on the backs of motor scooters with their dads, and large groups of mothers line the sidewalks in front of the schools. It is a "chika chika" ritual for the moms, a huge social event in their lives as they brag about their kids and position them for success in Filipino society. Filipinos strongly believe that education is the answer to a better life, to freedom from poverty, to opportunity. They are right in this belief.
In the US, where I taught for 35 years, a common question parents asked me was "Is this a "Good" school?" I always found the question interesting. The parents asking the question were genuinely concerned that their son or daughter got a "good" education which of course meant a lot of different things depending on how the parents saw and understood schools.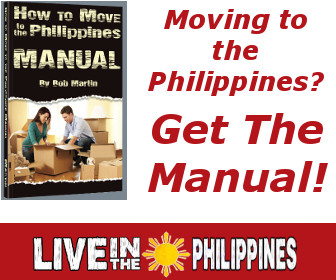 What exactly do you mean by "Good" is a pretty important question. I often answered, "Well, it depends. It has a lot to do with which teachers your son or daughter gets." Some teachers are "better" (another vague term but I think it means, "Have more skills") than others. Some teachers connect with the particular person your child is, better than others. I think most of us who are parents and grandparents understand this.
But what is your definition of a "Good School?" Does it mean that my child can go on to the next stage of schooling…? Primary to Secondary? Secondary to College? Does it mean that my child learns essential skills for entering the job market here or abroad? Does it mean that my child is both nurtured and challenged and that the school understands who she is as an individual? Does it mean that my child learns to get along with and work with others and that she becomes a positive, contributing citizen? Probably all of these are a part of the "Good School" definition.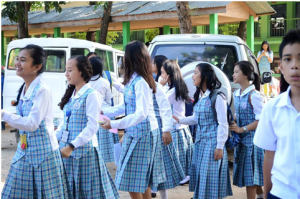 My experience with Philippine schools is mixed. It is mostly with teaching in private schools but also observing the local public schools in my wife's barangay in Samar and some of the schools in Cebu City. There are certainly differences between primary and secondary schools. Primary or Elementary school classes are generally smaller; kids at that age are more willing to do what a teacher asks, and the curriculum (what a child studies and what is taught) has been in place longer.
One thing I will say is that the teachers I have observed in the Philippines work hard and are a caring lot. They really do try to help kids individually and collectively and they understand that success in school is the true path for being able to move out of poverty and function in Philippines society.
Secondary schools are more mixed. Older kids are harder to teach. Older kids have "teenage wills" and other things besides school are calling for their attention. These are not always good things. The Secondary curriculum in The Philippines has changed enormously with the addition of two years of secondary school, to require 12 years of school for graduation rather than the former 10. Much of this curriculum and how to teach it is still being invented.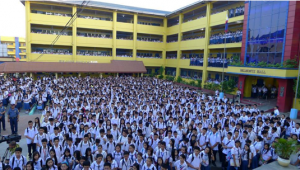 In addition, in public schools, class sizes become enormous, especially in the cities. It's crazy. In Cebu City, the largest public secondary schools have 5000-6000 students with class sizes often at the 60 student mark.
I know from having been a classroom teacher and having trained teachers at the university that a teacher's goal must be to have most of the students engaged in the learning activity that you are working on, most of the time. With this many students in a class, many who are "reluctant learners" who may be there more for social reasons than learning (teenagers you know…) getting kids to pay attention or to be engaged with the learning activity is almost impossible.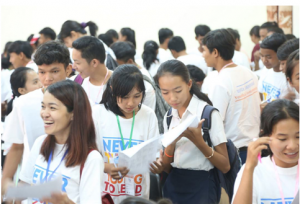 Young people are different, in interest, in skill level, in motivation and in their abilities and interest in doing what you are supposed to do in school. Thinking that every 15 years old would be the same is like thinking that all 15-year-olds would wear the same size clothes. It's just not true. Recognizing individual differences in kids and delivering the lessons in the curriculum takes some real and thoughtful teaching skills. So, like I said above, a huge part of the "Good School" idea depends on who your child's teachers are and what their abilities are to do these things with young people.
So, I think a lot about just what is it that school kids do all day? What is it that they learn (or don't learn?) How is school here in The Phils similar or different from schools overseas? And, I guess, huge parts of my answers to, "Is this a good school?" lie in my questions about these areas of school life.
The Curriculum and How It is Taught
The School Environment including Class Sizes
The Teachers: Their Skill levels in Working with Different Kids and Their Subject Matter Knowledge
The Outcomes and Skills Kids Actually Learn. What is it that a Student Can Do with Information They Have Studied?
Most of us who read LIP are parents and many are grandparents. Some of us are raising or have raised second families. The Philippines, being the large and diverse place that it is, has thousands of schools; school life is diverse and it remains one of the centers of family life here.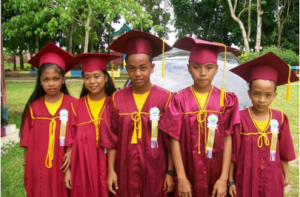 So, I am very interested in your stories, experiences and thoughts about schooling and education where you live in the Philippines. What has been good for your family? What has been not so good? I truly hope to read some of your comments about what school here has meant to you and yours.