NEW articles daily! Subscribe below to receive daily updates with our new articles!

My wife will watch any Filipino movie; it doesn't matter what decade it was made. Because I don't speak Tagalog, I have watched parts of many of these same movies, but usually, it's ME, watching HER, watching THEM and asking, "What's happening now? What did she say?" Lots of the time, it's me just hearing the movies from the next room.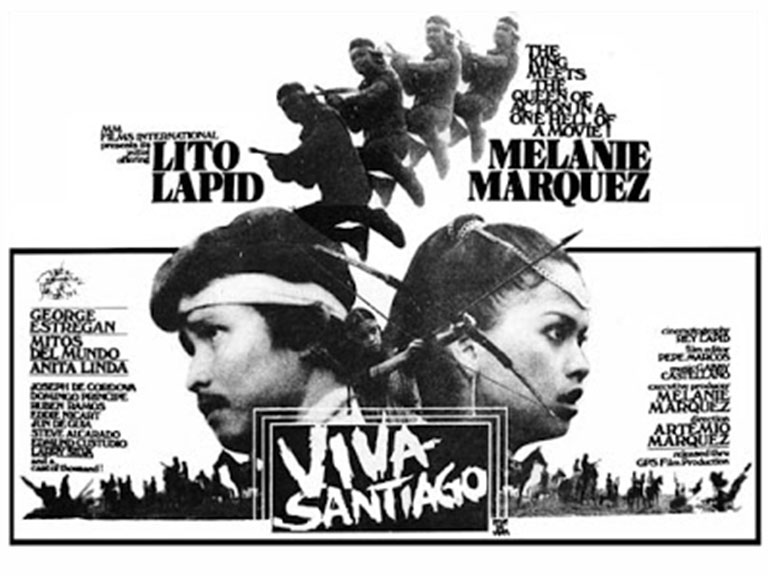 Since most of what I am talking about is Filipino movies on Cebu cable tv, they tend to be from the 70's, 80's and 90's. Recently I have seen a few good Filipino films, but most Filipino movies I saw previously fell into three separate categories which I call: The Bang Bang Gun Movies, The Family Feud Movies, and The Love Triangle/Infidelity Movies. There are some pure comedies too, which tend toward slapstick and strange characters like Rico Suave. All of them, even the Bang Bang Gun movies are about Love because Romantic Love is the meat and potatoes (or the fish and rice) of the Philippines. My take on these Filipino movies in the past is that they suffered in the plot area. The same plot elements got repeated over and over again. Of course, I don't speak Tagalog so allow me to project my sarcastic Western biases here which I will chalk up to poetic license and my personal cockeyed worldview.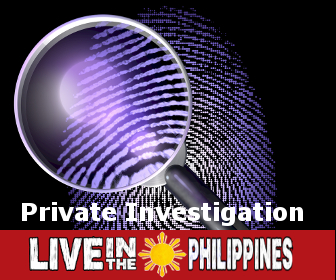 The Bang Bang Gun action movies have a lot of guns. I particularly like the ones from the 1980's with Lito Lapid, one of Rachel's favorites ("Because I think he looks like my dad.") These always involve "Revenge," and the star jumping over the hood of a car, at least twice, one hand on the hood and the other hand squeezing the trigger of his pistol. Think, sort of, of the worst Miami Vice episode, a bit earlier and set in the jungle; our hero is badly outnumbered. He has a beautiful girl as his accomplice. At least 100 bullets are fired from small arms or machine guns for each bad guy "hit." The bad guys often die like we did when we played World War 2 or Korean War when we were kids. "Argh," grab your stomach, spin as you fall to the ground, with gurgling noises or body spasms. Count to 10 and then you're a new guy. There really isn't much to the story; it's action, action, action and a lot of shooting.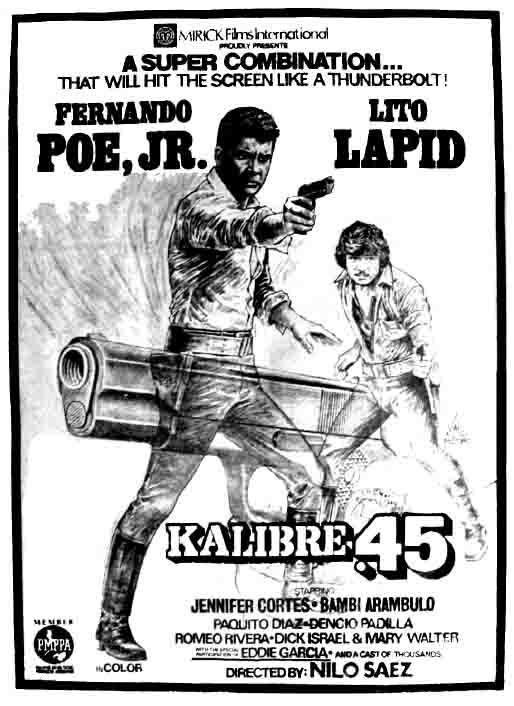 Family Feud movies of the past seemed to always have one really angry family member who shouts, (with at least 3 angry tirades,) or cries/ talks/wails about "what's wrong with you," loudly and repeatedly while violently shaking. If it's a woman, others in the family try to soothe her while the shamed, younger family member just stands with her head down often with tear-filled eyes. They are terribly misunderstood. The angry person is often the father or mother and the recipient of this anger is a daughter or son, who, A) is ruining the family business, or B) is romantically involved with someone the angry parent doesn't like. For most of the movie, these characters are one-dimensional. Pretty much what they do is be angry and moan their utter disappointment with the person that is the target. No one is on the son's or daughter's side, except for, Ta Da…the love interest. At the end of these films, there is a tearful reconciliation where dad or mom apologizes, tells the scorned son or daughter that he or she is loved. Family Harmony and love are restored.
One film that takes this "family misunderstanding" theme to the max is the 1983 film Karnal. Spot.ph says, "Philip Salvador sees his father attempting to rape his new bride and he goes absolutely (brilliantly) berserk. He hacks his father's head off before slitting his own throat with the same knife. Talk about overkill." Now there's a family with issues, eh?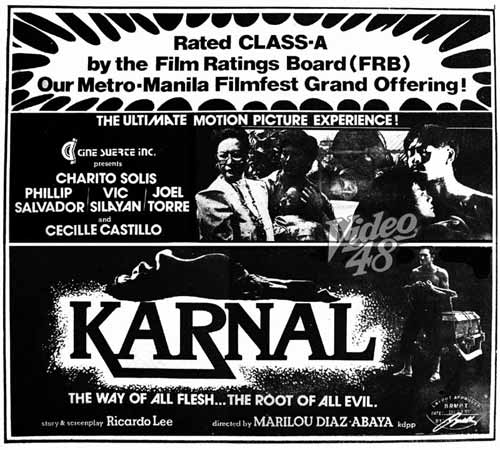 Love Triangles/ Infidelity, are common themes in Filipino movies, past and present, and if you are going to have conflict in a story, which all stories require, why not make it about unfaithfulness? Calling out "the other woman" including hair pulling and a well-timed bitch slap are frequent scenes in these stories. A classic is 1984's Dapat Ka Bang Mahalin, Spot.ph says, "After finding her husband (Gabby Concepcion) passed out on another woman's bed, a pregnant Myrna (Sharon Cuneta) attempts to walk out of the marriage, but not before she safely takes her husband home. He sobers up when he sees what she is about to do, and as he blocks the door, she attempts to hit him with her case.
Often the "other lover" dies in some way. If this is where the story goes, the death is always by car accident or 4th Stage Cancer. I don't know why Filipinos like these causes of death so much, but they show up pretty often. After the death or the "Smackdown Climax" between the two women, these movies always have a happy ending.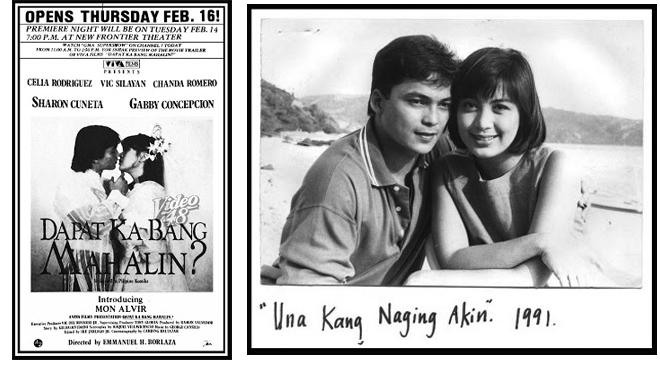 A modern version of the same Love Triangle/Infidelity type film is No Other Woman. Christine Reyes, who's married to handsome Derek Ramsay, lets her husband's temptress Anne Curtis have it with the emotional force of a typhoon. Wham, Bam, Tears and Screams. It helps, of course that both women are in bikinis most of the time. Actually, this is a pretty good film; I even watched the whole thing.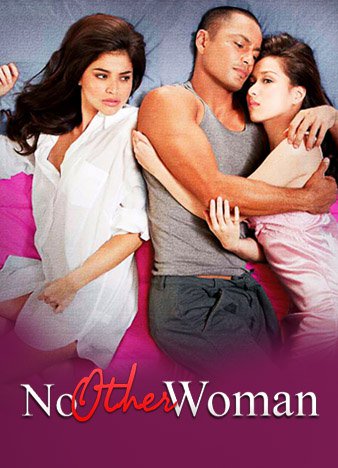 So, these are some examples of this foreign reviewer's "Three Types" of Filipino movies. But I have grown through my experiences here in the Philippines and have actually come to appreciate some Filipino films that I think have real quality.
One I liked was the film Four Sisters and a Wedding. It had the typical family strife, a love triangle, a mother and daughter emotional reconciliation, but the sisters played by Toni Gonzaga, Angel Locsin, Bea Alonzo and Shaina Magdayao added a lot of charm and humor to the story, and I laughed at the right spots especially when Angel Locsin and her sisters confront her unfaithful boyfriend.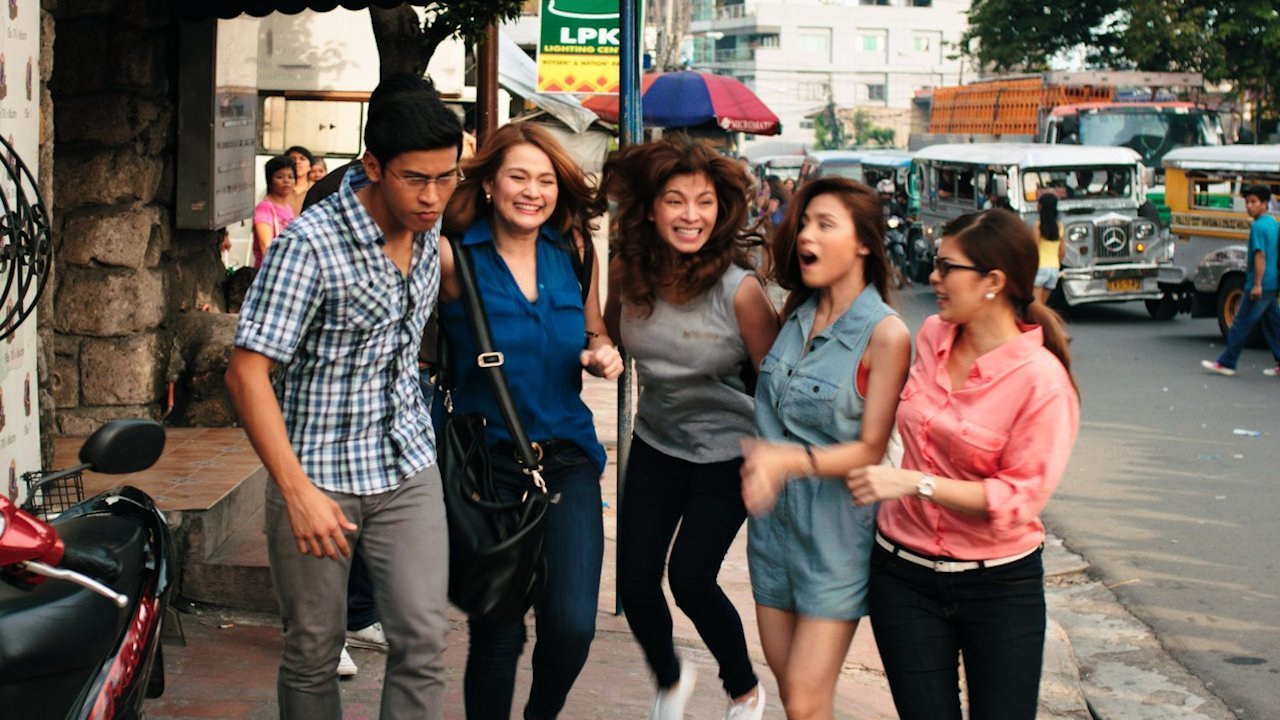 Another Filipino film actor who really makes me laugh is Rodolfo Vera Quizon, "Dolphy," whose death in 2012 ended his stellar and much loved comedy career. I think my favorite Dolphy film is Nobody, Nobody but Juan. Dolphy's character is in a US nursing home run by his strict son. To entertain himself and ease his loneliness, Juan watches Wowowee on The Filipino Channel (TFC). His enthusiasm for the show rubs off on his friends in the nursing home, and they too, turn into Wowowee converts. When the son takes away the Filipino Channel as a cost cutting measure, Dolphy and the other "inmates" stage a Wowowee protest in their underwear. Very funny, even if I didn't understand all the Tagalog words, much of the film is both English and Tagalog… sort of Taglish.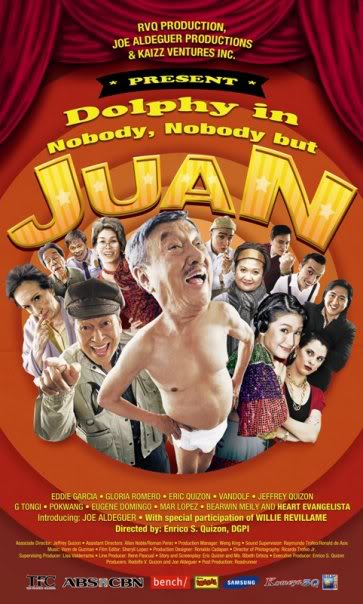 So, like I said, my wife will watch ANY Filipino movie. One of the reasons this is so is that she has so many Idols. I don't get it. If you'd ask me who my idols were when I was her age, I would have named one, or two, or maybe three human beings from sports or politics or acting. But she is always saying, "I have to finish this song; she's my Idol," or "The movie's almost over; he's my Idol." So I asked her for a list of her "Idols." After 5 minutes with a ball pen she got distracted by something on the stove, so my research was cut short. If I had given her 30 minutes, I think her Idol list would reach 50 or 60. Please note: there's an equally long list of actors, actresses and tv personalities she hates. Welcome to the Philippines.
Rachel's Idols: Marian Rivera, Jennalyn Mercado, Liza Soberano, Julia Montes, Erich Gonzaga, Lito, Lapid, Sanya Lopez, Kim Chiu, Rhian Ramos, Julia Barretto, DingDong Dantes, Coco Martin, Joshua Garcia, Ian Veneracion, JulieAnne San Jose, Angeline Quinto, Sheryn Regis, Roel Cortez, Toni Gonzaga.