NEW articles daily! Subscribe below to receive daily updates with our new articles!

Like a knock-off of the familiar Britney Spears tune (vis. "I did it" vs. "It happened"), it appears that I'm caught repeating many recent moments in my life.  All of these incidents of "near deja vu" have occurred in the last weeks of December 2015.  Why this, and why now?

Could it be that "Father Time" is trying to send me a last-minute message?  Did I not exert enough effort or sufficiently contemplate the importance of the many repeated experiences the first time around?  Did I enjoy a recent pleasant moment in life to such an extent that I've been rewarded with a re-play to enjoy a second time?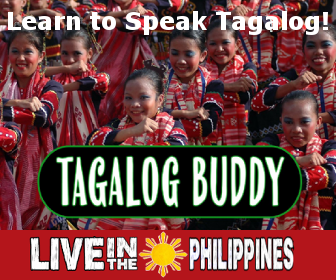 Then, there's the question of why it's just some very recent events that are being duplicated, and not something from earlier on?
For many, the final week(s) of a year are a time of reflection – looking back over the entire year that has passed by and contemplating the year's blessings and set-backs, with a studious resolve to increase the former and decrease the latter in the upcoming new year.  I am one of the many, but this repetition is disturbing my reflections on 360+ days gone by, and limiting my concentration to a mere handful of days past.
My dear readers, you may be well asking yourselves:
Has Paul really gone off his nut this time?  Why such disturbing thoughts on the eve of celebrating the coming of a new year?  Is he, heaven forbid, off his medicine again? 
ALL'S WELL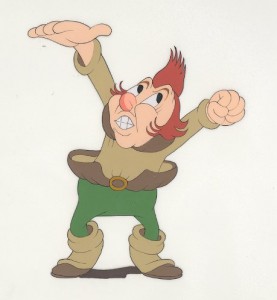 Take heart, dear followers of my written word, all is well.  Year end reflecting is going on smoothly and anticipation for a wonderful new year is as heightened as it's ever been.
I suppose that most of my 2015 was a bit more trying and difficult than years previously endured (for example, all of the "medical revelations" during the past seven or eight months).  These episodes of reliving the moment just might be 2015's final blessing.
CASE IN POINT
I missed the article submission deadline last week – deja vu one too many – but it couldn't be helped.  Our Town Fiesta seems to have taken up all of my free, and much of my non-free, time.  Instead of hunting and pecking on the virtual keyboard, I was assimilating, adjusting, and celebrating with my town's mates.  I was involved.  No, not in an "It's all about me" way, but in a "It's all about our town and its people" way.
Along with the annual "Holiday Party" at Villa Dolores – our lovely home – there were other lunches, dinners, parties, and Fiesta events that almost certainly required Baket ko's (Asawa ko's) [my Wife's] and my presence (and "presents," if ya know what I mean!). Of major importance was involvement in the Fiesta activities.  Of those were my locally perceived "fairness and impartiality" for judging events.
I reported on the Lantern Parade and competition in my last article.  Lots to consider, lots to adjudge, and lots of feelings to avoid hurting while making others feel special.  The final parade and competition of this year's Fiesta was the Grand Float Parade.  All barangays, and anyone brave enough to endeavor a private entry, participated in this capstone event.
Your humble scribe was "unanimously selected" as the chairman of the 3-member panel of judges.  With reputation at stake, rules for the panel and suggested ways to meet their obligation were explained to the judges, along with the different award categories being considered.  The float competition is much easier to judge than the other events – especially the lantern event.
THE FLOAT PARADE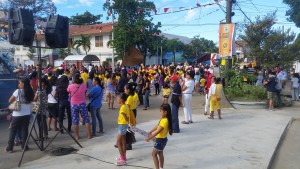 A beautiful, sunny morning blessed our venue.  Thankfully, as the sun and temperature went higher, a delightful breeze coupled with a few light clouds to block direct sunrays served the municipality with ideal parade weather.   All would be bright, and every inch (or centimeter, for those metrically inclined) of every float basked in the sunshine so that no feature or flaw would be overlooked.
With only three judges, all egos were easily put in check and the spirit of teamwork – held captive by said egos – engulfed the panel.  There would be only four categories considered by the judges, making retention of team spirit easily accomplished:
THE MOST "ATTENDED" FLOAT – basically, a showing of community support by barangay residents for their barrio's entry;
THE MOST "ORIGINAL" FLOAT – a display of ingenuity in design that "stands out from the pack";
THE MOST "REPRESENTATIVE" FLOAT – a display that best represents the entry's barangay and the theme of the Fiesta; and
THE MOST "COLORFUL/ATTRACTIVE" FLOAT – a display that best catches the eye of both the judges and the throngs of parade viewers.
These categories, thankfully, were much less subjective than the other events but, outside of the first, subjective nonetheless.  I was amazed, however, that the judges' scoring for two of the four categories were identical across the board, with another category being nearly identical, and only one category needing post parade discussion.
Even more amazing was the crowd's agreement with the final results.  Even though the winners for each category would not be formally announced until during the final Fiesta closing ceremony, crowning of the Fiesta Queen, and community dance later that evening, the "buzz" about crowded streets and plaza precisely mirrored the judges' selections.
If the Fiesta's success were to be measured by the benchmarks of happiness and enjoyment of the revelers, then I'd say that this year's town Fiesta was a smashing success.
"MOST ATTENDED" CATEGORY 
This was the most objective of the categories.  It only required the counting of supporters accompanying each float.  Thankfully, the reviewing stand was at the end of the parade route.  Quick marches at the parade's onset mellowed out to a slower stroll past the judges, making the headcounting that much easier.   Too, the always present "desertion while the parade was en route" kept the numbers manageable and provided the judges with a good idea of true support.
The average number of "float attendees" was in the range of 50-60 followers.  The smallest number (from a highly agricultural barangay that had most of its residents in the fields and not on Parade) was 37.  At the other end of the scale with barangays "fielding" participants with numbers like 97, 105, and 112.  The winner, however, had it nailed.  We stopped counting when the number of float supporters for the BARANGAY SUSUGAEN float exceeded 300.  No one could match that display of humanity.
"MOST ORIGINAL" CATEGORY 
Like the first category, this one was scored identically across the board of judges.  All floats, from year to year, shares a great number of attributes.  They serve as a conveyance for the barangay's Fiesta Queen candidate, as a display representing the barangay, and a display of the effort and energy selflessly provided by residents of the barangay.  In short, "Ya seen one, ya seen 'em all."
One, however, always manages to stand out from the competition.  Somewhere in the barangays of Pasuquin, someone hatches an idea that – with the help of flowers, papier-mâché, watercolors, and "sweat equity" – transforms an otherwise "float clone" into an original masterpiece.  This year, that idea was hatched in BARANGAY NAGSANGA.  (Had the scoring not been identical across the board, I would have recused my vote as I'm a resident of Nagsanga.)
"MOST REPRESENTATIVE" CATEGORY 
This one was a little tougher.  Each float enteted was the epitome of the Fiesta's theme, so it came down to how well the float reflected life in, and the environment of, its parent barangay.  I suppose a barangay that "has got a lot going on" would have the upper hand in this category, but that supposition is put to rest whenever the float representing the barangay doesn't really show that "a lot's going on."  Having a little bit of everything counts for a whole lot more than having a lot of one thing being displayed by the float.
The judges scored this category nearly identical, with two giving highest marks to one entry, and a lone judge allotting highest marks to another.  Both of these top-scored entries had a lot going on and they showed it.  What tipped the scale in scoring the winner was the scoring for each judge's second and third choices.  While the lone judge's first choice did not appear as either of the other two judges' second or third selections, the first choice shared by the two judges was the second choice of the lone judge.  Thus BARANGAY ESTANCIA truly represented life and environment in its seaside surroundings.
"MOST COLORFUL/ATTRACTIVE" CATEGORY
This category is the reason for needing judges.  Highly subjective in nature, it calls for agreement among everyone having their own, separate favorite.  With 34 barangays and a handful of independent entries vying for top honors, you can easily end up with over 40 favorites.  To make matters worse, the Municipal Fiesta Committee enjoined the words "colorful" and "attractive," and imposed them as a category for the judges' panel.  "Colorful"?  Hey, this is the Philippines.  Everything's colorful; and being colorful can be achieved by using many colors or properly coordinating a few colors.  Unless it was stark white or pitch black (none met these criteria, of course), a float was going to be – one way or another – colorful.
So, in this category, it came down to one of the most subjective criteria of all:  "Attractive."  With "One man's trash is another man's treasure" in mind, the decision for this category's winner would have to be distilled into more objective terms.  Enter mathematics.  As with the other three categories, each judge submitted his/her top three choices for this category.  With 3 judges having 3 choices, the field was narrowed down to 9 final contestants, at the most (3 x 3 = 9).  Each judge assigned a numeric value to each of their choices in the following amounts:  1st choice = 10 points; 2nd choice = 9 points; and 3rd choice = 8 points.  Then the roll call began.  Each judge's 1st choice was scored by totaling all of the numeric values appearing next to that particular choice's name on all 3 judges' scorecards.  Combinations of 1st, 2nd, and 3rd choice points awarded to the named float.  Then, the same procedure was followed for each judge's 2nd choice.  Finally, the same for each judge's 3rd choice.  In the end, every one of those final contestants had points assigned – BARANGAY NAGLICUAN had the most, scoring a 1st, a 2nd, and a 3rd choice amongst the judges.
PICTURES?
Pictures?  Yes, we have pictures!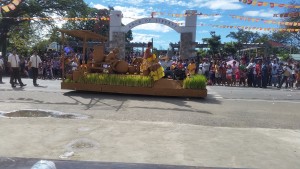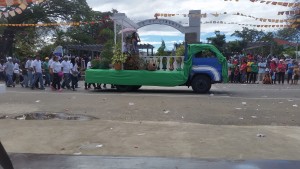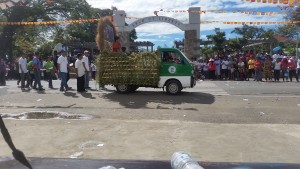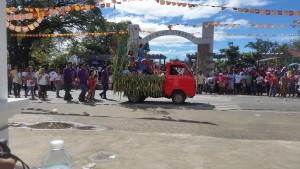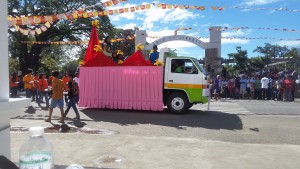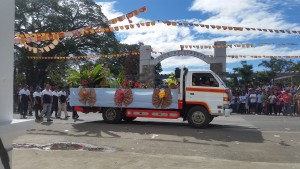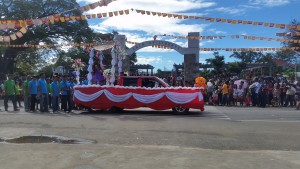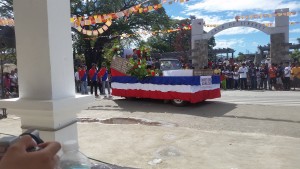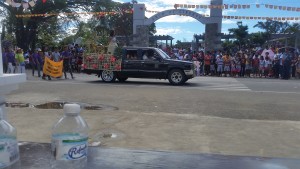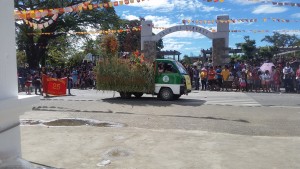 A FINAL WORD . . .
. . . for 2015.  As I'm pounding the keyboard, it's mid-afternoon on New Year's Eve, December, 31, 2015.  By the time you read this, we will already be well into January 2016.  So, from last year, I wish you a New Year 2016 that is the happiest and the most prosperous that it can possibly be.  May your 2016 blessings outweigh your setbacks by a million-fold, and may your joy each day be greater that the joy of each yesterday.
P.S.  With everyone "online" via SMART-Bro here in the area, bandwidth congestion resulted in extremely slow upload times for the pictures.  It is now 1:35 AM on January 1, 2016, and I'm still uploading pictures.  Don't think that I'll get more posted – there are a lot of them.  Oh, for some fiber optic connectivity in the future!