NEW articles daily! Subscribe below to receive daily updates with our new articles!

Apologies to John Milton who wrote Paradise Lost and Paradise Regained.
Yes, I am very aware that the Philippines is not Paradise, however I use the title tongue in cheek for retirement there. So how did it get postponed?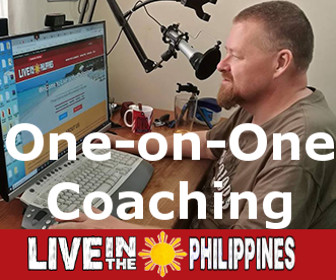 I have been downsizing, selling, and focusing my lifestyle and possessions with an eye toward moving there sometime early to mid-year of 2015. Cleaning out STUFF from all of the farm buildings, cleaning and selling antiques and collectables that was simply new or used stuff when it was purchased. Do you know how much stuff you accumulate on a farm?
My goal was to have everything on the house and outbuildings fixed, painted, and sold by Jan 1, 2015 and living in an apartment. I was well on the way to meeting that goal when the Paradise train derailed.
Mid-February, one of my former consulting clients, an international food corporation, called me while I was in a meeting and left a message that it was urgent for me to call. I had finished my contract with them on good grounds and knew that it was not bad news. But, the best laid plans oft go awry.
By the end of the day, they hired me again to oversee a department that was similar to the one that I had turned around for them 5 years ago. The good side is that it will allow a better retirement for me since I am too young for Social Security but have heart and joint problems from an injury while working for the government that make waiting for Social Security to start impossible. The bad side is that it will likely take several years to complete the job and integrate the revised department into the needs of the corporation. Paradise just got postponed.
Why was I so focused on moving to the Philippines? The cold makes my back and joint problems worse and here in Cornfield County Indiana winter is nothing but cold so warm weather year around was a must. Also, I have a daughter there in the Philippines and the obstacles that prevented me from moving there or bringing her and her mother here is now no longer a problem. When she says "Papa can we all be together," I want it as much as she does. Now that chapter in my life is past and I wanted to be with my daughter instead of just supporting her and her mother.
Now comes the immediate problem to think through. They have a house and about 8 acres of coconut farm owned in her mother's name that I purchased for them. I have been there many times for 2-3 weeks at a time. Since I was raised until I was 18 in a lifestyle very similar to the Amish, I am comfortable in the rural setting with basic infrastructure. While I am fully aware that visits once or twice a year for 2-3 weeks is not like living there, I also get along with the neighbors and in-laws.
My dilemma is do we keep the house and farm while we are here in the US since I plan on bringing them here since I cannot move there, or what do I do with it until I am ready to retire? I bought it to give them a feeling of security while we were apart.
From the information of my friends there and the combined wisdom of the LIP writers and commenters, my instinct is to sell it and when we can move there rent where we wish to live. I do get the feeling when I mention that possibility that having land there is a security blanket to fall back on and there are family members that would be happy to live on it for us. It is paid for and realistically it would not cause a hardship if something went wrong in that situation. I am open for thoughts and suggestions on that matter.
I have started the process of visas etc. and since they will be here as long as it appears, I believe that citizenship is a proper thing to do. Having worked for one of the government alphabet agencies years ago, I can only assume it will take many years to get processed. I have followed the ups and downs of Scott's journey with interest but assume that since they are not in this country it will take even longer.
I talk with them morning and evening via Skype or YM and enjoy helping with lessons and listening about the happenings of the day. If you look at the picture, you can see why when Princess as I call her, says, "Papa can we talk," I have a hard time saying no especially when all she is asking for is us to be together all the time.
Since I hate to have all my eggs, dollars, or pesos in one basket, in addition to my consulting work, I am working and researching to see about starting an online business. That way the train to Paradise might get on track again. I have an amount in mind that once I can see that income a month regularly from the online business, I will be ready to retire after all.
I suspect that this journey will have as many twists and turns as Scott Fortune's citizenship for his wife or Paul Thompson's new old Honda. I just hope I have the patience and ability to see the humor in it also.