NEW articles daily! Subscribe below to receive daily updates with our new articles!

The other day, my wife Emy said something that I found a bit disturbing.  Here we are, just days before returning home to Pasuquin, and her words shocked me like a tossed bucket of ice water.  The final Balikbayan box has already started its journey home.  Our bags have been packed and re-packed numerous times.  We've received confirmation of our flight status and our strategies for handling carry-on baggage are set.  All systems are "GO!" – and then, Sploosh!
Paraphrasing the Merriam-Webster Dictionary definition: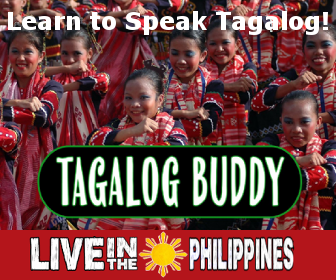 Expectation:  noun.  1. the act or state of expecting; anticipation.  2. something expected.
Why did I zero-in on the word expectation?  Well, it's part of what Emy said.  We were discussing our upcoming adventure and all of the possibilities it held.  Then, out of the blue, came, "Don't have too high expectations; you may be disappointed."  Brrrr, I can still feel that icy sting.
I'd be lying if I said I didn't have any expectations for this adventure.  They don't seem too high to me, but maybe it's time for a little reality check.  Just as every dark cloud has a silver lining, so too some silver linings have big dark clouds covering them.  Was I focusing too much on the shiny silver and ignoring the darkness it surrounded?  I hope not.
Here are ten expectations I have – do you think they are too lofty?
Enjoying much warmer weather year-round than any other location where I've lived (save Guam).
Living a slower pace of life where one can enjoy (or hate) every minute of a day, separately.
Seeing the many friends and relatives who I've missed since we last met.
Receiving smiles each morning from people to whom I raise my eyebrows, upwardly nod and greet.
Preventing a swindle attempt early enough to spare anyone's embarrassment.
Playing with my Australian Shepherd Barto, who I admit I've missed over the past seven months.
Partaking of Mountain Province coffee, "Manila" cigars using Isabella tobacco, and San Miguel beer, all of which I enjoy.
"Enjoying" a good typhoon every now and then and helping with clean-up activities in the barangay.
Spending the morning browsing and bartering at the tienda (palengke) [market]* on market day.
Looking into a couple of entrepreneurial endeavors – possibly using up some of my "spare time."
* Where possible, I like to use Ilocano words.  When I do, they'll appear as Ilocano (Filipino) [English].  In this case, I use the word tienda (pronounced "chenda") for market.
Now, in my humble opinion, if any of those expectations are too high, then I am definitely in for some sour experiences.  (Ooo – that sting of the icy water, again!)  I'm quite sure, however, that all are attainable and I'll enjoy them all during our adventure.  Additional expectations will pop up while I'm there, too.  I try not to have expectations; I'd rather have pleasant or unpleasant experiences in real time and not happily or anxiously await something that may or may not happen.
How about you – Any lofty expectations about the Philippines?