NEW articles daily! Subscribe below to receive daily updates with our new articles!

Today, we have a guest post from my friend, LeRoy.  LeRoy is trying to make the decision of whether he should retire in the Philippines and is asking for input from the LiP community.  So, give LeRoy some advice and let him know what you think!
I thought I would invite others to give me feedback as I evaluate my retirement choices.  As a side note, in addition to my business background, I have a masters and PhD in counseling and have made an effort to evaluate myself as I would if I was working with a client instead of simply tooting my own horn.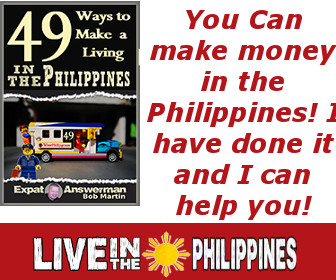 Summary; due to arthritis and related health problems, the cold weather in "Cornfield County" Indiana causes severe discomfort about 6 months out of the year.  I am looking for a warm climate outside of the USA to retire within the next 1-3 years.   I have narrowed it down to the Philippines because of friends living in Mindanao, Central America or a couple locations in South America.   Because of wanting to retire earlier in my life, I have chosen to live outside of the US for cost of living.   I would have a moderate nest egg to start life in retirement, but mostly living on about a $2000 a month retirement income besides the online work that I do.
My background growing up was very similar to the Amish to the point that most of our neighbors assumed that our family was Amish.   By that, I mean that I am used to the rural life with a focus on self sufficiency and little dependence on conveniences with a healthy dose of tolerance for others.  As I grew older, I have to a large extent kept the same outlook on life.   I have a TV that I watch movies on 4 or 5 times a year.   I instead, prefer to read several books a week and to write on subjects that interest me.
I am very comfortable being around and in groups of people that are culturally different and speaking other languages.
Years ago, a young woman from Laos that I worked with was having health problems and didn't recognize how serious things were but due to her trust in me, when I insisted that she go to the doctor, she allowed me to take her and he explained how close to death she was at that time.
From that time, she referred to me as her brother, and quite honestly, her and her family is closer to me than my blood brother and sister.   At the plant where we worked then, the approximately 800 Asian workers, mostly from the Golden Triangle know me as Tao's brother even if they do not know my name.   I am invited to many of the events within that group of people and am happy to go because we are friends even though I might be the only or one of the only "white" people as they say, in attendance.   I can speak enough of the various dialects to offer greetings to friends and pay my respects to the elders.   Unlike my ex wife, when they are talking in their various dialects, I do not assume that they are talking about me because I know that I am not that interesting and I also know that I am among friends.
I find that these events, whether it is a new year's celebration or a birthday party is a time of being  with friends and getting to try new and different foods.   I will try most foods at least once or twice and enjoy the opportunity to experiment with foods that are out of my normal routine.  A few, I decline as graciously as possible because I have a hard time getting it past my nose.
I have placed the Philippines on the top of my list because of friends from Mindanao.   There is a family that I came to know well when I worked at the plant referred to above, and I have visited the rural area where their family lives several times over the last number of years.  I have very much enjoyed my stays there and could see that as a potential long term retirement area.
I also understand that there is a huge difference between visiting and living.   That is why I am trying to get some feedback.
Some bullet points for consideration.
My needs are:
coffee
books
enough power to charge my laptop for writing
access to internet service to check email and news on a generally daily basis.
An item that is a little easier in the rural area than in the village is a reasonably quiet place for writing.
I enjoy cooking and here in the US I participate in BBQ competitions.  I enjoy butchering, making sausages of various kinds as well as curing hams and bacon.
I do not smoke or drink.   I do not need to be in a crowd to have a good time but if that happens I enjoy it also.   My job requires quite a bit of public speaking and often at get togethers that my sister puts on, I will find myself with a bunch of children around me asking me to tell stories.   They also know I keep candy of some kind for them.
I have found that my background was helpful for me when I was visiting and the electricity was intermittent because growing up we did without for many years.
In my several years working in the plant, I worked with people from 42 countries but over 2/3 of the employees were from various Asian and Spanish speaking countries, I found that I got along with most people in spite of language barriers.  We would share food at break and lunch times, when we met in town, I would get introduced to the families and still, several years after leaving there, people will stop in my place of business just to say hello and sometimes accept a cup of coffee or tea that they know will be offered.  Quite simply, giving respect and courtesy almost always gets you the same in return.
A smile, a handshake, a pat on the arm, a gesture of respect, occasionally a hug can say much more than the limited words that sometimes stand between us when we meet friends but often when there is a problem or something that they do not understand they know that they can come for help.   I do not feel the need to change the way anyone does something, but if asked, I will help a person to the best of my ability.
That is a summary of me.  I would welcome feedback as to your thoughts of a person with my background fitting in to rural Mindanao retirement and especially the areas that you would think might be a challenge or a poor fit.