NEW articles daily! Subscribe below to receive daily updates with our new articles!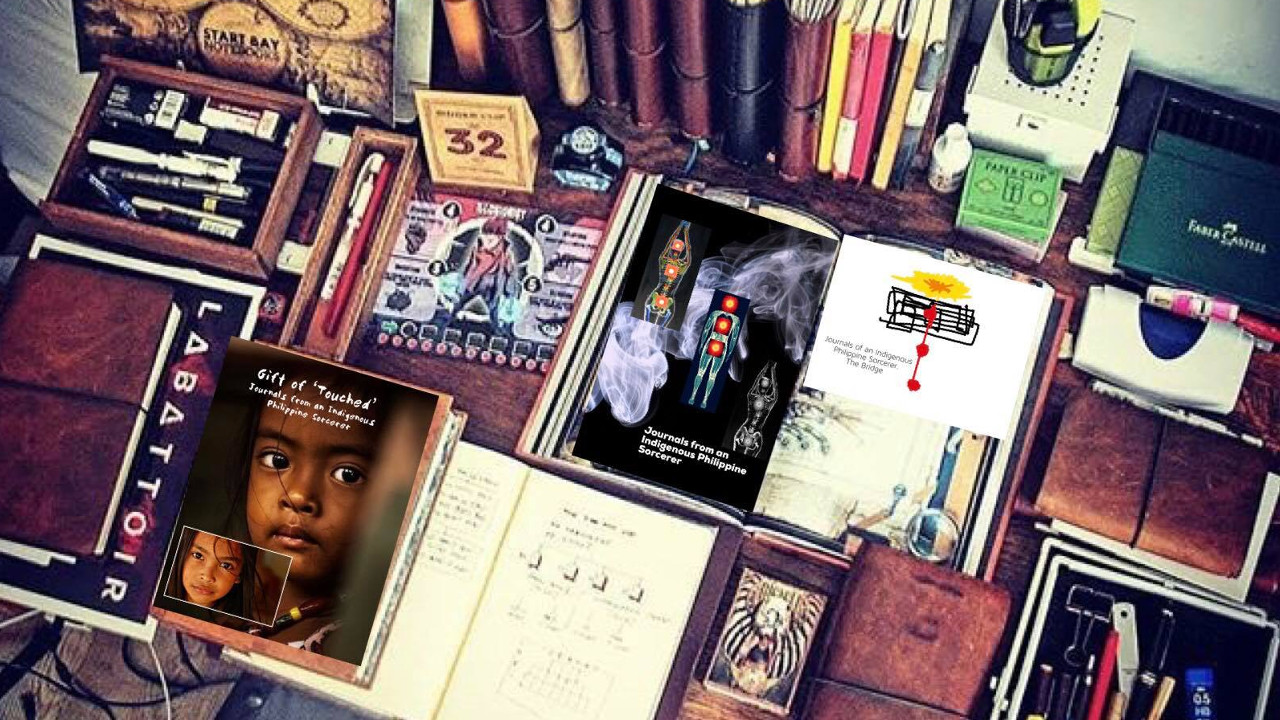 Retired! What? Wow, I'm still not off the hook. I've been 'retired' 8 years, and I'm still pouring over my journals of Arik's teachings. I'm not busy grading exams or preparing lecture notes, but busy organizing my journal writings of an extraordinary indigenous Philippine teacher. For an impending book, no less! Lord, I never thought I'd be doing this in my retirement.
But, as challenging as it is, it has been an enormous pleasure.  I've learned a completely untouched psychology; an entirely new and fantastical way of seeing life. It's like a door to an alien fourth dimension that has opened itself at my tender age of 67. But, on some level, it made me feel like I was 17.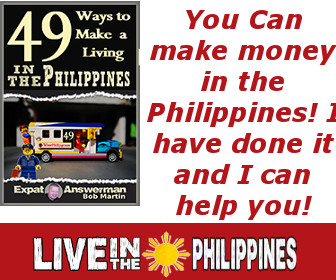 After I retired from my job as a college professor, I wanted something different from the homogenized and predictable USA lifestyle and landscape. I came to the Philippines because I saw a 'something' in the Filipinos who were my students in classes that was amazingly sweet and essential. Like in no peoples I'd ever seen thru out the world, and I'd been practically everywhere. I had to investigate the Philippines! And, it was an English speaking country. Nice warm weather, sweet people, pretty girls, good prices. Let's go!
Then shortly after arriving in my target city- Cebu City, and getting established, I bumped into Arik at Dunkin Donuts at Ayala Mall. After that, my imagined retirement scenario took a totally bizarre but exciting turn.
I had met with Arik  3-4 times a week. Immediately after our meetings, I'd write down- as completely as possible on what transpired.
Now after 7 years of being with Arik, and recording his teachings faithfully and truthfully, he was to leave.
Days before Aric was to depart for Mindanao, I came to see him. He poured me coffee and sat down with me at his large wooden table.
I felt sad he was to go. Not so much in a selfish way, but in sort of a grieving way. He had given me ten fat volumes of spiritual psychology I recorded after our meetings. Fantastic notes! And he had been a true friend who had given me a life-changing direction. He was really like a brother.
"Are you going to write a book about me?", he asked casually. I really thought he was joking.
"What do you mean, Arik?", I snickered, "Do you wanna be famous?"
He smiled back at me, "You probably know by now, our meeting was no accident."
I said, "You knew I was a psychologist, Arik, not a novelist."
"I do not want you to write a novel, smart azz —I want you to write all about what I've taught you over the past 7 years— about the truth, and to publish it."
"Oh oh, Arik, are you serious!? You want me to put it out there!", I said, incredulously. Don't you think your teaching is rather sacred? I always thought it was. Do you really want it out there?"
"The world is getting worse. I cannot hoard all the knowledge taught to me any longer and it's time to release it. We need a few more conscious beings here on earth."
"Are you sure? I questioned. "You always taught me human nature always destroys, distorts and waters down things, Arik, and besides you always said nobody wants these teachings."
"Indeed, you are right about that, Max. But, you also know there's other 'Max's out there who would welcome them and study and practice the teachings. There are budding Free spirits out there that may be touched."
Suddenly, I felt heavy as if I had to move a 20-ton megalith. "It's too big for me, Arik! How could I hope to do it right!"
"I'd want you to do it right!, he snapped. That's why I selected you. You're capable of it. And besides, you'll have Nyle, Ylime, and the others for consultation". Arik never used a computer or email, he never even had a phone. Ylime, fortunately, had a phone and was kind of his 'secretary'. I arranged all my meetings with Arik thru Ylime.
"You selected me because you knew I could write down your teachings, Arik?"
"O-o Yep", he said.
"Arik! You had this planned all along!
"O-o Yep, hehe.", Arik's whole body was shaking as he was chuckling.
"You are fluent in English, and have a love for the teachings, and are 'Touched'- what better person for this task?
I was in a whirl. I kept coming back to what he'd said, "I'd want you to do it right!"
I felt smashed with this responsibility.
Also, my ego (false person's)was flattered somewhat that Arik knew I could handle this. I could. I had spent my whole life in school, teaching, writing and in clinical psychology practice….
But, was this the way I wanted to spend my golden retirement years? I was dazed. My head to the grindstone of writing a book? About a sacred teaching! Whoosh.
"Whoa, that would keep me on the ball in retirement, Arik!" My mind raced as of how I was to handle this Herculean task.
So much for sipping San Miguel's and lazily reading on the beaches of the Philippines. (Sigh!) That's ok, I probably would have quickly become burnt out with that. Just like getting burnt out with the drama of dating the lovely Filipinas.
I thought, 'Why are you leaving us Arik? What are you going to do there?' I had already asked him that and knew the answer was a secret. He was to return to meet members of his School in Mindanao. That's all he would tell us, and to press him would only illicit his ominous role of wrath.
Then Arik leaned forward and looked at me directly in the eyes. I knew when he did that, he meant business. His brows furrowed and his eyes blazed. "From across the Bridge where I reside there are messages that this planet is in dire peril. More conscious beings are required here if you are to keep this ship afloat".
There was a knock on the door, and Nyle had just dropped by to join us.
Nyle was now an orthopedic surgeon in residency after passing his board exams. He also was a long time student of Arik's.
Arik said, "Welcome doctor, your just in time to help us move this table over to Ylime's house".
The three of us moved Arik's giant round oak table into Ylimes modest little abode next door.
"Salamat, Arik!", she said, "Ifa I like it, maybe keep."
Ylime has been with Arik's cook, housekeeper, and secretary for decades and was accustomed to him leaving for trips. She obviously was not disturbed about his leaving as much as I was. It was a platonic relationship he had with her. She was also a teacher to 'Special' Filipinas.
As a matter of fact, I was the only one disturbed. Nyle understood his leaving wasn't a sentimental deal to get mushy and emotional about. Wow, I was getting sentimental inside, Arik would've blasted me if I got gushy or weird about this. I had become very attached to these teachings, and I knew there was nowhere else I would find anything like it. Now, I have to redouble my energy into diving thru my writings to form a good book.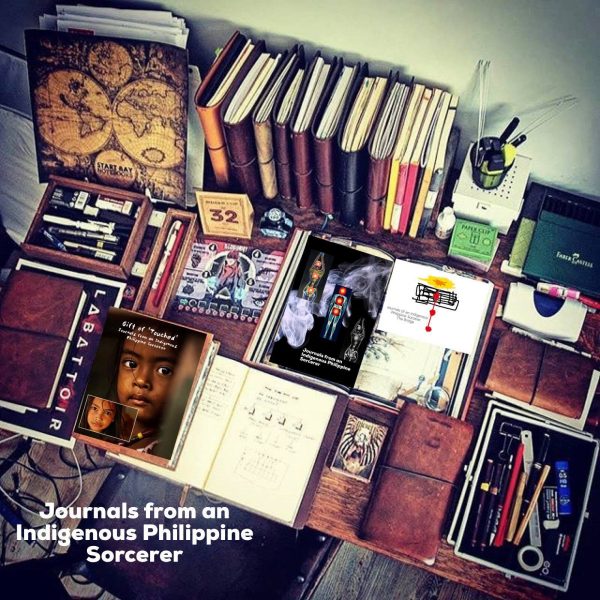 It was a massive teaching he'd given me. I knew that to acquire proficiency and a real understanding of anything, it takes time. I'd been working on Arik's teaching for 7 years by this time, probably averaged 4 hours writing and study every day. It was like learning how to live all over again, and an un-learning of un-life also. Daily I was dropping off so much junk I had carried around for decades believing my petty ways were the only ways. Every day, I practiced 3 basic tasks Arik had stressed:
Be Aware of being Aware.
Slow down.
Keep your mind where your body is.
These practices show one -how much one is out-of-control. How there is not one solid entity in us that is the 'controller'. But, how one can align oneself with the Real Controller who acts thru us. A very big thing I'd be trying to clarify and describe for the rest of my life.
On the day Arik was to leave, Nyle had driven us in my zebra multi-cab to the ferry dock in Cebu City. Ylime and Zee had come with us to see Arik off. I was surprised how light Arik traveled, with only one small suitcase and a backpack. I wish I was going with him on some level. Arik was headed to Surigao City, then off to somewhere in the Mindanao mountains. I was just reflecting, that a white joe like me might just get kidnapped up there and ransomed off -or worse. Arik told me that could indeed happen if I wandered about -out of the cities- in Mindanao. I enjoyed my head and wanted it to stay on my body, so staying in Cebu is just fine. Then President Duterte had his hands full trying to reconstruct the predominantly Islamic town of Marawi liberated from ISIS.
Arik waved a goodbye quickly and boarded the yellow Cokaliong ferry. I always hated goodbyes too. We saw his cat-like, muscular body striding off to the boarding area.
I considered just riding the ferry with him for fun, and drinking beer with him while we watched the waves, then immediately returning to Cebu after docking in Surigao. But, that would just waste time I needed to work on the journals.
————————-
Now it's almost the one year anniversary of Arik's departure.  He left August 28, 2017, and I'm doing his bidding, and writing a book. It's fun, and it makes me feel more alive, but it is certainly challenging. Arik instructed me to finish it as fast as possible and 'get it out there'.
I have. I've submitted chapters to blog-magazines with mixed reviews. Negative comments would still bother my false person, and praise would still inflate the false person. I was Aware of being Aware and knew the comments had absolutely nothing to do with me. No discouragement to my ego (false person's food) if the teaching was not well-received. As long as I did it craft-fully and thoughtfully to the best of my ability. I'm still learning.
I'm still not satisfied about the way I'm connecting the content but I will continue to refine it as much as possible- so if Arik reads it, he'll concur it was in accordance to what he said.
Besides, I knew his harshly blunt spiritual genre is probably not a popular 'cup of tea' with the majority of the population. That's ok as long as I sharpen the understanding of Arik's system to another 'Max', our there—that would be adequate.
I did have a few people writing me who are sincerely interested in Arik's teachings. One lady says they made her 'cry', and asked me numerous questions on Aware of being Aware and the Bridge exercise.
One fellow wanted to come to Cebu to meet him.  Ylime told me Arik told her- to tell him later might work, if he returned from Mindanao.
I thought of just writing the book scientific style. Just pure facts about the teaching, complete with diagrams, tables, and graphs. But, Arik liked the narrative style- exactly what occurred in form of my personal witnessing and experience. Without a lot of literary flourish and flash.
The printed book seems to be going extinct, much to my dismay. I will get printed version printed up here in the Philippines for distribution, and learn the computer blog magazine route as well for an American book and Kindle edition(s) for Amazon USA.
I need to know how to find publishers.  But, I had to get it right first!  There was no way I was going to send it out there flawed or fragmented.
Ah, retirement. What else would I be doing?
If Arik had taught me one thing at all, that was to not to waste time.
"We waste time; too much time", Arik always said.