NEW articles daily! Subscribe below to receive daily updates with our new articles!

Last month, we decided that it was time to have a family portrait made of Rebecca, myself, and Juanito. Certainly, since Juanito arrived, we have taken many, many pictures. However, this was the first time that we had a professional take a formal portrait of all of us together.
So, we packed up Juanito into the car, and headed over to TriNoma mall in Quezon City. TriNoma is a somewhat upscale mall here, with all of the major brand stores and things that most expats are likely to need when moving here. The mall is anchored by Landmark, an ultra-modern, upscale supermarket and department store. In fact, that is one of the primary reasons I am writing this article: The concern as to the availability of different items in the Philippines. Yes, the Philippines may be considered the developing world, yet, it is important for people to remember this: There is a hell of a lot of money in this country. Income distribution is widely unequal, and the "have-nots" certainly struggle just to survive from day to day. But what about the "haves"? Well, say that 5% of the population are well off. That equates to roughly 5 million people who are very much high-end consumers, most of whom live and work in Metro Manila. These consumers demand all of the goods that one could find in Europe or the United States, both in terms of quality and availability. In other words, everything that you could expect to find in the West is available here… For a price. That is what expats need to keep in mind when deciding whether or not to move here. Yes, the modern, top-line, feature-laden, LG refrigerator is for sale here, but do you want to spend the additional money to purchase this type of refrigerator, or would a simpler model suffice? These are the types of questions you will need to answer when moving here. What is important to you and a "necessity" or what will be sufficient for your standard of living. Once you head out of Manila to the provinces, availability of "luxury" goods drops quickly… Remember where those with the money tend to live. It is not Tuguegarao.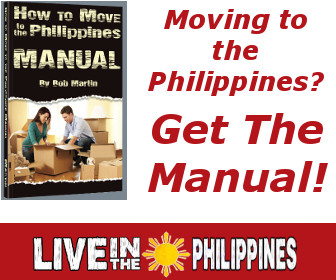 The point of all this is that a formal portrait by a professional photographer is very much considered a luxury out in the sticks… Not many people in the province can or will spend a whole month's wages on a family picture. Yes, there are a few photographers out there, but you will need to search for them. Rebecca had never sat for a portrait in her entire life, save for passport photos.  There is a wing at TriNoma where there are 3 or 4 photo studios right next to each other. So, we choose one. Even the pricing was unfamiliar to her… She thought that you pay to have your picture taken, rather than paying for each print that is made. After the sticker shock wore off a bit, we ended up with one museum-quality framed portrait, along with about a dozen prints. The thought that we have at least one really nice photo together made it all worthwhile in her mind. So, below, here's a couple of the pictures we had made.