NEW articles daily! Subscribe below to receive daily updates with our new articles!

Vendors in the Philippines
"Isdaaa! – Moro-Moro, Bangus, at Saka Gulay!"
Sound familiar? It didn't to me until fairly recently. Let me explain.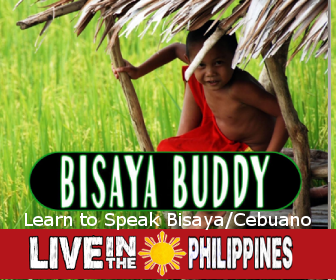 When I first retired to the Philippines I lived in West Insular Village, a pleasant and mostly clean gated community in Davao City. A bit pricey, but that's what you expect from mid to high-end private housing compounds here. Nothing unusual in choosing a gated community – lots of expats do the same. But how come, after being a regular visitor to the Philippines for 26 years, had I developed the notion that I would be better off living behind a wall, especially considering my partner and his family are Dabawenyos?! Well, I suppose I'd convinced myself that it made sense for a foreigner settling here to live in a place protected by security guards, with visitors strictly controlled, and with CCTV cameras everywhere. So when our agent found a suitable (if rather expensive) house rental, it was a case of "yep, that will do nicely". We moved in on the same day my shipment of personal effects from abroad cleared customs.
The house was nice enough, but it turned out to be really too big in the end. Fabulous for parties and the like but, oh the cleaning! I'm too stingy (or 'kuripot') to hire domestic help, so after a year we decided to downsize, and thus began a month of extensive house hunting all over Davao. I lost count of how many properties we looked at (there was always something not quite right- Ok, Ok, I'm picky!), but finally, we found a suitable townhouse. Where? – In West Insular Village, 5 streets away from our first house!!!   
Stay Put or Kuripot?
So there we stayed, safe and sound behind the wall. Now, don't get me wrong, it was a nice and fairly modern house in a row of 12, and it was a quiet and peaceful area. (We were saving quite a bit of money on rent too). For the 4 years we were there, neighbors came and went, some pleasant, some not so. Social life was OK, with family 'bonding' on Sundays for BBQ, the odd foray into town for a meal and a beer, and occasional trips to Samal island for special occasions. But to be honest, we kind of got into a rut, until finally, we realized that it might be a good idea to downsize again. Now, the thought of packing everything up for the second time was horrendous, and after all, we were in quite a comfortable rut, but still….
And then it occurred to me. By downsizing once more we could maybe find somewhere cheaper (I was becoming even more kuripot at this stage). Decision made!!
Moving Out and Moving On – Real-World Culture
So in April last year, we escaped our protected cocoon, ventured into the real world, and found a nice bungalow across town in Bangkal.
Now I should say at this point, this isn't per se about the pros and cons of living in gated versus open communities. Bob's article Gated Communities is as relevant now as it was when he wrote it 10 years ago. It's more about aspects of Philippine daily living and culture that can enrich our lives in simple ways, yet are all too easy to miss "behind the wall".
One thing, in particular, I'm thinking about, is how street vendors are an example of daily living that we were insulated from in our secure village, (although I suppose to be fair, it was called West Insular!). OK, I know, vendors can be a nuisance sometimes in certain situations. I'm first to admit that  I do my fair share of mumbling and grumbling when my snooze on the beach is interrupted by offers of genuine Rolex watches and original Gucci sunglasses. But I guess those beaches would be less relaxing if I actually had to get my butt off the lounger and go somewhere to buy ice-cream or fried shrimp or a new bottle of suntan lotion (I put shampoo in my beach bag by mistake).  So it's "thank goodness" for the ever-smiling vendor in his straw hat plying his trade, and "yes, a bag of peanuts will go down nicely with my San Mig thank you very much"!
"Baid!" – ""Maeez!" – "Itlawg!"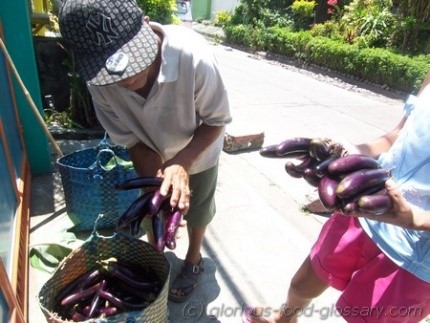 But back to the street vendors, especially the mobile ones who wander around the barangay every day, selling all manner of things (except dodgy Rolex and plastic Gucci), and providing services right at your door. Well, I think they're great!!
When we first moved into our new place (and yes, the rent is cheaper!), I was fascinated by the calls of the street vendors. Much to my partner's amusement, I tried to figure out what they were saying, and more often than not got it wrong. But by now their calls are familiar and kind of cheering, and to interact with them is a real but simple pleasure. Whether it's buying moro-moro from the fish lady (she's the one whose sales pitch is the title of this blog), or just saying good morning to the knife sharpener as he passes by on his rickety old bike, it all gives a sense of community. There are not so many, so it's not intrusive, and in any case, these are all hardworking men and women who get up at the crack of dawn (or earlier) every day and walk the streets in all weathers to make a living. And unlike the big mall supermarkets, none of their goods are packed and wrapped in plastic. Respect.
Street Vendors Expressions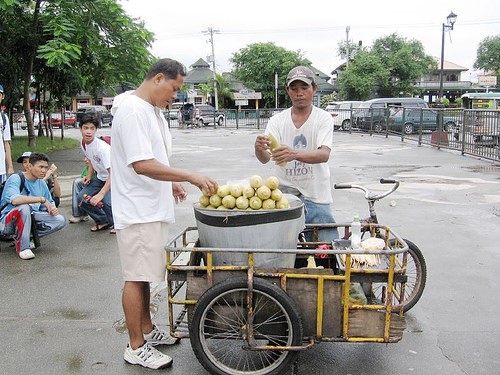 For anyone not so familiar with the local lingo (me included) I've listed below a few phrases I hear shouted every day by these fine people. They are part of the fabric of daily life, a reflection of how people survive and make a living. It's a far cry from the sterile security of the gated village, and I LOVE IT! OK, our little bungalow is still behind a wall covered in broken bottles, and we have locked gates with spikes, (not giving up on security altogether!), but we're no longer isolated from the sights and sounds and smells of a real community. Why oh why didn't we make the move sooner?
(Oh, and by the way, did I mention? – it's cheaper!)
Here are a few of the common sales pitches we hear almost every day. If you have vendors in your area that have their own unique calls, please let us know what they are.
"Isdaaa! – Moro-Moro, Bangus at saka gulay"!
isda (fish)
moro-moro & bangus (types of fish)
at saka gulay ('and also vegetables')
"Ba-id, ba-id!"
baid ('to sharpen'). The call of the knife/blade sharpener
"It-lawg!"
itlog (eggs). The egg seller
"Maeeze"
Maize. The call of the sweet corn seller
"Bakaal at Bote!"
bakal (junk), bote (bottle). The call of the scrap collector/recycler