NEW articles daily! Subscribe below to receive daily updates with our new articles!

Today's Guest Column is from Paul Keating.  Paul is retired "three times over" and with his wife, Emy, is currently in the process of moving to the Philippines this July.
A couple of items that merit serious thought when planning your move to the Philippines are visas and immigration status.  The good news:  they boil down to two simple questions: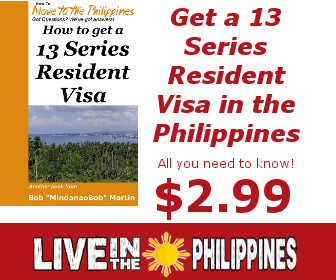 How will I enter the Philippines?
How will I stay in the Philippines for the duration I choose?
The bad news:  there is no simple, one-size-fits-all answer to either question.  Finding help in answering them is a problem, too.  Many sources of information exist that can help you determine your answers:  some are good and some are not so good.  Among those sources is one who some of us know all too well:  the infamous "THEY."  You know these covert operatives – never seen but often heard.  "THEY" find their way into just about everything.  ("'THEY' said that …," is their calling card.)
"THEY" can be as wrong or as right as any other source, so "THEY" should not be fully trusted or fully discounted outright.  Your best defense against a biased "THEY" is checking with more conventional sources.  This Web Magazine, Live in the Philippines, has a respectable archive of columns and comments that address these questions.  These easily provide counter-balance or support to what "THEY" said.  CAVEAT EMPTOR: "THEY" submit comments to Web magazines and blogs, too!  In our planning, my wife, Emy, and I employed "THEY," as well as several Philippine Government sources and a few LiP articles/links.
Getting to Know You
Prior to our research, we performed a good self-check to determine just who we are, in terms of immigration.  Knowing one's self helps to discover open paths as well as paths on which time shouldn't be wasted.  Me? – Simple:  A retired American with a couple of honorable careers behind me, married only once (to Emy), never refused entry to the Philippines, and no police record.  Emy? – A little more involved:  A former Philippine citizen and OFW, presently a naturalized citizen of the USA, married only once (to me), never refused entry to the Philippines, and no police record.  We plan on traveling to the Philippines together.
Once we "knew us," we limited our choices to two:  1) obtaining Balikbayan visas, or 2) applying for non-quota immigrant visas under Section 13(g) of the Philippine Immigration Act of 1940, as amended.  Both choices answered those "simple" questions quite handily, however differently.  Other choices, though just as valid as these two, just weren't worth our time.
The first choice, the Balikbayan visa, is the easiest to obtain.  Requirements include being either a Balikbayan or the spouse traveling with a Balikbayan; having a passport that is valid for at least one year, and being prepared to prove that the spouse is married to the Balikbayan.  Similar to the 23-day tourist visa, there are no fees to pay until you apply for an extension at the end of its one year term.  Previous LiP articles will confirm that this is a "you get what you pay for" deal – "bare bones" entry for a Balikbayan (or couple) affording a year's stay.
The second choice, the Section 13(g) immigration visa, isn't easy to obtain nor does it come without cost.  Fees, medical exams, police checks, photos, forms and more forms, etc. are all part of obtaining immigrant benefits that exceed those of the first choice.  Check the previous LiP articles on Section 13 visas – they cover the specifics quite well.  You pay more, in time, effort and money, but you definitely get more benefits with this visa.
Our Choice(s)
Choosing which visa would serve us best was a "no-brainer" to me – choice 2.  The benefits of unlimited out of country travel and return (even by myself), the ability to obtain an ACR-I card which would make things like setting up bank accounts, etc., easier, no limits in out-of-country stay duration prior to return; and the ability to purchase a one-way ticket to the Philippines for our move were my primary motivators.  All the required forms were available at the local consulate's web site, and the consulate itself was just a couple of hours away.  We could make a day trip out of it.
Emy's "no-brainer" selection was choice 1.  Her arguments included that there was no cost and no need to visit the consulate, the ease of obtaining the visa at the port of entry, the ability to do so upon re-entry; and, hey, where would I be going alone?  Besides, she definitely did not want to be an immigrant!  Among her sources were neighbors, hairdressers, and other Kabayan.  "THEY" said that if she applied for the immigrant visa, she'd have to get dual citizenship and that the immigrant visa would ruin her U.S. citizenship.  Of course, both of these rumors are not correct, but "THEY" said …!  In Emy's eyes, "THEY" had the stronger argument.
All we had to do now was present our arguments to each other, discuss them, and select which visa we will employ.  This proved to be a little more troublesome that first imagined.  Discussions went on for weeks.
"THEY" speaks up.
Just when I almost had Emy convinced that, perhaps, the immigrant visa might be the way to go, the "final nail in the coffin" for choice 2 appeared – in LiP of all places.  Balikbayan visa holders could obtain an ACR-I card, but only if they applied at the Manila Bureau of Immigration office.  That was it.  Selection was settled.  Arguments and voting ended with "THEY" (an impartial outsider) providing the tie breaker.
We'll be obtaining Balikbayan visas at Ninoy Aquino International Airport when we arrive.  A follow-on peace offering was provided and accepted:  if we decide that an immigrant visa would be better for us, we can apply while we're there.
Visas – what would YOU say?