NEW articles daily! Subscribe below to receive daily updates with our new articles!

The other day, I re-read Bob's column reporting that Live in the Philippines readers are moving to the Philippines. Bob was not expecting this migration, regardless of its size and scope. Like many of us who follow his columns, Bob views it as a good thing.
My wife Emy and I viewed it as a good thing, too. We thought it is such a good thing that we are participating in the "flood of humanity" to the Philippines. Our move, however, is more of a "MacArthur-like" return than just a simple "Gee, that's a beautiful place" move. Do not get me wrong. Any reason to move could be a good reason in our eyes. We are returning to our friends and family after defeating the soul-sapping invader: uncertainty. While not being totally dispatched, retreat on all fronts is uncertainty's order of the day. We are able to "land and move inland," exclaiming that we have returned.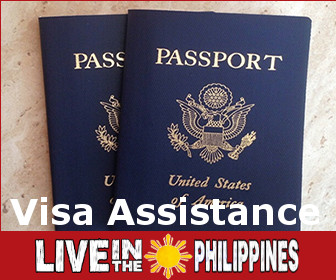 This PAL baggage handler "Ping", an Ilocano, was one of the first to greet us at the Centennial Terminal's baggage claim at NAIA. Every time we transit baggage claim, he is the handler who takes care of us. He knows that we will seek him out whenever we are there. He always makes sure that our bags clear customs and find their way to our Laoag flight. All transits are successful meetings and each with that, "Welcome back!" ever-present smile.
We took his picture on our last visit when we asked him to watch for our son who would be transiting baggage claim in two weeks time. We emailed his picture to our son with instructions to seek him out. When our son finally made his trip, he was surprised that "Ping" was calling him by name while eying the passengers from our son's flight. He made sure our son's baggage cleared customs and found their way to that Laoag flight – another successful transit!
Our porter (baggage handler) at Laoag International Airport is a cousin who, likewise, greeted us grandly and quickly had our bags in tow. While it is the northernmost international airport in the Philippines, it is small. So is the baggage claim area. I counted eight porters working our flight. The flight was nearly full, so there were about one hundred and thirty passengers. The porters really hustled – our flight's baggage was deplaned, transported, and "out the door" in just over thirty minutes. Larger airports cannot match that! Though the airport has just installed a baggage carousel, it awaits power hook-up and certification. I wonder how the porters will handle working side-by-side the carousel.
It is about a half-hour ride from the airport to our home. That half-hour tried to fly by as we pass the all too familiar sites, but it seemed to drag on whenever we thought of our destination.
Home always looks good. Such a nice, tranquil place that is soothing in the shade. While the katulangs and our driver took care of the baggage, I found time to visit the nipa hut. What a wonderful place to sit and enjoy one's surroundings. I just had to go in, sit down, and convince myself that we were actually here. We did it – we made the move (well, the traveling part any way).
When I had fully convinced myself that, yes, we were home; it was time for a personal ritual that I do not fail to perform whenever I come home. I visit Auntie Lydia's "tiangi" or sari-sari store, across the highway from our house. This visit has a two-fold purpose: to greet Auntie, who has always been supportive and friendly, and to buy two cold bottles of San Miguel Beer. I always offer the first bottle to Auntie. She traditionally declines it.
There will be other San Miguel's in my life, but those first two cold ones, ritually imbibed upon my return to Pasuquin, are always among the best.
Rituals completed, it is time to head to the house, help unpack, and get a little naptime. The house is new and is my part of a bargain. Emy once told me that the only way we could retire in the Philippines would be to build a new, American style house there. Well, I upheld my part!
The outside has the "island flair," but the inside has quite a few western amenities. This, indeed, is Emy's dream house and it makes her happy. I'm happy, too, that we both held up our parts of the bargain.
Like most houses in the Philippines, construction is never 100% complete. There are always little touches and personal tweaks that occur over the years. We had the house wired for both 220VAC and 110VAC, but we have yet to purchase and install a pole transformer that will provide such western magic. We will also purchase and install an outdoor chandelier at the front doorway. Finding just the right one is difficult. I am sure we will find more home improvements as time goes on. For now, however, it is time to enjoy being home.