NEW articles daily! Subscribe below to receive daily updates with our new articles!

Most of you come to (Live in the Philippines) daily, so I know you have either been here and want to come back, or you haven't made the decision to come yet, but you are planning on it.
Why don't you come right now?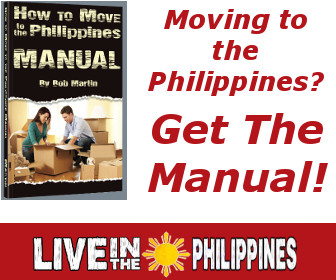 "Well, Jason, I have an important job, and a mortgage, car payment, and credit card bills that I can't just leave!"
"I don't know how I would support myself if I lived in the Philippines."
"I can't just leave everything I know and jump on the next plane!"
All valid excuses, but lets, in fact, agree that they are excuses.
"But, Jason, that's easy for you to say because you are already there!"
Yes, I am, but I didn't get here hoping that someday, somehow it might happen. I took action!
Let's talk about each of these in turn
Number 1: Stuck in the Rat Race
Some of you may object to me telling you that you are stuck in the rat race. But, let me ask you: Are you happy doing what you are doing? Is that job making you happy? Do you want to do it another 20 years? Does it make you happy to turn over most of your check to the bankers and credit card companies? Do you need all that stuff that you have accumulated over the years?
I haven't lived in America for seven years, but I know what's going on over there. I hear about things the average citizen doesn't hear because the media outlets in the U.S. won't air the truth about what is going on. I can say the same for many countries that are used to being economic powers. Life is not the same. The jobs aren't there, and the jobs you can get, you are overqualified for, aren't you?
If you have a great job, do you think it will be around forever? Do you think your company cares about you as a person of value? Do they care that you have a mortgage and a car, and credit card debt?
No, they don't!
They are looking for the quickest and easiest way to get rid of you and replace you with a computer or robot. What are you going to do when your entire industry is replaced by artificial intelligence?
Hate to break it to you, but everyone is walking thin ice. If you lost your job, how many months could you survive? Is it more like weeks? Are you stockpiling Ramen already?
All I am saying is don't get too attached to your job and lifestyle. It can all go away in the blink of an eye.
If it can, wouldn't you rather escape the rat race a build something that can take you to retirement and beyond, and live in the beautiful Philippines while you are doing it?
Number 2: I Can't Survive in the Philippines
This is the excuse that holds the least water.
Not only is there an internet of business opportunities waiting for you, but Bob Martin, AKA MindinaoBob, has even given you 49 ways to make a living .
Living here in the Philippines has allowed me the freedom to do many different things because, for the most part, it is very cheap to live here. I write and start businesses. Bob has many businesses. You can get by on so much less here, and when you do start making good money, you can get the good internet, like Bob (I'm jealous!).
And don't even use your health as an excuse. I am seriously and severely mentally ill, and my wife and I make it. Bob has poor eyesight and has had strokes and heart issues.
Stop making excuses.
Do you know what I did last week when I had some mental issues? This:
In the U.S. I probably would have curled up in a ball in the corner or ended up locked behind a padded door. Life is hard. Life is short. Life is a whole lot of things. Don't waste it on excuses!
Number 3: I Can't Just Leave!
Believe me when I tell you that you can. That house? Airbnb that sucker and live off what's left over after you pay the mortgage. We've already had a long discussion about your job. Family? I am much closer with my family now than ever before! Your family will understand.
FIN
Okay, I am done busting your butt. I'm am only doing it because I love you and want the best for you. Some of you are going to want to chew me a new one. Some of you will have more excuses. Some of you will want to do something about it, and in the next few weeks, if Bob will allow me, I will announce a way to help you.
Let's hear it all in the comments! Let's have a huge discussion about this. If I am lucky, Bob will jump in and answer anything I can't. Let's blow this out of the water!
Are you with me?