NEW articles daily! Subscribe below to receive daily updates with our new articles!

Note from MindanaoBob
As I have previously announced, this is the 10th Anniversary of LiP, and I have invited back some previous writers on the site to give us an update about how they are doing, what they are up to and how their lives are going.  
In that interest, I would like to welcome back John Miele.  John was a long time writer on LiP and always had interesting things to post here.  Of all of the writers that we have had on LiP, John is probably the person that people ask me about the most.  People always want him to come back and write again!  John is somebody that I consider a good friend and he is always welcome to contribute here!  John's article below will explain a bit about why he is not writing here.  Maybe we will hear more from John at some point.  Thank you, John, for submitting this anniversary contribution!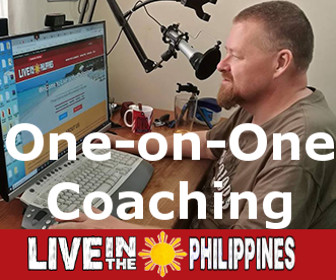 Recently, Bob requested that I write an article for LiP's tenth anniversary. I was once one of the regular writers on this site for four years, from 2008 through 2012. This article is sort of a random collection of thoughts and answers to questions that have been posed to Bob and myself recently.
Why did you write for LiP?
I started contributing articles to this site because I found the site quite useful before I moved to the Philippines. At the time, there were very few online sources of reliable information about the country, and I find the situation much the same in the present day. Yes, there are tons of sites on the web for expats. Most of them are highly biased, poorly written, or are little more than reposts of articles from other sites. There is an awful lot of ranting and general nonsense on many of them, as well. In other words, a waste of time.
LiP is different.
This site presents reliable information that is generally unbiased and balanced in nature.
So… I started writing on this website because:
I hoped that relaying my experiences could help others who were moving here.
I enjoyed writing on here.
I always attempted to keep my articles factual, and researched all of them. I will also note: myself and the other writers on here were never paid to write. Bob helped us with promoting other web sites, or discounts on his services, but we all write because we enjoyed doing it, rather than for financial gain.
Why did you stop writing on LiP?
There were a number of reasons:
First and foremost, time. I am not retired. I have a full time job that must take precedence. I have a wife and a seven year old son, with whom I get very little time due to a heavy business travel schedule. In order to write a decent article, it would take me an hour or two, possibly more if I needed to research something that I wrote (like the articles with legal citations). I always prided myself on presenting correct information. It wasn't always non-biased, but it was usually correct. This takes time. However, even more time consuming was answering the number of comments posted to each article. Some articles that I wrote (like the ones about visas or squatters), received over 300 comments (Some articles still get comments to this day. Even my article about my 13A visa, which is way "out of date" and inaccurate now). I always believed that if someone took the time to respond, I should also take the time to respond. It became a "Catch 22". Take the time to write a good article that generates a lot of response, but also take more time to answer all of the questions.
Secondly, I was getting tired of online arguments. My opinions attracted a number of trolls, and, quite frankly, I started wasting too much time that I did not have arguing with idiots (If you don't like what I have to say, then don't read it or write your own article). The final factor that made up my mind was that I received three death threats due to this article (two on Facebook and one via email). I do not care if someone threatens me personally online. I have found that most Internet Tough Guys are really just a bunch of hot air. However, I will not risk the safety of my family… period. Since those events, I have greatly toned down my presence online, and rarely respond to Facebook requests, etc. unless I know the people personally. Furthermore, it started many pointless arguments on the costs articles ("Well, you paid too much… I ONLY pay ____ Pesos per month") or on any article where I voiced any opinion other than "Gee, it's swell living here!". I will also note that in all of the articles that I wrote, the threats and nastiness almost always came from other Americans or expats. I very rarely had any hostility expressed by Filipinos towards my opinions.
Thirdly, I was starting to stagnate. You can only write so many articles about cost of living, visas, and daily life before you start repeating yourself. It gets harder to think up new topics.
What happened with the squatters?
Rebecca won the court case (it took over five years), the Sheriff came out, and evicted the squatters with a whole lot of drama (we paid the bill on that, too). They moved to a vacant lot 100m away, that happened to be owned by the mayor, and did not leave that property until the threat was made to revoke their license to offer a "game of chance" at the annual fiesta. We encountered her at a funeral last year and she started making a lot of talk, but pretty much was ignored by everybody and she gave up and went away sulking. The whole process cost almost ten times the price of the land by the time all was said and done.
Any other drama?
Becky had a cousin who was killed in political violence after the last election (in 2013). I will not go into details, and I made a very strongly worded Facebook posting at the time it happened, but I will reiterate a warning that myself and Bob have written on this site many times before: Foreigners have no business getting involved in politics in the Philippines, and voicing a political opinion here can be extremely dangerous. Foreigners have a habit of ignoring this advice, but I will say that what happened in our family hit very close to home and, trust me when I say this: you do NOT want to deal with the consequences. Enough said.
Becky and Juanito were denied tourist visas by the US embassy. This infuriated me when it happened, being that, as a US citizen, I am still subject to paying the income tax that pays the salaries of these useless wastes of space. As you can tell, I am still angry, and, quite frankly, ashamed to be an American (If they are not good enough to get a visa to visit Disney World, then, in my opinion, the United States is not good enough for them to visit.) They said that we could not show ties to the Philippines. Very well.
We have lived here over seven years (at the time)
I am under a long term employment agreement and a permanent resident
We have no bank accounts in the USA. All are in the Philippines or elsewhere.
Our son is in school here. The same school he has always attended.
Rebecca owns land and a house here.
Rebecca owns a business here.
All with stacks of documentation. The helpful advice given by Ms. Embassy Employee? For me to move back to the USA, petition them on a green card, uprooting my family and probably costing me my job (I do, after all, handle the Asian market for my company.) Yeah, I am sure they read this site. At this point, I really do not care. Their attitude disgusted me so much that I want nothing to do with any of these leeches on society. Now, were I to be able to do things differently, I would have brought Rebecca to the USA on a K1 visa before getting married. Something to think about for those who are contemplating moving here.
3. My neighbor died, and quite suddenly. He was the only other expat in our compound (he was Dutch) and I lost a good friend. It is difficult to put into words, but when you expatriate, there are times that you will feel very much alone. Those times get much less frequent the longer that you live here, but for a month or so after he died last year, I felt very much by myself.
4. I had a particularly nasty encounter with a Canadian expat at my agent's office late last year. He was an employee there. I had just met him, and we were in the van going to dinner. Thirty seconds in, he started lecturing me about how "All Filipinos are thieves" and "You cannot trust any of them", ad nauseum. I glared at him, told him "My wife and son are Filipino, and they are not thieves" and advised my Filipino hosts that they needed to keep a close eye on him. He was out of a job within a week, and I truly hope he is suffering (Funny enough, for some reason he was unable to return to Canada).
Have I learned the language?
No, I am still embarrassed to say. I remain a complete idiot in this area. I do pick up new words and phrases, but I have reached a level of acceptance that it will still be difficult. My level of travel this year is also on track to be around 250 days, which makes regular classes / retention still more difficult.
How is living here now?
I have mellowed quite a bit in some ways. I tend to accept that things are different a little easier now. Queues at the mall, government offices? No problem. Traffic? Annoying, but it is what it is (no road rage). Filipino time? Ok. Plan for it. Tampo? A mini vacation. Silly documentation for mundane things? No problem.
There is a sole exception: "Customer Service" hotlines here are about one step from useless. I have had two infuriating instances: Internet and the Bank. Both were asinine. Both were instances where large companies know that you have few options other than to bend over and accept an anal intrusion. To be 100% fair, "Customer Service" hotlines and I did not particularly get along before I moved here. As an aside, I discovered two ways of dealing with it:
I have a very extensive LinkedIn network. I connected with board level people who are on LinkedIn, and a private message there bypassed all of the hotline nonsense and resolved the problem immediately.
I sent an invoice to the companies in question for the value of my time that they wasted (I pay myself P5,000 per hour). I kept a log of the nonsense calls and how long they kept me waiting. I mailed the invoice to accounts receivable, never seriously thinking that they would pay, but I felt better. I did receive an amusing phone call from a bank's legal department informing me that THEY were not amused. Funny thing is, my problem was immediately resolved after our conversation.
Any advice for those thinking of moving here?
Accept that things will be different.
Stop over thinking the visa process.
Stop worrying so much about security. Fear can be rational, but what is irrational is letting fear control your life.
Cost of living is what it is, and it will never get cheaper. Do not obsess over the price of chicken. It is not a contest to see who can live "cheapest". Cheaper does not always mean better.
Stop worrying about exchange rates. This is not so prevalent right now, due to a high USD, but a couple of years ago there was a hell of a lot of "doom and gloom" BS being tossed around on the Internet. You cannot change the rates, and you WILL need to deal with it when they go down again (and they WILL). Nobody cares about your "fixed income".
Except for this site and a couple of others, believe only about half of what you read on expat web sites. There are a lot of barstool pontificates living in the Philippines, and a lot of stuff that is simply untrue or that is pure crap is written online.
Make friends with your neighbors.
If you are moving here for love, think with your big head and not your little head (especially if there is a huge age difference between you).
You will not change things. Only Filipinos can change things. This country belongs to Filipinos. You are, and always will be, merely a guest here.
There will be things that you miss from home.
If it is available in the USA, it is probably available somewhere in the Philippines. It may be expensive, limited quantity, limited choice, or limited to "only in Manila", but it is available here.
When you move, take the amount that you think you need to ship and cut it in half.
Be extremely cautious about buying real estate, especially before living here for a while. Land and real estate is a minefield here.
Don't think that your white skin makes you more qualified for a job.
Don't think that your white skin means you know more than everyone else.
Don't think "they are all out to get you".
Nobody in the Philippines really gives a damn about US politics. There is little Obama hate here.
Yeah, you are a "rich" foreigner. You may be over charged. Get over it. Accept the fact that you were born into greater privilege than 90% of the rest of the world merely by chance.
Yeah, her family may ask for money. You knew what you were getting into, right? Or are you really that selfish and stupid? See bullet point number 8 above. No sympathy from me.
When you start referring to Filipinos at "They" or "Them", then perhaps it is time to seriously start thinking about returning to wherever it is that you came from.
Every public official or police officer in the Philippines is not corrupt. I have met many who are just trying to do their jobs.
Will I write any more articles?
Perhaps in the future, if I have more time. Bob has told me that I can submit an article whenever I wish. There have been a few times that I almost did (When the squatter issue was resolved, when I got my Philippine Driver's License and let my US license expire, when I renewed my ACR for the first time this year), but I got very busy and never found the time to write.
In the near future, my travel schedule is extremely tight, and I do not see much free time. If Bob asks me to write an article for a specific purpose, I certainly will agree to do so for my friend.
I will also note the following:
I still find LiP to be the best resource on the Net for people thinking about moving to the Philippines.
I consider Bob a friend.
Bob's other services are useful, and he does a very good job with delivering value. In the past, I have:
Used his web hosting services.
Used his web design services.
Bought flowers for delivery.
Bought one of his E-books.
I can honestly state that in my business dealings with him, he has performed as promised, with honesty and integrity, and I would not hesitate to use his services again, should I require them.