NEW articles daily! Subscribe below to receive daily updates with our new articles!

It was Saint Patrick's Day in the morning.The guys from Cignal Satellite were on my roof tearing out the Dream System and installing the two new dishes. I came out and told Mayang that I didn't feel so good. Then I was struck with diarrhea. This is where I cease being graphic after I tell you, that nothing but blood was coming out. Off to the hospital and my Doctor admitted me at once. A massive infection in my intestines and three operations to stop the bleeding, and 24 pints of whole blood so much FILIPINO blood that I woke up craving rice and thinking in Tagalog.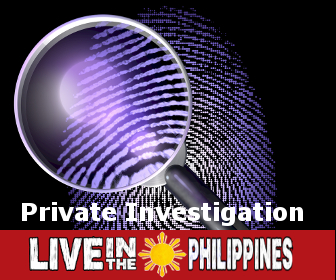 I lost the ability to talk because of all the anesthesia I had ingested during the three operations to keep the bleeding in check and keep me in the Philippines. Three weeks later I awoke from the fog and found that I was alive and a lot of my digestive tract was MIA. But Mayang was there smiling at me and quite happy to see me.
My memory was gone, I forgot how to use my computer; or even how get money from the NFCU or even write for LiP or Facebook, all gone. I thought the world was plotting against me. I could now really understand how Jeb Bush felt when he dropped out of the campaign. But slowly it all started coming back, one little thing would key in another.
In May they decided that if they sent me home I would get well faster, and they were right, the power of the familiar is indeed a wonderful thing. I struggled with my computer and found my way to my bank and moved some money here. But found that I was broke. I wondered where my money had gone or if even I had ever had it in the first place. A week later at 3am it came to me and I hobbled to the Puter and logged on to my bank, and this time scrolled down my list of accounts and found my IRA's just sitting there waiting for me. Oh joy and happiness, but Mayang was upset because I went downstairs by myself (I used the handrails!)
A few days later I found LiP and an article that I hadn't sent just waiting in the file. So after wracking my brain I remembered how to send it to Fearless Leader Bob. Files of jokes and tax information and useless stuff and all backed up on 2 one terabyte external memories. My thousands of albums of old rock and roll and country music just sitting there, I'm back babe, I'm back!
The humor gate had not fully opened as of yet, albeit I can see its funny, but I'm stumped as to how I can point it out.
So I'm missing my colon, but still have some inside bits left that will all be hooked up again as soon as I get stronger and gain back my weight (I'm at 126 and need to be back to 145 pounds) I weighed more than that but that was a beer belly and junk food. This was a brief history of why I was MIA for three months and the subject is now closed as far as I'm concerned but this was "How it Happened". But of course some strange things happened that I will be writing about as some were just so damn funny. The picture above is of me after release at Texas Joes for a real meal and not hospital food. I am growing my mustache back, and have asked the doctor a few times why they removed it no answer. This will be my only picture without it…Treasure it!!!
Oh, and the crappiest Saint Patrick's Day, this son of Ireland ever had.