NEW articles daily! Subscribe below to receive daily updates with our new articles!

Blahdity, blah blah, how much money do you need to live in the Philippines and how much reserve do you need in savings? I have seen this subject written about on the internet ad nauseum. And I cannot answer this question for you, because "I'm Not You!"
You will need as much money as "You" need for a lifestyle that you can afford. I didn't say want, I said to afford. Nothing more, nothing less and that amount will be different than my amount and every other foreigner you bump into as you wander up and down this archipelago.
Each person will require a different amount to live here. There is no amount set in stone.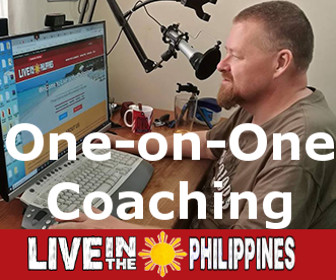 I'm going to tell you a sad story about a young Australian man with his Filipina wife and three young kids. One a toddler but two tikes, elementary school age
His wife's family provided them a house across the National Highway about a half mile from my house. (Yes, I'm still not metric, and won't change at this late stage of life.) It is a pleasant house suitable for his family in a good neighborhood. He bought a water purification business with two delivery Trikes and started monitoring the one Trike that was delivering water thus cutting his delivery fleet by one half.
The Mineral water, which is needed, as city water is really "City Water" and mineral water is required for drinking and cooking. (And making good Ice Candy) I met the young man after he bought out the man from whom Mayang purchased water for years. We had a beer, yakked a bit and all was fine for a few months.
He dropped by a few months later and told Mayang the price was going from P 50.00 per five gallons (Yes, I realize it is much cheaper where you live) to P 75.00 per bottle. I was fat dumb and happy, and I'm never involved in the running of my wife's house until I talked with the gentleman again. (One more beer involved)
"Paul ": may I ask why you dropped my water service? I had no answer and told him I get back to him. I asked Mayang why we switched, and she responded, nobody would pay that much for his water when two other company still sells it for P 50.00 Na Lang!
I now had the answer, and told him the reason, over another beer as he explained why he had to jump up the price.
He had spent all his seed money on the business and wasn't making enough money to live on. His two older children were miserable because they were in the local school and spoke no Tagalog. He told me that was his fault as he did not allow his wife to teach them Tagalog while in Australia where it was English Na Lang. (Oh I mean only) He was now trying to sell the business to buy tickets home.
He sold it at a loss and borrowed money from his friends and family to get back down under.
What mistakes did he make? His business would have supported a Filipino family very well on the same money he made, but he wanted (Plus his wife and kids) all the perks they had in his home country. A very nice guy and not a bad word will I say about him, as he and you both know where he went wrong.
In the time I've lived here, I've seen many similar stories about good folks, who realized a dream is just not a very good plan
Helmuth von Moltke (No idea who the hell he is) wrote in 1880, "No plan of operations reaches with any certainty beyond the first encounter with the enemy's main force or "No plan survives first contact with the enemy?" And with Dreams, a lot less…
(Most think it was Sun Tzu; "The Art of War", who wrote that quote)
And for many valid reasons of their own, the couple decided to take that long trip to the airport and say goodbye. Sadly, with dashed dreams and a bad taste in their mouth about the Philippines. Even though it was not the Philippines's fault at all, If I broke my leg in Brazil, is it the fault of Brazil?
So how much monthly and reserve money in the bank do you need? Damned, I still don't know, but I know how much, I need to live my life in the manner I desire. That is the only true answer I have and would not presume to lecture you on what I think you will need, because you are a grown ass person. How rude would that be for a stranger to decide something like that for you?