NEW articles daily! Subscribe below to receive daily updates with our new articles!

Here in the Philippines there is never much talk about space in relationships, unlike in the Western World, where it becomes a demand. How many times have you heard: "I need my space?" How much more space does your lady friend need? I was a merchant seaman gone for 4-6 months at a time, now I understand why I stayed single for 30 years. She needs space? Here is the rest of your life, go forth and enjoy it, I'm out the door!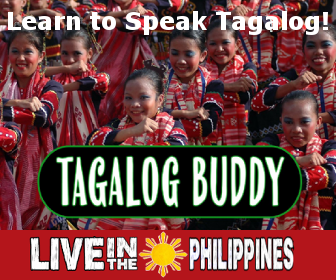 I receive all the space I need, I can go and spend an afternoon with my friends, yes Mayang is with me as I've mentioned before we all bring our wives with us. One good reason is seldom do any of us guys have any cash in our pocket. We need someone to pay for our lunch and cocktails. The ladies might put us someplace to shoot the breeze and tell sailor stories while they go to the mall or to the parlor for hair or nails.
But once a week a situation occurs with regularity that I learned to not question or do anything to alter and that is "Tuesday Afternoons" No not the song by the Moody Blues but the real day. This is the day her weekly lottery tickets must be renewed and a trip to town is required. Be it noted that I never schedule anything for that day as I figured out a long time ago that this is her "Day of Space" Mayang has never mentioned it or requested it, and I've never questioned it. But on this day a sister or two will join her and an in town lunch with the ladies is planned, sometimes with batch mates from her High School days or Facebook friends. But whomever; it is her day for lunch, window shopping at the mall or real shopping if she wants.
What do I get out of this? Well she never comes home without a juicy Meat Plus double cheeseburger for me and a great temperament and a smile at having enjoyed her day out with family and friends. So she has her "SPACE" without ever demanding her space, or whining about how her life could have been. If western woman ever figure this out the divorce rate would plummet.
I had a lady in Florida tell me the only reason men marry Asian woman is we want meek subservient women. Any man reading this may jump in now and tell me how true that ain't!!! Maybe the Asian woman can get their way using methods that are more effective than the whining complainer from Florida?
I was home on leave from the Navy in Dorchester MA. When a couple of things happen, Dotty a High School friend I dated, had wrote me a Dear John letter in Navy Boot Camp a couple of years before. (Which surprised me, as I didn't realize that we were ever an item?) But she, like most American girls loved drama in their lives, and I was driving a Oldsmobile 88 Convertible and had money in my pocket. Whereas her current flame was unemployed and owned a MTA Bus Pass.
But the best part of the trip home was my Father borrowed my Convertible to impress his fellow workers and the 8-Track in the player was The Moody Blues and he became an instant fan and I went out and got him his own tapes and put an 8-track in his car.
TUESDAY AFTERNOON by THE MOODY BLUES–1969 , look it up on You Tube and give it a listen, it's still a great song!