NEW articles daily! Subscribe below to receive daily updates with our new articles!

I was here in the Land of Enchantment (Philippines) in the 1970's and again in the 1980's but in the 1960's I was in New England, Europe, Northern Europe the Caribbean and South and Central America.
But then in 1993 I moved to the Philippines full time, I married and raised two daughters and I'm blessed with a granddaughter (Age 15) and a grandson (Age 6) during this time I have noticed things that are not unique to living here but never-the-less, can be found here. Like Puerto Rico similar latitude, but a different language, the attitude is very much alike. I like the way they think in the tropics.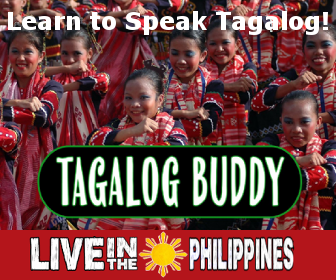 Whether you rent or own your domicile or just pass through on a vacation in the PI, RP, or PH you might own some appliances. If you have a partner that was born here you might have noticed that the boxes these appliances came in never go away. They might be on display above the kitchen Cabinets or neatly stacked in a spare room or closet but they are there.
The foreigner might scratch their head and wonder why? Well because (My wife's explanation) if you rent you might move and will need those saved boxes to protect the appliances,
But after you pack you'll find that you have more empty boxes than you started with, because the appliances you've replaced over the years are gone, and the old boxes stayed.
BTW Also you might have never seen them, but there is a drawer somewhere in your house/Apartment or Condo that will contain all the receipts and warrantee paper of those same appliances, including the ones that are gone even, if again, you no longer own that appliances. It's Just like the boxes.
I am the owner of a house now, vice a renter, and one day I opened a door to an unused bedroom, with the girls gone (Married) we now have three of those empty rooms. The extra master bedroom (On the first floor) which is reserved for guests or when a daughter visits. In the other spare bedrooms are mattresses, old chairs, things that I could not identify and of course "Appliance Boxes" stacked to the overhead.
If I was to put my foot down and demand they go out to the guy with the cart, who takes away bottles and cardboard. Wouldn't I be a foolish man, and of course I would "FAIL" I've learned to never demand anything, especially if it involves HER house.
I survived being at sea on ships over 35 years and dealing with a Chain of Command. You must be cagy, and find a way where they or she feels the need to do what you want as it was their idea.
"Honey Ko, do you plan on divorcing me?" Her feet hit the ground in a resounding slap as she shouted: "NO MAHAL" Why you think that? Because we have lived here for a long time, and I thought you planned on leaving me and needed those boxes. At the end of the week we had no boxes on our land. Where they went, I don't know nor care, but they are gone.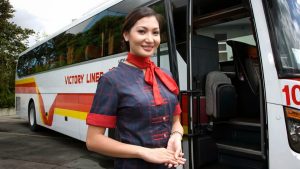 Over twenty five years I've lived here, unlike those just breezing through these Islands on vacations, but feeling they know all about living here. I have lived here over 25 years and could never say I understand why the Filipino is a Filipino or why they would act the way they do. Hell I'll ask the Adobo Twins a question about the why of anything and will receive the Pinay Shrug. If they haven't yet figured it out, what chance do I have?
I recommend that while we are living or visiting their home we never try to figure it out, just respect their point of view and never try to change it. Life will be so much smoother. Moving On!
I learned to drive in Boston, the land of the worst driving in the United States. This I know as a fact. I drove throughout Europe, and found Italy to be the most exciting. (Where sidewalks are part of the road system) I drove in Tokyo Japan, and returned to the car rental and hired a driver. Hong Kong driving is more fun than Disneyland. The Arabian Gulf the person with the most money always wins. Puerto Rico was my practice prior to the driving in the Philippines.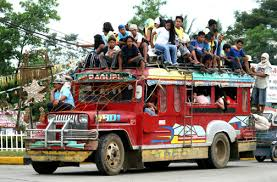 Like Puerto Rico, road rage will defeat you and will, cause you stress and raise your blood pressure, and do you really need that? When you are cut off, the reason is, the other guy is an hour late getting to their destination because they stopped to eat. The next time will be your turn to get over on someone else on the road. Just smile and let it pass.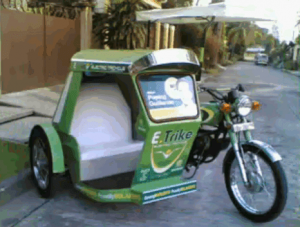 Driving has but one rule, there is no rule number two. The real rule is "Gross Tonnage" the larger the machine the greater right of way they have. My little Mirage G-4 is above Trikes and 90cc Motorcycles. Victory Liners are the king of the road; please remember that we need all our readers so drive carefully.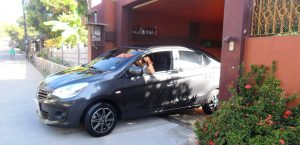 Over the years I've now see vast amounts of women drivers, something I never saw before, there is no reason that I know of, except a growing middle class, similar to where I lived in Boston in the 1950's I also see more ladies driving motorcycles and Trikes, Once more I don't know the reasons but it is happening. I've yet to see a female Jeepney driver or bus driver, but I feel it like everything else it will come to pass. Mayang has been driving for years, not because I'm an enlighten man but because I used to be prone to have a beer or a cocktail while out on the town and I refused to drive drunk, over the years I've left my car in some sketchy areas and took alternant transportation home. But having Mayang learn to drive was the perfect answer. She has and can drive a manual shifting car , but she did put her foot down (And not on a clutch)…Paul; if you want a beer with your friends, I want an automatic shifting car. Guess who won?
Moving on: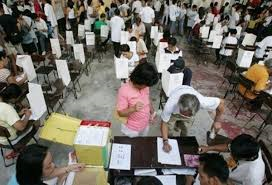 The other truth I've garnered over my many years stumbling around these Enchanted Islands was that: In the recorded history of the Philippines no one has ever voted for the losing candidate. The Barangay Election on 14 May will prove my point. If one wins and the other lost! Wait because on May 15th your neighbor and everybody will tell you they voted for the winner even if they didn't. The winner will dominate even if they only took 52% of the vote.
Moving on:

In closing I recommend that you never ask directions from anyone on the roads of these Islands, they are not being evil when they send you in the wrong direction; the truth is they can't admit they don't know.(Puerto Rico was exactly the same way) Your phone has GPS so don't bother that guy on the side of the road.
If you have an example, feel free to share it with the rest of us.