NEW articles daily! Subscribe below to receive daily updates with our new articles!

In the past few months here on LIP I noted that some had found fault with the Philippine LTO System, I'm here to present another point(e) of view, just to defend these much-maligned hard working folks.
The Land Transportation Offices are the folks in charge of Drivers Licenses, Tags and Car Registrations (They might do other stuff too, but damn if I know) I met them for the first time in 1994 and was pleasantly surprised in the way they functioned.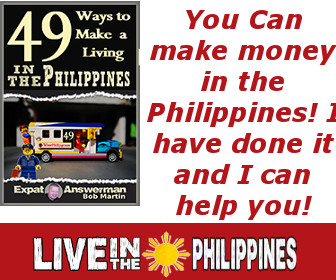 I was waiting in Oakland California for a ship assignment and was going to Lifeboatman School at California State Maritime Academy, Vallejo, CA. plus the next week Fire Fighting School on Treasure Island Naval Station San Francisco Bay.
I was given a ship assignment and flew to the Philippines on the way to my next ship. And while sitting in California I noted that my Florida Drivers License had expired. I was driving a rental car, and even Avis failed to notice my expired license. Florida requires that if you are over fifty you must come to Florida to take their eye exam. No other way to do it, as they told me. My oh my was I in a pickle, to hell with that, I'll get a license in Olongapo while I'm there.
Off to the LTO for my first time ever, "Easy Peasezy" Expired Florida license, no problem, not yet a resident, no sweat. Medical exam and urinalyses was not a rule yet. Pay the money; bring two passport photos (No computer photos in the olden days.)
In three days I had to fly to Singapore to meet that ship. My license can be picked up within a few months but I had the "Official Receipt which BTW is accepted in every country I visited, including Avis in at SFO Airport. To make a very long story short, I received my hard copy of my Philippine Drivers License within four months of its expiration date five years later! I'm flying out again; I only need a new "Official Receipt" Sooff to the LTO and ask if I may renew my license early. Of course, they said yes, and I was pleased. Two years later I received my Philippine hardcopy License but found when renting cars around the world, the "Official Receipt" just worked better with far fewer questions then the hard copy.
Then in the year 2000, I retired, from sailing and renewed my license and received my hard copy that day. And in another five years, it happened again with an instant hard copy. That's when I found out that the law required we to always have the Official Receipt, and I thought it was just while waiting for the real one. Not my first time being wrong.
But three years ago, it took a year to get my hard copy license. But did I care? Not at all, Boboy (My wife's High School batch mate (LTO High Person) called and informed me it was there. (A bottle of Good Brandy as a gift helps too)
Other visits to our friends at the LTO
My car was wrecked and repaired, but not painted the original color I was required to bring a notarized letter from an Abogado (Lawyer) Known as a "Letter of Color change".
A person scraped my official tag sticker off my front tag. Once more I went to an Abogado (The same one) to get a notarized letter of "Letter of the Vandalized tag." Then they replaced all three stickers?
While renewing my tag I provided a rendering of my Engine Number that I brought from home while the motor was still cool. No way said the man behind the window; I must do it then at the LTO from the hot motor. My wife went to see Boboy to tell him what I was told. He came, and agreed with the employee but then sent the employee to my car to trace the number from a hot engine. I love KARMA?
During my first trip to the Smoke Belcher Station, before going to the LTO they failed my car but passed the Diesel Jeepney in front of my car. And they could fix my car for a small pile of Pesos. I refused, and then I passed with no problem.
Now for funny new rules from the LTO that were never Philippine law:
All stainless steel owner jeeps were required to be painted because of the glare. I ignored it but my friend didn't and painted his owner jeep. That was never a law and was canceled.
We were told that we had to purchase a reflective safety triangle to replace the tree branch we all had in our trunk, But the LTO was out of stock, and a month later that rule was canceled.
I have enjoyed every visit to the LTO Office in the Philippines as no matter what they ask from you, it beat any DMV in any of the 50 states in the United States.
Of course, the one from your home state or country is exempt. I as we all must purchase the $50.00 auto insurance from the kiosk near the LTO, and then go and buy real insurance. But remember; never tell the other driver you have it. Just say you paid cash for the car. The same office I go to provides House Insurance too, a one-stop shop.
My only problem is I only get to visit the LTO, once a year and wait until it's time again. It is so much fun.