NEW articles daily! Subscribe below to receive daily updates with our new articles!

Most of you that's been reading and following our site you will remember Luanne aka AmericanLola. She had been a writer here for quite some time. She lives in Cagayan De Oro with her husband Ed. They're both American. They've been living here in the Philippines for over 30 years as missionaries. Their kids practically grow up here. They're fluent in speaking the dialect here in the Philippines too.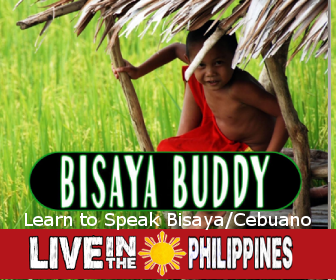 We've known them ever since the starting of LiP. She participated and writes about her life and her learning of the language here in the Philippines. To tell you honestly her and her husband were the inspirations for Bob to learned the Bisaya language.
Back 9 years or so ago, Bob and I together with our 2 Filipino friends went to a place in Lanao, town called Tugaya. A place where they make good and nice stuff that you will see in Aldavinco (souvenir shop in Davao). We decided to swing by in CDO (short for Cagayan De Oro) to met up with AmericanLola and Ed. So we all agreed to met up at a nice restaurant in CDO. After the meet and greet, we then tried ordering our food and such. Then Ed and Luanne spoke to the waiters in fluent and nicely spoken bisaya. Both Bob, myself and our Filipino friends eyeballs just almost pops out. We're all in shocked of how good they are in speaking bisaya language fluently. I can see on Bob's eyes that he was jealous of how good Luanne and Ed spoke to the waiters. He asked Luanne how did they learned the language and stuff. Even our Filipino friends even said that Luanne and Ed spoke bisaya better than they do. Both of them are from Manila but already lived here in Davao for a long time. The way Luanne and Ed's bisaya language are well spoken from the area like Cebu and CDO. The bisaya that our friends and myself are used to were the way the Davaoeno are speaking. It's a mixture of tagalog, Ilongo and Cebuano.  All in all it was a great trip and the beginning of a good thing going for Bob.
As soon as we got home, Bob immediately look for a bisaya teacher here in Davao. Luanne introduced Bob to one of her friend that studied bisaya here in Davao. Her name is Shannon (a young American missionary), and Shannon introduced Bob to Bebe. She's really a great teacher of bisaya language and culture Filipino cultures). Bob studied with Bebe for over 4 years. He really did graduate the course. We are so proud of him.
Yesterday when Luanne and Ed were here we also invited Bebe to come and met Luanne. She did come here and met up with Luanne and Ed. We all spoke bisaya for awhile. I'm still impressed with Luanne and Ed with their skills of bisaya speaking. Bob is almost there with them. We always thank Bebe for patiently teaching Bob the bisaya language. My hats goes out to her.
Luanne and Ed thank you so much for stopping by here at our house to visit us. It's really great seeing you guys again. It's been ages ago since we last saw you. Have fun on your vacation to the States and Europe. Let us know when you guys ate back in CDO. We will take you up soon on your invitation to visit you guys in CDO. Take care and God bless!