NEW articles daily! Subscribe below to receive daily updates with our new articles!

Do you remember when you turned 50? If you're not there yet, stop reading now, I don't want you to panic about it. I remember mine quite well; I woke up early one morning at my company's contract hotel in San Diego CA. When I checked the time I also noted that it was also my 50th Birthday, I had really paid little attention to the fact that I was, one half of a century old. I pushed it out of my mind and drove my rental car down to the office to see what ship I was going to. No assignment yet, checks back in a couple of days. Since I was on the clock, while waiting, and they paid my room and board, I figured I'd head down to Mexico and sight see for a few days. While having coffee I looked across the street and saw a barber shop. Off I went to lower my ears. I'll tell you now, why this seemingly small thing was such a big deal. My pony tail was 15" long and I thought that at fifty, I was too old for that look. So off it came and then I was heading to Mexico. I had to reintroduce myself to my boss when I returned as she had no idea who the guy with the short hair was.
So why am I bring this up today? Well last Friday my wife turned fifty, and to her it seemed like it was no big deal. She knew there'd be cake and pancit and of course a party. Did I forget to tell you she's a twin? So her sister's husband get's a break, as he knows they always celebrate together, and I throw the party. The party will be in my re-built backyard and the food and beer will flow, at least the beer will.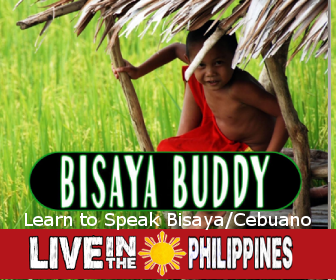 Friday morning, much to do, tent is up. All outside light bulbs have been changed. Cooler filled with beer and water, ice added. (Will check again later) All tables and chairs have been power washed and ready. Man Cave is clean. Fishpond cleaned again, nieces and nephews in the pond, (A pox on my neighbor's tree) Nieces and nephews already in clean pond. I'll await further instructions from ComPacFlt-House, (Commander Pacific Fleet-House, or as I call her "My Mahal".
Does it stop with the present, or the cost of the party? Hell no, a trip to the hairdresser, and a new outfit are also required. And one must have the obligatory damnable singing machine. Don't get me wrong, I'm not complaining at all. I enjoy seeing her and her family having a great time. And we'll do it again on the 14th during the PacMan fight on Pay-per-View (sans the damnable singing machine). I just like the fact that no matter what her age is, she's beautiful to my eye, and 13 years younger than me. So here are a few pictures of the party. You under fifty folks have something to look forward too, and remember what my father said to me, "You're no longer middle aged at fifty!"
My 13 year old nephew wanted a beer, his older brothers said no, he snuck in to my beer ref. and took what he thought was a beer. I found him at the side of the house sipping on a ICB bottled Cream Soda, true it does look like beer, and has no label just etched glass. Being the "Cool Uncle" I told him it was Ok-na-Ok, the sugar rush will do him good!