NEW articles daily! Subscribe below to receive daily updates with our new articles!

I am an optimist by nature.
I tend to look at the good side, or the positive side of life.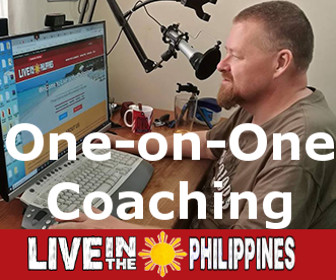 Even if I know that I am in a bad situation, I try to find the positive part of it if at all possible.  I have had one time during my expat life in the Philippines when I was in serious financial trouble.  I faced up to it and found a way out.  That was less than 2 years after I moved to the Philippines.  I had blown through a large amount of month in the 2 year period and I was in serious trouble.  I started to go negative in my thinking, but my wife pushed me to remain positive and suggested some possible solutions.
Through listening to my wife, I was able to refine some ideas that she suggested and came up with some really great methods of making money.  Since that time, I have had a few times when I had cash flow problems due to spending on business ventures while the income was not coming in yet, but overall, my life has been financially sound.
In general, most of the places where Expats like to live are not good places to be in financial need.  My experience is in the Philippines, so that is what I will talk about.
Being broke in the Philippines
In most Western Countries, the places where most expats come from, if you are seriously broke there are financial safety nets in place to protect you and keep you from sinking.  I have personally never made use of such safety nets, and I feel that many countries have gone way overboard with such safety nets (including my homeland, the USA).  However, for those who are truly in need, such programs can be a lifesaver.  Generally, though, such programs are not available in countries like the Philippines or other developing countries.  If you are poor in a developing country, well, you are on your own.
There is a British expat who used to live in the Philippines.  I am not sure if he is still in the Philippines or not, as I have not heard from him in some time.  I had sort of forgotten about him until I ran across a video of his on YouTube, when I realized that I was not sure if he was even in the Philippines any longer.
Anyway, I watched Matt's video, and while I tend to be an optimist, as I mentioned, in this video, Matt seems very pessimistic about life in the Philippines.  As I considered the things he was saying, I could not disagree, I just try to look at these things in a more positive way than he did in this video.
Have a look and see what you think by Matt's appraisal of the situation:
Like I said, I have to admit that nothing Matt said is false.  Nothing is misleading.  He is being honest.  Now, for me, I would, were I in a discussion with the Matt in this video, argue that I am the type of person who can figure a way to overcome the negative things that he mentioned.  Matt even mentioned that he, himself, is a person who can easily make money and has always been like that.  In that way, Matt is much like me.  I tend to be able to come up with ideas and plans on how to turn just about anything into a money maker.  But, I also admit that there are plenty of people who are not like that.  In fact, I would expect that the majority of people are not able to create money and income easily.
So, what are you going to do?  If you have a regular reliable pension perhaps you are not scared or worried about money.  But, as Matt pointed out, your pension money could be stolen if you are not careful.  If you lost the whole wad of money at the beginning of the month, it could leave you in serious trouble until the next month, and then it would take you a while to get back on your feet again.  If you have no pension at all, like me, you have to make plans and have reserve funds to keep you going should tough times hit.
I moved to the Philippines at a relatively young age, 38 years old.  That means that I don't have the pension or other funds that an older expat has.  I need to work and produce income in order to support my family.  Thankfully, to date that has not been a problem for me, except for that one time not long after moving here which I mentioned at the beginning of this article.  But, tough times could strike.  In 2008 when the worldwide economy took a real skid, I was hit, but not to the extend that it put me in trouble.  Times were tight, but we made it.  If things got significantly worse than that, though, it could cause problems for me, particularly if the tough patch was prolonged.
What about you?  Are you the type who finds it easy to create income?  Do you have a plan to keep you afloat in whatever country you decided to live in?