NEW articles daily! Subscribe below to receive daily updates with our new articles!

Gone for so little of a time, but WOW! – the changes that even a short period of time can bring! People, places, things: all appear to be changing; and for your humble scribe, dear readers, that change brings both hope and chagrin.
The changes – from miniscule to monstrous in size – surround me and cause me to question whether I've returned to the same, lovely piece of paradise that I left a number of months ago, or if the destination on my plane ticket had changed, too.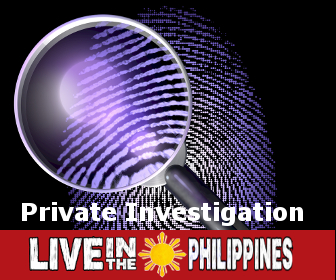 Heraclitus of Ephesus (c. 500 BCE) could relate it best: Panta Rhei. (Gr., "Life is Flux.") From this we draw: "The only constant in Life is Change." Ah, those old Greek philosophers certainly had it summed up quite well for us lesser mortals.
FIRST CHANGE NOTICED
It didn't take long for me to notice it. Baket ko (Asawa ko) [my Wife] missed it on the first few times around NAIA Terminal 2 South – the domestic PAL / PAL Express terminal. She, too, came around to the change. And, a welcome one it was.
There, in the middle of the terminal, where the numerous heads of flying cattle are herded from all of the check-in kiosks toward the two security screening positions (Male and Female, they be), was change Numero Uno.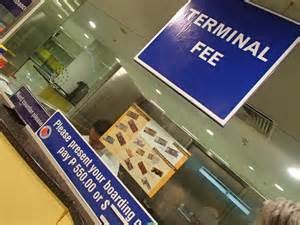 Perhaps I should say that the change of which I speak with gleam is the physical change of something that was there, but now, is no longer there. Fellow travelers, who have had the pleasure (or displeasure) of trodding that well-worn path from being "checked in" to being "checked out," may know where this is going.
GONE is the bottleneck causing means of squeaking extra pesos from weary travelers' pockets.  Farewell to a hideous source of traveler's frustration. Goodbye to the singularly manned den of revenue collection that spawned long lines at boarding time. Yes, the Terminal Fee collection booth is no longer there. 
THE SECOND CHANGE NOTICED
Miniscule by comparison to the first, the second change that I noticed was more "customer service" oriented.  No, I'm not reporting that the villainous carry-on luggage weight checker, who'd ply her trade with a smile, is no longer annoying the traveling public (she does take longer and more frequent breaks, however – I guess that's a teeny-weeny change).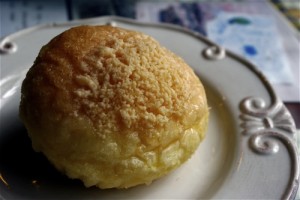 El Chango Segundo occurred in-flight aboard the 45-minute hop from Manila to Laoag. Known for its getting up to cruising altitude, leveling off just long enough for serving in-flight refreshments, then descending for its final approach; this flight doesn't have much available for any noteworthy changing.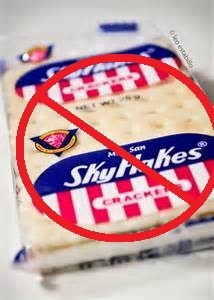 Oh, but for the hungry traveler depending on that serving of refreshments to stem the hunger pangs until they finally reach their provincial abode, the change was quite noticeable.
GONE were the ages-old packets of "Skyflakes" crackers that got tossed to travelers trying to enjoy their "coffee, tea, or water."  In their place, a rightly pleasing Ensaymada (rumored to be from the Goldilocks chain of bakeshops, but without any company logos on the wrapper, save the PAL logo) was gently passed from attendant to smiling traveler.
Even extremely small changes can be noticed and exceptionally welcomed.
THREE TIMES A CHARM, EVEN IN CHANGE
A bit of time transpired between the noticing of (and appreciation for) El Segundo, and the discovery of Numero Tres. Oh, there were plenty of apparent differences with the former status quo to observe and, possibly, report here. But, they merely ranked as "differences" not "Changes," and most were minor enough that they just barely squeaked into the category of "difference."
Numero Tres, however, definitely qualifies as a Change," and a major one at that.  Let me explain.
Here, in my beloved Pasuquin, it is a very rare occasion when "Change" touches us. One of the lands that time forgot, change seldom happened over the decades. For whatever reason – be it fear of change, comfort in the "what is" and angst in the "what may be," or any number of explanations available – instant change takes years to implement here.  That's part of Pasuquin's charm.
Now, a socio-economic change has taken place in the Poblaćion. It is the appearance of a new culinary business – something that the local citizenry was more comfortable with when they'd have to travel to a larger municipality in order to enjoy it.  I'm talking "Restobar."
I don't know when "Maria's Restobar" opened, but to me, that's of slight consequence. What's important, making this Change worth reporting, is that it did open!  That was quite a "Leap of Faith" for Maria.
For years and years, we did have a tourist-stop variety of eatery (or two) that supplemented the street food vendors as sources of eating outside of the house. What we didn't have was some form of restaurant focused on the local townspeople as customers.  After all, those places were in Laoag and the associated trip to the provincial capital to partake of a pleasant "sit down meal" added to the prestige of the occasion.
Too, the citizenry's tradition of being "tight fisted" financially kept "dining out" a sacred and rare event.
Enter "Maria's Restobar." We learned of its existence while being ferried from the airport on our arrival, and four endless days was the extreme limit to our staying away. Not knowing how to go about "dining out in town," our first visit was arranged during the afternoon of our evening's enjoyment.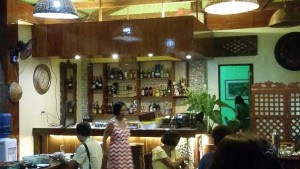 Maria's" is quaint – decorated with an air of Ilocandia past, and most fortuitously placed in a location far enough back from the National Highway's road noises while taking full advantage of soft, cool breezes that make even the hottest evenings of Pasuquin seem like the more temperate climes of Baguio City.
The faire du jour? Traditional Ilocano dishes with slight modern twists and vive.  (Remember, aversion to change here limits even the boldest ventures!)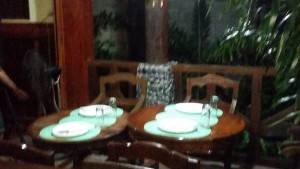 We enjoyed wonderful Sinagang, Sisig, Sweet & Sour Lapu-Lapu, Marinated Steak (sliced thin and prepared in such a manner that, under the knife of a lesser chef, could have been ordinary, "shoe leather bistek" but here, with the skills amassed in the kitchen, was more like highly favorable bites of filet mignon), and the pièce de résistance, steamed Rock Lobster with a dab of a wonderful, "chef's secret" dark sauce. Toss in some Ilocano sweets for desert, and "My, oh my! Where have you been all of my life?" can only describe this sumptuous meal's aftereffects on our spirits.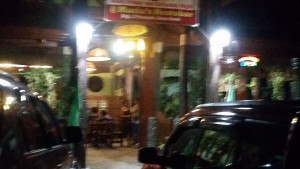 When the bill arrived, all "financially tight fisted" thoughts vanished as well. Had we partaken of such a feasting in the "Big City" – there were four of us dining, by the way – the night's tab would have most certainly been in the thousands of Pesos range. The numbers entered onto that official slip of paper, however, insured that we walked away totally sated, physically and spirituality. It read, "P 912." – confirmation of the Royal Treatment we received at "Maria's" from our entry into the small parking area at twilight to our departure in the dark of an early, Pasuquiño evening.
ONE FOR THE ROAD 
Most motorists have a great dislike for change, especially when it comes in the form of "Road Works." Announced by colorful signs, usually together with one lamenting about some "Slow Men Working" (Yes, I know that sign has a comma after the word "Slow," but it seems that the message is the same when you're being "slowed" by those men.)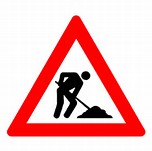 It was a different story, somewhat, while making our way from the airport, however. The closer we got to our humble abode, the more workmen and work tents appeared alongside our path.
Though I wondered at first whether this was a highway lined convention of DPWH engineers and roadmen, a little more scrutiny revealed that another set of official initials were at work – PLDT. That turned disgust into delight, albeit on a small-scale.
Deciding that I needed to find out more about all of these workmen, tents, backhoes, and very large coils of whatever it was that was disappearing underground – but not willing to go and intrude on labor being actually performed with my insignificant questions – I decided to take the "wait and see" approach to satisfying my curiosity.
Leap-frogging their way north alongside the National Highway, one team's hop landed the crew by our fence. It was time to investigate, and a short stroll around the work area provided all of the signs I needed for an educated guess.  When the technicians took a break and headed to the nearest sari-sari for snacks, I made my move. Short and sweet, my only question needing an answer was, "Wire or Fiber?"
FIBER!  Huzzah!  We are on the verge of leaping into the 21st Century!
The technicians confirmed that they were laying the fiber-optic backbone for our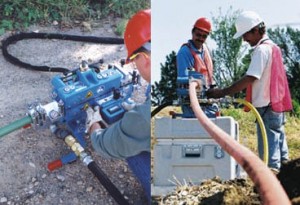 future communications needs. They were proud of their progress, too, and gave me a short tour of their tent, wherein they "fused" the giant fiber-optic coils into one, long, impressive conduit for my future Internet, HDTV, and other modes of modern communications.
Now, that's "CHANGE"!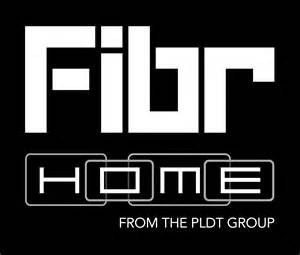 There will be more stories of our transition from Satellite TV and SMARTBro (now called "HOMEBro" but still acting like "SLOWBro" or "NOBro"), I'm sure. For now, though, the Change is welcome.  So much of it discovered in so very few days – I still have to check the plane ticket stub to make sure that the destination says, "Laoag"!
WILL CHANGE REMAIN THE CONSTANT?
Now, spoiled by the above, I can only wonder when Change will wield its magic wand, and point it at our electric co-op. Did I mention the Change there, too?  Yep, you guessed it – we've had more brown outs in the week and a half that we've been home than at any other time we've been here.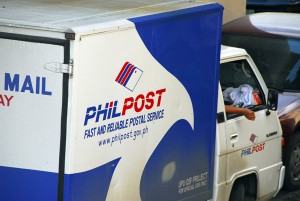 Maybe the Ilocos Norte Electric Cooperative can take a "lesson learned" from our local post office (another wonderful Change). The retirement of the "central head of power in all things postal" has resulted in many long-shelved ideas and improvements in service to be unleashed on the public. Mail delivery routes, drafted years and years ago, but "put on hold," are now being staffed by cheerful mailmen. Home delivery – imagine that!
You know? All of this Change stuff has me feeling upbeat!