NEW articles daily! Subscribe below to receive daily updates with our new articles!

I might have mentioned in the past, that my son-in-law Chris is in charge of his Family's farm out in the Subic Valley. His dad passed last year, and with Chris being the eldest son, he is now responsible for the day to day running of the family farm, whilst other members of the family run the many businesses in the Olongapo Market. The farm is 10 hectors of rice fields, with areas, to raise hogs; goat's and chickens, (Yes! Far away from the house) Plus the tilapia pond directly behind the house (it adds a waterfront view). And the Family house smack dab in the middle. The house is new by Philippine Standards as they tore down the old one and put up the new one in 1998. How can I say new if it was built 13 years ago? Because the original house suffered through many typhoons and the termites also took their toll, it was just time for a new one. And any building here that still has paint on it is new.
My daughter doesn't live at the farm as they also own an apartment building in the city, and my granddaughter goes to private school on the Subic Freeport. So it's very far to drive every day. Plus our girl, she's no farm hand, and that's my fault. We raised her that way!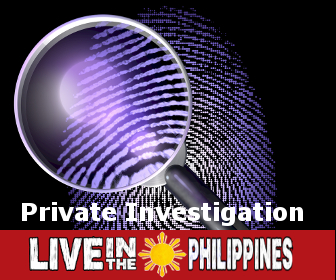 Anyone who wants to know why I using "Mr. Peabody's Way-Back-Machine" to reach back in my memory and come up with this article this week, it's like this. I was sorting through my pictures and found these and more pertaining to that day. And exclaimed "Gadzookes" that was a fun day, and it's about living in the Philippines, I'll write about that. (Okay, the real truth is, nothing much happened this week). My well also runs a little dry once in a while.
I've been to the farm many times for all the family gathering, which are mostly held there. But it was the first trip for my two buddies Tommy and Rich, The occasion was my Granddaughter's Baptismal, seven years ago this month, and the party afterwards was the reason we were at the farm. To get there, we drove over some 10 miles of dirt road, parked at the edge of the land in a parking lot, and then it's a 15 min. walk across the rice paddy dividers and over many little bridges to find the house. It reminded me of a Ms. Pac man game screen.
Hot, dusty and tired we'd arrived at the house, they quickly (and thankfully) offered the three of us a cold SMB beer!
And being one to follow all the rules and instructions, we noticed the bottle cap directed us to, "Drink more SMB" (San Miguel Beer) so we did. We then discovered two cases later, that every bottle cap said the same thing. I will not speak to the condition of my two partners, but I was God's own drunk and a fearless man! (From a Jimmy Buffett song) So it was now late afternoon and time to go, we had had all the fun we were allowed for one day. Then we debated the long and perilous journey on shaky legs back to our cars. (Which, by the way we were not to be the drivers of said cars) "Never drive drunk or over served, anywhere!"
For reasons I'll never be able to explain, mainly because my head was foggy that day, I suggested using the same mode of transportation, used to bring the beer and ice to the party, might also be used to bring three over served, (Alright; drunk) retired sailors out of there, "The Carabou with Sled." It has worked for centuries, and we didn't see how it could fail us that day.
Tommy wanted to be the driver and climbed upon the beast; While Rich and I were put on the sled behind the beast.
So we were both looking directly into the animal's third"bankers brown eye", and praying it didn't have to make a deposit.
Tommy was one fine driver, as he kept us on the trail, and in the mud, so if we did fall off we'd not be hurt, too much. So with a traveler beer in hand we safely made it to our parked cars. The kids thought it was the funniest thing they'd ever saw, and quickly got over their natural fear of the Kano.
Fun and good times can be found here, in ways that are beyond our normal experiences, which is why I advise everyone here, or visiting to get up and go find the fun. It's well worth your time, and if you miss it, it's on you. I chose to live here, and I'll be at the next Tilapia round up, down on the farm, with cowboy hat and rubber boots. Yee Haw!!! (I'll work for beer!)
P.S.  Hopefully I won't be using the "Way-Back-Machine", that often, but you never know.