NEW articles daily! Subscribe below to receive daily updates with our new articles!

Durian Week
It is Durian Week on LiP
It is Durian Week here on Live in the Philippines. The King of Festivals is quickly approaching in Davao City: Kadayawan. Kadayawan is a super festival in Davao City. It is a harvest festival, this time of year is when there is a bumper crop of fruit in this region. Most fruits here in Southern Mindanao grow all 12 months of the year, but the biggest and sweetest harvest is usually in August.
So, what better during the King of Festivals than the King of Fruits? The fruit that is often called the King of Fruits is Durian.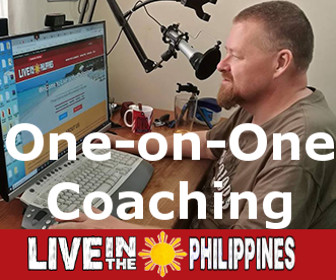 Love vs. Hate
Few things in life provoke the feelings of love and also hate the way Durian does. During Durian Week, as part of the leadup to Kadayawan, I am going to feature a number of stories and primarily videos featuring Durian.
The videos, in particular, will show you this Love vs. Hate emotion that Durian conures up in people. Some of the first time durian eaters actually throw up when they try it. Others eat durian and love it!
How do I feel about Durian? Well, many of you who are old-time readers of LiP will know how I feel about the King of Fruits. Others who are newer may not know. I will spell out my feelings about Durian on Friday this week! For those of you who know how I feel about the fruit, keep it quiet for now, please!
Durianburg
Davao City is without opposition the Durian Capital of the Philippines. Many people lovingly refer to Davao City as "Durianburg".
During the Kadayawan Festival and a few weeks on either side of the festival, everywhere you go in Davao City the smell of Durian Fruit is in the air. During Durian Week it is at its peak!
Transporting the King of Fruits
In the Philippines, and most other countries in SE Asia, where Durian is highly loved by the people. transporting durian on public transportation is generally banned. In the Philippines, you cannot take durian on airplanes, boats and other such "long distance" transportation. I don't know for sure, but I would also suspect that in most of the country this "no transport" rule would also apply to Taxis and Jeepneys because the odor can linger.
Here in Davao, though, I see people bring Durian on Jeepneys all the time. I have not inquired about bringing durian on Taxis, but I am pretty sure it would not be an issue. Dabawenyos love durian.
It is almost a law!
Frankly, it is almost illegal if you don't like durian if you live in Davao City! I mean, durian is a part of the culture in Davao City, and I am serious about this! I do know a few Dabawenyos who don't like Durian, but I doubt they go around town telling people that they won't eat it, especially during Durian Week! Durian Week is Kadayawan Week, and every Dabawenyo participates in some way during Kadayawan.
Durian Gardens
During Durian Week, the Kadayawan Festival week, "Duran Gardens" will pop up all over the city. You can hardly walk a block without being offered a chance to have a seat and enjoy some durian.
Would you take them up on the offer to enjoy some durian during Durian Week?