NEW articles daily! Subscribe below to receive daily updates with our new articles!

I have lived in the Philippines for almost 7 years now.  When I came here, I had a wad of money that I had saved up in order to be able to make the move and have a comfortable life.  I didn't have enough for a lifetime, but I had enough that my plan was that I could start up a business here with my money, and also live comfortably for about 3 to 4 years without worrying.  It didn't exactly work out that way, but I learned.
I have been lucky.  I guess it's mostly not just luck, though, it's a lot of hard work.  When I saw that my plan would not work out the way that I expected, I was able to make adjustments and find new ways to make money.  Instead of my original plan to have a chain of Internet Cafes and earn my money in the local economy, I realized after about 2 years that I needed to find a way to earn my money abroad while living here in the Philippines.  Luckily, I had a little experience in earning some money off of the Internet.  In the States, I sold on eBay and supplemented my income there.  So, I started selling on eBay from here, then I branched out into online sales from my own e-commerce sites.  In the past year to year and a half I started blogging, where I could write and earn money from the advertising on my site.  I enjoy writing, I feel that I have something to write about, and the extra income is a nice side benefit.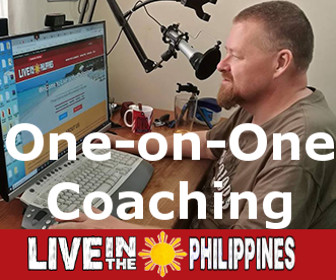 I no longer sell on eBay, but I still do the e-Commerce sites and the blogging.  I use a combination of these two things to earn my living and be able to live anywhere in the world that I want to live in.
As an ex-pat, you find that you come in contact with a lot of other ex-pats where you live.  You get into e-mail correspondence with other ex-pats who live in other parts of the country, you meet other ex-pats who live in the same city where you live, etc.  In my case, word tends to get around that I have been able to earn a living here.  Most ex-pats tend to have a hard time earning money.  They either have to bring the money with them when they move here, or they have to periodically go abroad to earn another pile of cash so they can go live their ex-pat life a little longer.  When people hear that I have a "formula" for being able to earn a living here, I get e-mails or visits from them.  I hear sad stories on how they have been unable to make it financially.  I hear about how they lost all their money to dishonest businessmen who they got into business with.  Whatever story you can think of, I hear it from ex-pats here.
I am pretty free with sharing ideas and information.  I usually tell people that I can help them understand how to make money here, but that I will only show them how I do it if they will agree and promise me that they won't just copy me outright on what I am doing.  Everybody can look at what a person is doing, make adjustments and sort of copy the formula, yet apply it to their own niche.  For example, on this blog, I blog about how to Live in the Philippines.  I can show somebody how to set up a blog, how to monetize it with advertising, how to write and generally how blogging works.  With this information, and their promise to not copy what I am doing, they should be able to come up with a niche topic of their own, and do it.  Instead of blogging about how to Live in the Philippines, maybe they want to blog about bird watching in Marinduque, maybe about their favorite football team, maybe about hurricanes…. whatever they have expertise on and an interest in can make for an interesting blog, and one that can earn them some extra money.  Wouldn't you agree?  And, I don't just teach people about blogging, I teach people about e-Commerce and basically anything else I am doing to earn money on the Internet.
All this is great, I enjoy helping people, and it builds some friendship between us.  It is all great, that is, until they break their promise to not copy exactly what I am doing.  So far, almost every person that I have tutored on earning cash on the Internet has made the decision to copy me.  For example, I have an online store called "WowPhilippines" where I sell gift items.  Three different people have made outright copies of that after learning from me how to do it.  Is that right?  I finally decided to stop teaching people how to do the e-Commerce.  The good thing for me is that on these cases, their stores never did catch on, and they did not persevere long enough to make that happen.  They tried it for a few months and abandoned it when the riches did not come immediately.
This morning, I got an e-mail from a guy that I taught about blogging a few months ago.  He is a nice guy, I genuinely like him.  When he started blogging, after my tutoring, he chose a topic to blog about that is somewhat similar to this blog.  I blew it off, though, because I figured that it was not exact, and there were plenty of things for each of us to write about anyway, without stepping on each other's toes.  When he e-mailed me, he asked me if I could send him a list of all my blogs (I have over 100 blogs, and a staff of bloggers to post on many of them) so that he could start reading them.  Before e-mailing him back, I decided to go have a look at his blog.  Hmm… one of the titles of a post was almost identical to a post that I made on this blog last week.  That's a little strange, but probably just a coincidence, I thought.  I went to look at the post, and it was an exact copy of my post, almost word for word!  A few words were changed, but it was clear where the text came from before being changed here and there!  So, not only did he use my idea for a general blog topic, now he was cutting and pasting my posts into his blog?  Well, that just doesn't seem right to me.  If he had cited my blog as the originator of the post, that would be different, but he didn't even mention my post, he just stole it from me.
So, basically, when you decide to move to the Philippines, or any other country, if you are planning to do something to help you keep some money coming in, you have to be careful.  My advice, based on my experience would be to keep a low profile.  Don't share much information on how to do what you are doing.  Leave it as a mystery.  True, it is not very helpful toward your friends and fellow ex-pats, but at least you can keep your ideas for yourself, and not be copied.