NEW articles daily! Subscribe below to receive daily updates with our new articles!

I hear a lot of people on various blogs, including this one, complaining about being "over charged".  They go on and on because they get charged higher prices than the local people pay.  It comes up all of the time.  In fact,  I have heard dozens of times from people that Filipinos are "racists" because they charge higher prices for foreigners than they do for locals.
It is true that at times, I see foreigners getting charged higher prices.  I will say, though, that the higher prices are most often charged to those foreigners who are more naive and generally less well informed.  There are ways to combat being charged higher prices.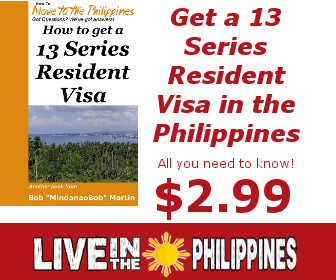 These higher prices generally don't come into play if you go to established stores.  Places like malls, businesses that use cash registers and such.  If you go to a modern store where they use a scanner to read the bar code on a product and the cash register automatically charges the price based on the bar code, getting overcharged based on who you are or what color your skin is basically does not happen.
It has always bothered me, though, that people say that higher pricing for foreigners is based on Filipino racism.  I have come across some Filipinos that I have thought to be racist, but not too many.  I have also come across racist Americans, British, Aussies and any other nationality.  There are racists everywhere in the world.  Racism is something that I abhor, it bothers me a lot.  I personally do not believe that the practice of charging a higher price for foreigners is based on racism.  I mean, for one thing, the practice happens for people of all races.  Feyma, my Filipina wife used to get charged "premium" prices from time to time when we first moved here because the people here could tell from her actions and the way that the talked that she was "from the States". She is the same race as the other Filipinos, so it could not have been racism.  Whites, Blacks, other Asians and so on experience this kind of pricing.  Because of this, I see no way that it can be a racist thing.
Instead of being based on race, I think that it is based on means.  If a person has the means to pay a bit more, they are charged a bit more.  Is that right?  No, I don't think it is.  I personally think that all people should be charged the same price.  However, that belief on my part is based on my upbringing and the culture that I come from.  The culture here is different, and under this culture you pay based on your means.  If you are very poor you don't pay quite as much as the rich guy.  You and I might not like that, but I don't feel it is something to stress over.
In the vast majority of instances the difference in price is only a few pesos.  If you are talking about huge price differences that is not a cultural difference, that is a rip off, and that is wrong in any culture.
Pricing differences you don't know about
This past week, I came across something that brought this topic to my mind.  I have so many things going on in my life that it has lead to serious information overload.  It is hard for me to keep track of everything going on in my life.  I need to organize better in order to smooth out my life.  Because of that, I am thinking of starting to use Evernote.  Evernote is a note taking software, and a real organizational tool that is very powerful.  I used it for a short time a couple of years ago, but did not follow through.  I am about to change that, though, and get serious about getting more organized.  As part of my research into this Evernote software, I was looking at their pricing.  They have 3 different plans.  A free plan with somewhat limited features.  A "Plus" plan that gives you more features.  Or you get the whole enchilada when you go for the "Premium" plan.
As I looked into these plans, it came to my attention that the pricing varies based on what country you are in.  Have a look at this:
Evernote Pricing Plans
Evernote Plans
Philippine Price
USA Price
Evernote Basic
Free
Free
Plus Plan
P550/year
($11.83/year)
$24.99
per year
Premium Plan
P1,100/year
($23.65/year)
$69.99
per year
You get all the same features no matter which country you are in.  Of course, every country has its own pricing, but I am only comparing the USA and the Philippines, just to make a point.
Are the people at Evernote racist?  If you think that Filipinos are racist due to their pricing policies then you should also think that Evernote is racist, because they are doing the exact same thing, but even with a larger difference in pricing!  I mean for premium you pay $69.99 per year in the USA compared to $23.65 per year in the Philippines.  That is almost triple the price!
It is not only Evernote.  I subscribe to Spotify so I can listen to music while I am out walking.  I like their service. In the USA, from what I can find on the Internet, it seems that the price is about $10 per month for Spotify service.  If you are in the Philippines it is P139/month, which is $2.99 per month.  That again is about three times more for US customers.
So, this variable pricing is not just something that happens in the Philippines.  It is happening to you in your home country, you just don't realize it.
How to avoid being overcharged in the Philippines
I have lived in the Philippines for nearly 17 years now.  I have been around the block a time or two over those years.  I know that in my early years of living here, I was overcharged.  I am sure I knew it at the time, although I don't ever remember getting worked up about it.  I mean, the price difference is usually very minimal, so it is not something to get too stressed about.
These days, though, I don't get overcharged.  I don't think I ever get overcharged.  If I it does happen to me, it is very rare. in almost every case I can think of, I pay the same price that my wife would pay, or any other Filipino would pay.
Don't shop in the public markets
If you are worried about being overcharged, don't shop at the Public Markets or from Street Vendors. Those are the places you could possibly get overcharged.  Like I said earlier in this article, if you go to the real department stores or grocery stores where they use real cash register systems with bar code scanners, you will not be charged a price any different from what other people pay.  Now, generally, goods are a bit cheaper at the public market compared to the department store, but at least you will pay the same price as everybody else if you go to SM, Robinsons or any other mall.
Personally, I enjoy shopping at the public markets, so I learned how to not be overcharged there.  You can learn how as well, it is up to you.  But, if you prefer not to make the effort, just don't shop at the public markets and you will probably not have to worry about being overcharged.
Learn how to negotiate
Negotiating on price is a time honored tradition in the Philippines.  It is part of the culture.  If you do not try to negotiate when you are at the public market, you will not be respected. If you do negotiate they will know that you are a serious buyer and you will gain some level of respect from the vendor.  For many of us from western cultures we are embarrassed to negotiate.  Don't be embarrassed.  It is a sign here that you know what you are doing, and will not stand for being taken advantage of.  Also, if you negotiate don't give up too easily.  Don't accept the first lower price that is offered to you, keep negotiating.  Go back and forth 3 or 4 times to keep bringing the price lower.
In many cases, you should start off by offering much less than is being asked.  If they are asking for P300 for an item, make your first offer P150 or so.  See what the reaction is.  If they are shocked by the offer or if they laugh, it is probably a good sign that you are offering way to little.  Use their reaction as a barometer for what you should do next.  If you can take 1/3 or so off of the price that is usually a pretty good deal.  Of course that depends on how much they were trying to overcharge you in the first place.
Another strategy to use is that at public markets there are always lots of vendors selling the same stuff.  Use them against each other.  Learn what the price really is by watching other people buy the items.  Go from one vendor to another until you get the price that you should get.  If you go to vendor A and the price is too much, go to vendor B to try again.  It is important that you let vendor A see that you just went to vendor B.. he will often make a quick adjustment to his price when he sees that.
Learn the language
I spent 4 years learning how to speak Bisaya.  I became fluent in the language.  These days, I am a bit rusty, but I can still speak it well enough that I can have a good negotiation.  When I speak Bisaya the vendor knows that I am not a tourist.  I become a local in their eyes. They know that I live here, and have likely lived here for a long time.  People who have been here a few months can't speak the language, in fact few foreigners (even those who have been here for years) can speak the language at all.
When I became comfortable enough to use the language out in public, the "paying more" problem came to a quick end.  Take the time to learn the language in your new home.  If you are here just for a vacation, learn at least a few words.  Even that gets respect from the vendors, and will pay off for you.
Go to the market often
If you become a daily or even weekly visitor to the market you will start to develop friends there.  You will have Sukis.  When this happens you will no longer be overcharged, and in fact you might even get charged less than shoppers who have not developed a relationship with the seller.  Even if you are charged the same price, you can bet that you will get the best quality products that are available.  So, go to the market often.  Be friendly. Speak at least some of the local language.  It will pay off for you, I promise!
Get over the negativity!  Get over the idea that Filipinos are racist.  Have a more positive attitude.  When you do that it will pay off for you, and you will enjoy your life in the Philippines a lot more too.