NEW articles daily! Subscribe below to receive daily updates with our new articles!

Updated for 2018
How Much Do You Need to Live in the Philippines?
Probably the most often asked question from people who are thinking about living in the Philippines is this – How much money do I need to have a good life there?
Well, to be honest, there is no single answer that can be right for every person.  "Living good" is a different concept for every person, and what is a good life for one person may be a life of poverty for another.  However, just because the amount varies depending on your lifestyle doesn't mean that we can't talk about general amounts that would be required to live here.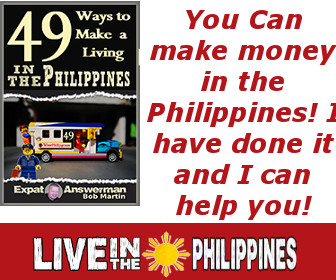 The least amount of money that I would say a single person could live on and have a comfortable life is maybe about $1,000 per month or so.  For a couple, maybe $1,200 to $1,500.  Now, I have heard of westerners living here on $200 to $300 per month, but for most of us that would not be too comfortable.  Those who live on that kind of budget live the way that local Filipinos live – in a nipa hut, eating native Filipino food (mostly rice and vegetables), just an existance as opposed to a life.  At $200 per month you aren't going to spend time in Malls, go to Movies, go out for entertainment and such.  Even at $1,000 you won't be doing a lot of this kind of thing.
Now, if you can do $1,500 to $1,800 per month for a single person, maybe $2,000 for a couple, you can live a fairly nice life.  You can rent a decent house, eat a fairly good diet with plenty of meat and such, go out for some entertainment, maybe do a little travel around the Philippines too!  You can also get a maid to stay in and take care of cleaning and chores, maybe a little cooking too.  For this kind of budget, you won't have to take care of much yourself in the way of work, you can hire it out.
If you want to live a swanky lifestyle (nothing wrong with it… I tend to live a pretty darn good life myself), for a budget of $3,000 to $4,000 you can live in style.  Nice house, a car, a couple of maids and somebody to wash your clothes.  You won't be wanting for anything.  I am not ashamed to admit that I personally fit into this category.  I have myself, my wife, 1 kid and 1 niece living with me.  I guess we get by on maybe $3,000 per month.  I guess it would be said that we don't really want for anything.  If there is something that I want or need, I buy it, and it doesn't break the budget.  A few weeks ago our refrigerator was getting rather old and worn out, so we bought a new one.  Even with that expense, I will still live within my budget for the month.  If I want a new computer or laptop, I buy one.  So, I would say that for the standards of many back in the States, my lifestyle is probably excessive.  But, why not?
Some examples of things that you might wonder about when it comes to pricing (US Dollar prices):
Movie Tickets:  $3 for seating in the premium section of the theater
Grilled Chicken:  $4 for a whole chicken
Can of Coke or other Soft Drink:  60 Cents
Kilo of Fresh Tuna:  $8 (that's about $3.50 per pound)
Kilo of Porterhouse Steak:  $10 (this is for the premium steaks… $5 per pound)
Kilo of fresh Potatoes:  $2.10
Kilo of fresh Mangoes:  $2.30
Kilo of Durian fruit:  $1.40 during this time of year when it is "in season"
If you feel like eating out, you can have a decent dinner or lunch for $5 to $8.  If you want "premium" western food, you might spend up to $10 to eat out in a nice restaurant (per person).  Here in Davao, for $10 to $15 you can go to a 5 Star Hotel, eat their buffet with maybe 50 different food choices, eat all you can including all courses.  Food is cheap.  Some other things are expensive here.  But, overall, you can live well on a much lower budget than you would in the States.