NEW articles daily! Subscribe below to receive daily updates with our new articles!

A couple of weeks ago, I got a text message request from somebody who reads some of my websites, or so he said.  This fellow had been in communication with me in the past via e-mail, maybe 6 months ago or so, so I had no reason to expect anything unusual.  He got my cellphone number from one of my websites, as I do publish my phone number for those who need to contact me.  To be honest, I have two cellphone numbers, one which I publish and one which is private, mostly reserved for family.
Well, when this guy texted me, he told me that he wanted to meet with me.  I had no problem with that, as I try to meet readers whenever they are in town and ask if we can get together.  So, this guy asked if we could get together at 10am on a Monday morning at the Landco Building, a big Corporate Center here in Davao.  I agreed, had no reason to suspect that there was anything unusual.  I had no reason to suspect it… but somehow something didn't sit right in my gut.  I somehow thought that there was something different about this meeting.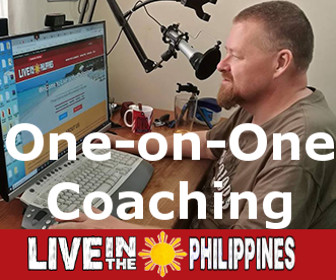 I showed up at the office where we were supposed to meet at the appointed time.  The fellow I was supposed to meet was not there, but the receptionist offered me a seat in the waiting area.  I sat down, and waited for the fellow to show up.  After a few minutes, I asked the receptionist, "What kind of company is this?"  She replied, "sir, we sell herbal products."  "Hmmm," I thought, "what is this all about?"
When my "friend" showed up, he sat down at the table where I was waiting and introduced himself.  He started explaining his various businesses to me.  The way he talked, you would think that he was a multi-billionaire, and the way he dressed would seem to confirm it.  The office was certainly very upscale too.  I wondered, what was I doing there?  Why did he want to talk to me?  After a bit of discussion I handed him my business card (which, by the way is called a calling card here).  He then handed me his business card.  When I looked at his business card, my suspicions were confirmed.  Something wasn't right.
Here was this guy who was selling himself as some sort of very wealthy businessman.  On his business card, a number of words were misspelled.  On the words that were spelled incorrectly, he had used a pen to scratch out the mistakes!  Oh my, he certainly was not what he was passing himself off as!  No serious businessman would hand out business cards with errors corrected with a pen!
Since the time that the receptionist told me that the company was an herbal products company, I suspected that this was some kind of sales pitch.  Soon, it was confirmed.  I had suspected a friendly meeting with a reader, 30 minutes or maybe an hour.  This fellow had a full day planned for me.  Soon, he took me into another room so that I could view a movie, and listen to a sales pitch.  About 20 minutes in, and as soon as the magic words were mentioned – "how much will you need to invest…." – I stood up. He asked me, "what are you doing?"  I said "I am leaving now."
What?  Leaving?
Yes, I told him that he asked me to meet and have coffee, and that I had not signed up for his multi-level-marketing seminar.  He was not happy.  I'm sorry, but I did not have time for this, and I certainly had no interest!
Well, to say the least, this was not exactly what I expected.  All along I had a gut feeling that something was not fully right about this, but did not know why I felt that way.  My gut was right though.  I should have not even wasted my time going, but at least I didn't stay nearly as long as what he was expecting.
The biggest thing that I can't understand,though, is why somebody like that would try to cheap out on the business cards!  I mean, if the printer makes a mistake on it, why not just throw them out and get them re-printed?
I'm lucky, though, this is the first time that I've had a situation like this when a "reader" has requested a get-together.  I hope it will also be the last!