NEW articles daily! Subscribe below to receive daily updates with our new articles!

There is nothing shocking about that statement, as she usually is, and I'm not saying that to garner Pogi Points. But over the years I've been wise enough pay attention to her. Remember the TV commercials for E.F Hutton Investment Firm: When they speak everyone listens…
A while back she had the trees trimmed (Read removed) in the neighbors yard, When the Typhoon hit on the 16th of July the other two trees on the far side came down and crushed the Sari-sari store. But have no fear the folks who ran it took off the week prior to the "PHOON" as the 5-6 guy is looking for them. His little motorcycle is patrolling the purok searching everywhere. (I know where they are.)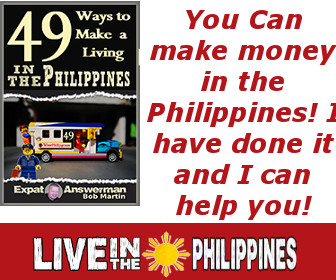 I have given up on repeating the names of typhoons in the Philippines and started using the date it hit lans since no two news media outlets refer to it by the same name why should I even try. This one was named Ram-a-lam-a-dong or Glenda or whatever the hell they want to call it. (The July 16th typhoon works for me)
In my purok there were roof tires and corrugated metal panels gone airborne, trees falling and power poles coming down. Plus we just found one of my two my satellite dishes went missing, the guy up the street was trying to sell it to the junkman (Or miner of precious metals) He (The junkman) brought it back to me but I said it's trashed so let the guy have it, he needs the money more than I do.
My dwarf mango tree lost a lot of limbs and has been trimmed again. The reason it a dwarf tree is because Mayang has it trimmed after every storm, soon it will be a bonsai tree in my living room.
My incinerator lost its "Charlie Nobel" (A sailor term for a small smoke stack) I'm glad we found that right away as it's made of stainless steel and wasn't cheap to have made. Yes I have a metal "GUY" to fix that.
Twenty minutes after the "All Clear" notice went out; Mayang had seven members of our family cleaning debris from the top of the house to the front and back yard. Within three hours you couldn't tell a typhoon had even hit, except for one empty satellite frame upon the roof. (We have a "Guy" for that too.)
We've been "5" days without electrify but my rebuilt Honda has been humming along keeping the two ref's and the freezer cold. No A/C but since the sun is behind the low pressure clouds it's not been needed and solar power would be quite useless. I remember that someone mentioned that they had no need for a generator and could tough it out, well maybe for a few hours but try it for (5 plus) days.
Many roofs around me were damaged and some are simply not there, I'll assume the tires and sandbags on the roof failed. But once more the slab roof held firm, I hate to keep bring that up, but the damn thing works. Albeit I did have to remove a lot of missile hazards that had collected there such as two roof tires that we removed and put out by my gate so the owner could collect them.
So that was the extent of my typhoon on 16 July in my neck of the woods, I hope that all in the path fared as well, Manila went under water again, and my heart goes out to them once more as that is an ongoing tragedy that could be cured by proper use of trash removal instead of filling the streets and run off drains with rubbish.
Typhoon season is here, so please take care and stay safe.