NEW articles daily! Subscribe below to receive daily updates with our new articles!

As readers know, last week I was hospitalized. I'd been sick for about five weeks, with infections in my arms and hands, very serious infections. I needed to go into the hospital so I could have intravenous antibiotics, as oral antibiotics were not strong enough to eliminate the infections.
Anytime you are hospitalized, of course, cost is always a concern. Health Care is much cheaper here in the Philippines than it is in the United States, but still how much will it cost is always in your mind. In this article, I'd like to talk about the cost that was involved in my hospitalization, and also about PhilHealth, the National Health Care Insurance in the Philippines.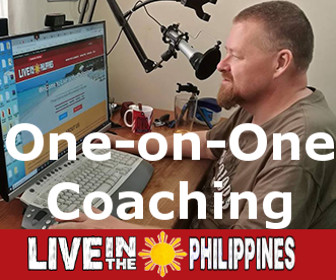 Our family signed up for PhilHealth about two years ago. The premiums are very inexpensive, 2400 pesos per year for the entire family. However, you hear so many stories about PhilHealth, we just were not sure how much they would really pay. From the stories you hear, they may pay nothing, or they may pay as much as about half of your costs. For the cost of the premiums though, if they pay anything, you're money ahead.
My doctor practices at three different hospitals in town. I got to choose between which of the three hospitals I wished to go to. I chose the least expensive of the three. I made this decision based on the fact that I was only going in for something very simple, needing to have an IV. I mean, if I had a heart attack or some other very serious condition I would have definitely made a different choice, and though I had a serious infection, it had been cleared to the point where I only needed intravenous antibiotics, something not difficult to administer. So, based on this, I chose to go to Davao Adventist Hospital.
At the hospital, I had a choice of different types of rooms. The best room available was a suite. Below that, they offered private rooms, semi private rooms, and a ward with many patients. I chose to have a private room. I had heard that PhilHealth will not pay anything on a private room, but given that the cost was low, it was not really a big concern for me. The private room was 1350 pesos per night. The room was quite nice, and large. I had no complaints about it.
Now, let's talk about costs.
My stay in the hospital lasted for four days. My total hospital bill, which consists of room and board, admittance fee, laboratory, medication, and professional fees for two different doctors came to a total of 25,024 pesos, that is about $560. Four days in the hospital for $560? That's already very cheap. There were some additional costs involved for medication. Some of the medication did not come through the hospital but we went and got it for an outside online pharmacy. So, of course, those costs were not included on hospital bill. The antibiotics that I was taking were very expensive. About 1300 pesos three times per day, so nearly $100 a day just in antibiotics. Some of those antibiotics were gotten from the hospital pharmacy, and were included on the hospital bill. However, at times the hospital pharmacy was out of stock, and we had to go to a different online pharmacy, for which costs were not shown on the bill.
What did PhilHealth Pay?
Of the costs, let me break down what PhilHealth paid in each category on a percentage basis.
Room and board. Total cost for room and board was 5400 peso. PhilHealth paid 52% of this cost. I had always heard that PhilHealth would pay nothing on a private room, but this turned out to be untrue.
Admittance Fee. This was only 300 pesos, of which PhilHealth payed nothing.
Laboratory fees. This came to about 4000 pesos. PhilHealth paid 75% of the cost, 3000 pesos.
Medicines. 4670 pesos at the hospital, PhilHealth paid 64% of this, 3000 pesos. PhilHealth also paid a large percentage on the medicines that we had to procure from outside the hospital.
Professional fees for the doctors. Total was 10,708 pesos. PhilHealth paid nearly 4000 pesos, a little under 40%.
There were few other minor costs on different things which are not even worth getting into. The total, though, was 25,000 pesos more or less. Of this amount, PhilHealth paid 12,600 pesos. Our personal payment was 12,424 pesos, almost exactly 50% for each of us. Considering that our total premium is only 2400 pesos per year, and that covers the entire family, having them pay out over 12,000 pesos for a single event is very impressive in my view.
As I said earlier, I basically chose this hospital because it was the least expensive. However, I have to say the care was great. The people were wonderful, friendly, competent – just all around good. Based on my experience, I would definitely go back to Davao Adventist Hospital again, and even for more serious conditions than I had thought.
If you read online forums and other such things, you will see a lot of negative things about PhilHealth. To be honest though, I was very, very impressed with them. Another thing which was great, was that the amount was just deducted from our bill. I had been under the impression previously that it could take months to get reimbursed after paying out of pocket for the hospital bill. This was simply untrue. I would strongly advise that if you live in the Philippines, getting PhilHealth is a wise choice. It's very inexpensive, my experience is that they pay about half of your bill, and it is handled very efficiently in my experience as well. I don't see how you can possibly go wrong by purchasing PhilHealth.