NEW articles daily! Subscribe below to receive daily updates with our new articles!

A few years ago my friend was moving from one house he owned here on Luzon to another. It went smoothly until at the end we're looking at his 1957 Chevy which the body is on blocks and the frame and running gear is separated. The frame is easy; we push it like it was a completed car. But the body was a horse of a different color. We Kano's drank beer and came up with many different plans. The Pinoy's working with us got tired of the talking and disappeared. Twenty minutes later they were back in force with ten extra guys and a few pieces of bamboo. Within a few minutes the body of the Chevy was in the air and moving down the road. We blocked traffic, and had every person on the street watching because it had now turned into a "Happening" Other guys just joined in to help and relieve us older beer soaked Kanos.
For a long time after, any time we'd be in the area the guys would laugh and talk about the day we carried the Chevy for over a mile. The amazing part was after the car was in place at the new house, the joking really started; the SMB's and Red Horse flowed like… Well; "BEER" the food was prepared and the rest of the move was postponed until another day, let the party begin Do you see how flexible we can be here in the Philippines?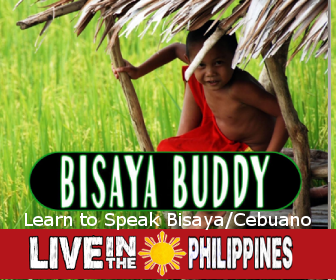 So it's now 7 years in the future, it's the first week of December 2011. And now I can proclaim to the world that I have seen it all. I was standing on our roof patio when I looked down and noticed that the Nipa hut that had been sitting there for the past three years was gone. The first thing that came to mind was the rooster thieves, and they had graduated to "Grand Theft Nipa?" Then I heard a commotion at the front of my house and spied the missing Nipa Hut resting there with about 30 of my neighbors milling about. I dashed to get my camera and ran to the front and out to the street. The Nipa was on the move again, but only in twenty foot intervals before it was set down while the Nipa Team rested. A cry rang out and it leaped forward twenty more feet and a rest was called.
Again a traffic jam ensued. Trikes were backed up and could not get by. But all was peaceful and many jokes were told. I asked where the LTO Tags were and that it had no tail lights. (I never said they were good jokes) Twenty feet, rest and another twenty feet, rest. Now we are at its finish line (We can only hope) it final resting place, at my friend Gary's house.
Poor planning raised its ugly head and it was found to be too large to enter through the gate. Since it was a bamboo fence, a section was removed and the Nipa Moving Mission was now completed.
I'm heading back to my house when I notice my niece Shay-Shay was beside me. I remembered it was Bonifacio Day so she had no school. Mayang and Claira (Her Mom) were in town, but I knew what she wanted without her having to explain it to me. Cartoon Network and Oreo's and milk. I seeded the living room TV to her and went outside to read my book. It's one of those little things she likes, control of the TV without brothers and sisters ordering her around, I had four brothers and knew how she felt. She twelve now and she'll become a teenager next year, and things will change. I'll miss her!
That day I witnessed a testament to the good neighbor theory; the way everyone jumped in to help Gary move his Nipa up the road, that kind of helpful spirit is very common here, and is just one more tic on my "Like It Here" list, to why I live here.
A follow-up on last week's rooster robberies, although no preps were apprehended, and the culprits' remain unknown, the crime wave is now abated and peace has been restored.
We can only pray that Do Dong does not fall in love again.